Halloween season is here! What better way to get in the spirit of things than reading spine-tingling tales and spooky stories with your own little ghosts and goblins?
Sharing scary stories is one of the most fun parts of Halloween. You can make great memories with your children by reading about bats, ghosts, pumpkins and all that this spooky season brings with it. Below are 13 of our favorite books for kids that are perfect for the month of October!
If you're looking for more Halloween fun, here are 36 easy Halloween decoration and craft ideas for children. For homemade costume fun, check out 31 quick and easy homemade Halloween costumes. And here are Halloween games and activities your children can do.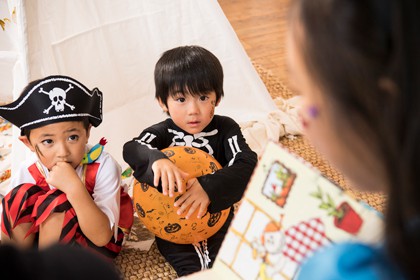 13 Scary (and Not-So-Scary) Books for Kids
Here are 13 of the best scary, spooky, creepy, and Halloween-themed books for children, sorted by age appropriateness.
For children up to and including elementary school
1. Eek! Halloween!by Sandra Boynton
Sandra Boynton's delightful animal characters, cute illustrations, and rhyming stories and songs have made her books a favorite of children—and of the grownups who read to them. In this not-scary-at-all story, the chickens are nervous because of strange goings-on. "Relax, silly chickens! It's HALLOWEEN!"
2. The Night Before Halloween by Natasha Wing, illustrated by Cynthia Fisher
This Halloween-ified version of a classic poem follows some familiar monsters getting ready for the big night. Meanwhile, regular human children have Halloween fun with hayrides and costume parties. What happens on Halloween when monsters and trick-or-treaters meet? The fun illustrations are not scary at all, and Wing's rhyming story is great for children.
3. Go Away, Big Green Monster! by Ed Emberley
Sometimes Halloween can be a little scary for little ones. So can many other things. This interactive book is a good way for children to learn to face their fears. As you turn the page, the big green monster slowly materializes and gets bigger. But then children discover they have the power to make him go away!
4. Halloween Night by Marjorie Dennis Murray, illustrated by Brandon Dorman
It's Halloween Night! All the ghosts, goblins, witches and their friends are planning a fun party to celebrate their favorite night of the year. But when the trick-or-treaters come, will they stay to play, or be scared out of their minds? Murray's fun rhyming stanzas are a blast to read aloud to or with your children. And Dorman's detailed illustrations strike the perfect balance of fun, spooky, gross, and entirely good-hearted.
5. Gustavo, the Shy Ghost by Flavia Z. Drago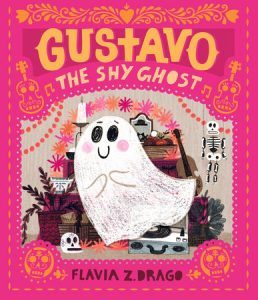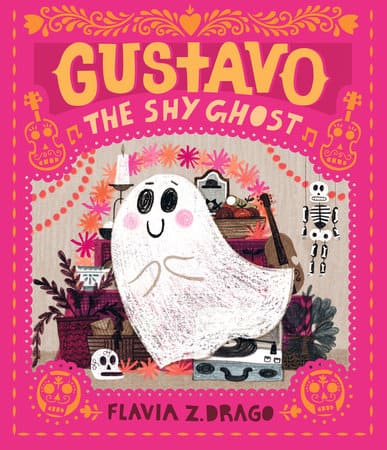 Gustavo likes lots of things about being a ghost, but he's shy, so making friends doesn't come easily to him. With the Day of the Dead near, how can he get the attention of other monsters? Sweet, stylized illustrations and a gentle story make this book a fun read for families and children.
6. In a Dark, Dark Room and Other Scary Stories, by Alvin Schwartz, illustrated by Victor Rivas
This classic collection of tales includes traditional favorites like "The Green Ribbon," "In a Dark, Dark Room" and other scary—but not too scary—stories combined with fun illustrations. As the foreword notes, most children like getting themselves a little scared when they're safe and in no danger. But they're still best read in a dark, dark room.
7. True Ghost Stories for Kids, by Barbara Smith
These short spine-tingly stories are a little scary, spinning tales about ghost ships, a haunted toy store, and more. These stories are fun to read with kids who get a thrill out of goosebumps and have fun with being scared while knowing they're safe here in the real world.
Suitable for elementary to mid-grade children
8. Coraline, by Neil Gaiman
This novel by Neil Gaiman tells the story of Coraline, a little girl who opens a door to find another house that seems better than hers—at first. But the more she discovers, the more Coraline has to fight to return to her previous life. Gaiman's book has earned praise for its inventive tale. It's also available as a graphic novel.
You can find a discussion sheet to have a conversation with your child about this book here.
9. Rowley Jefferson's Awesome Friendly Spooky Stories, by Jeff Kinney
Kinney's Diary of a Wimpy Kid series is wildly popular with elementary and middle school students, and it's not hard for adults to see why when they read them with their kids. The laugh-out-loud stories and humorous illustrations make for stories that children want to read. Fans will love this book of scary stories told and illustrated by Rowley, the hero of the Diary series.
10. Scary Stories for Young Foxes, by Christian McKay Heidicker, illustrated by Junyi Wu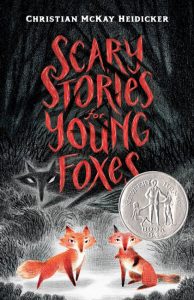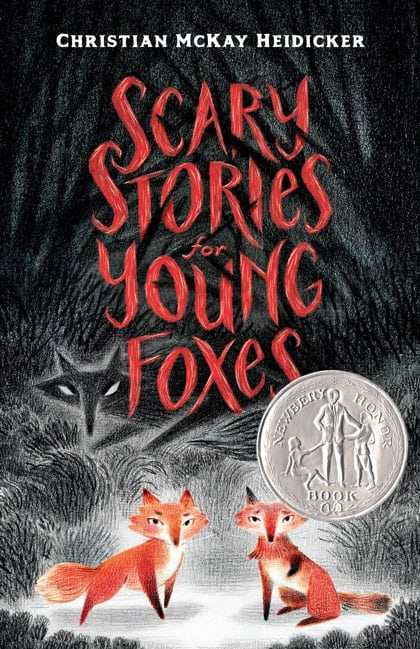 This 2020 Newbery Honor recipient follows a pair of young foxes who must navigate a dangerous world to make their way home. These eight stories and beautiful illustrations feature adventures, thrills, and amazing artwork. And zombies.
11. Bunnicula, by James Howe and Deborah Howe, illustrated by Alan Daniel
This book is a classic that many adults probably read as children. This year, rediscover the cute but scary vampire bunny, Bunnicula. Pets Harold the dog and Chester the cat are suspicious of the new pet bunny in their house. Are they right to be scared of it?
12. Ghosts, by Raina Telgemeier
Raina Telgemeier's other stories, like Guts and Smile, are based on real life. This fantasy tale finds Catrina and her family moving to California. When Catrina and her sister Maya discover there are ghosts in their new town. Catrina must figure out how to put aside her fears for her sister's sake.
13. The Witches, by Roald Dahl
Roald Dahl's children's stories have entertained generations of kids and been the basis of some favorite movies. The Witches is a full-on chapter book about a young boy and his grandmother. Together they must confront England's witches—who absolutely hate children.
Extra-scary bonus: 14. Scary Stories to Tell in the Dark, by Alvin Schwartz, illustrated by Brett Helquist
This is a classic anthology of horror tales that has delighted older elementary and middle school-aged children for years. Readers will find twists on some classic ghost stories and frightening supernatural events. These books are great for children who are ready to take a deep dive and explore some truly scary stories.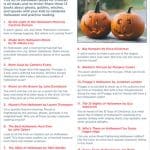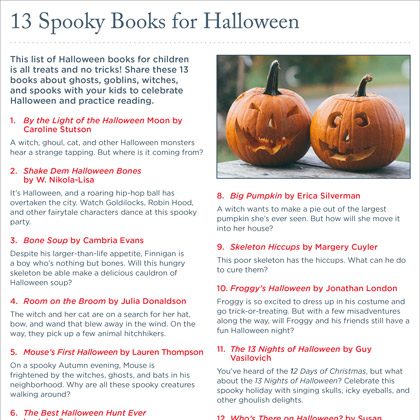 Are you still chasing more chills and spine-tingling thrills? Get 13 more spooky books for Halloween with this download from Waterford Mentor.
You can also download free printable Rusty and Rosy Halloween coloring pages for younger children in Waterford Mentor. The pages are also available in Spanish.
Sign up for a Waterford Mentor account to get more educational materials.