The big day is almost here! While most of us will be spending a lot more time at home this Halloween, there are still many ways to get creative and give your little ones a Halloween to remember.
Read on for some terrifyingly easy DIY ideas for making kid-friendly indoor and outdoor Halloween decorations!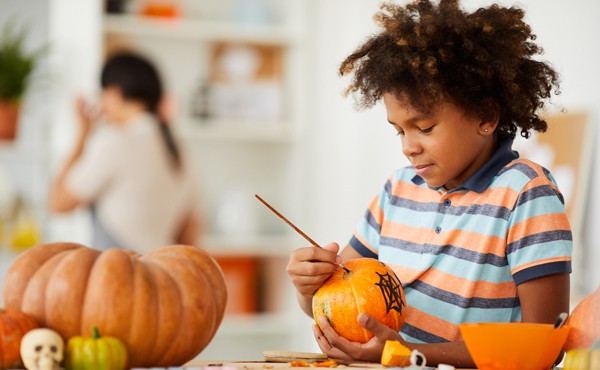 1. Hold a Halloween door decorating contest with your family. Find inspiration for designs borrowed from some creative teachers.
2. Carve a classic jack-o'-lantern.
3. Decorate around the house with free printable Halloween decorations.
4. Have fun and make your own budget-friendly DIY costumes.
5. You probably already have the material on hand to make these toilet paper roll Halloween crafts.
6. Let your little one get messy with some finger paint for these Halloween handprint crafts.
7. Get coloring pages, puzzles, songs, and more printable Halloween crafts here.
8. These printable Halloween silhouettes are easy for children to cut out and look great in windows.
9. Make some totally spooky ghost crafts with your children.
10. Want to make sure you get an Instagram-worthy photo of your child? These Halloween picture ideas will help you snap that perfect shot.
11. Grab some pipe cleaners and googly eyes, and boom! You've got a spider. Or a skeleton. Or finger puppets. Halloween pipe cleaner crafts are low-cost, easy-to-make fun.
12. Do you want a fun, roomy space for activities? Have a children's Halloween party in the garage. Find ideas for party games here.
13. What has eight legs and is fun to make? This Halloween spider craft!
14. Download these free printable Halloween coloring pages to let your child make some decorations for your fridge.
15. Have a home full of aspiring designers? Hold an in-house Halloween decorating contest.
16. This Halloween takes place under a full moon. What better time to go camping! If that sounds fun to you, these Halloween camping ideas will keep your children entertained in the great outdoors.
17. These rock painting ideas for Halloween will get your family outside to gather some stones for decorating.
18. These Halloween upcycled décor ideas, including kid-friendly crafts, turn everyday items into cute, fun Halloween decorations.
19. Looking for easy-to-find, low-cost decorating materials? Milk jugs are perfect for Halloween decorations—they're always around and easy for little hands to work with.
20. These paper plate Halloween crafts encourage your little one's creativity while using stuff you have around the house.
21. Looking to cook up some tasty snacks? These Halloween deviled egg ideas are tasty and fun to make.
22. Even if you're not working at an office, these fun ideas on how to decorate cubicles for Halloween could provide inspiration for your home office or your child's study nook.
23. Looking for some Halloween bathroom ideas that will encourage your children to keep washing their hands? Here's a cute craft for soap bottles.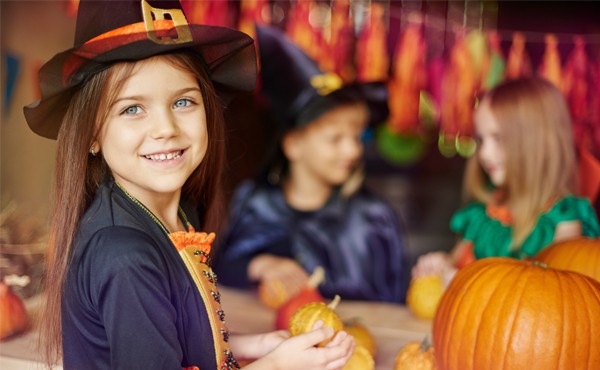 24. Cast a spell for a delightful afternoon with these easy Halloween witch crafts.
25. Whip up some tasty treats everyone will love with these cute Halloween brownie ideas.
26. Make some fun Halloween recycled crafts and give new life to discarded household items.
27. Your children will go batty over these easy bat crafts that are perfect for Halloween.
28. Looking for some cute Halloween drawing ideas? Here are videos on how to draw a cute mummy dog and a funny monster with a hidden surprise, plus a guide on how to draw a jack-o'-lantern.
29. These "pin and pound pumpkins" and "masking tape mummy" crafts aren't just great Halloween activities for preschoolers, they also make for unique decorations.
30. Looking for easy DIY outdoor Halloween decorations? Some balloons and cheesecloth are all you need to decorate your yard with ghosts.
31. Make these DIY placemats for an unforgettable Halloween dinner.
32. Looking for table decorations with a little less effort? Here are free printable Halloween placemats.
33. Your children can use apples as stamps in this cute pumpkin craft.
34. Baskets full of goodies make fun holiday gifts. Find some Halloween basket ideas here.
35. This craft teaches young kids about shapes as they learn to make a Halloween scarecrow.
36. Make a popcorn box perfect for movie night with this Frankenstein craft.