Investments in early learning pay off
Research shows early childhood interventions for young learners are more effective than those that come later in life. This is why Waterford has been committed to early learning since 1976.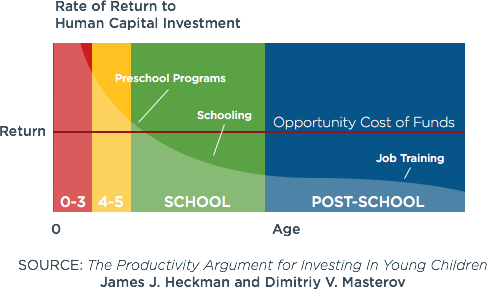 Evidence-based programs
Outlined below are several compelling summaries from research studies that were conducted using Waterford's curriculum. Each demonstrates Waterford's proven effectiveness for early learners.
In Progress: i3 RURAL UPSTART STUDY, EVALUATION AND TRAINING INSTITUTE
In 2013, Waterford was awarded a federal i3 grant to fund the validation of UPSTART as a school readiness program for rural children. A randomized controlled study—the gold standard for a research trial—is currently being conducted by ETI, an independent evaluator.
Results from the first year are showing substantively important and statistically significant positive effect.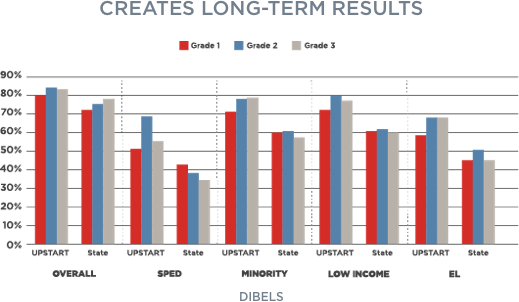 UPSTART PROGRAM: UTAH STATE OFFICE OF EDUCATION
An independent evaluation by the Utah State Office of Education shows children who participated in UPSTART the year before kindergarten saw immediate positive gains and were still outperforming state averages on standardized tests in grades first through fourth.
BALL STATE UNIVERSITY STUDY, 1ST GRADERS
Researchers at Ball State University studied the effects of Waterford on the reading achievement gains of 46 1st graders using the CTBS Terra Nova standardized test. The lowest-performing students benefited the most and dramatically outperformed the low-performing comparison group. By the end of the year, their test scores were equivalent to those of the moderate-performing students in the comparison classes.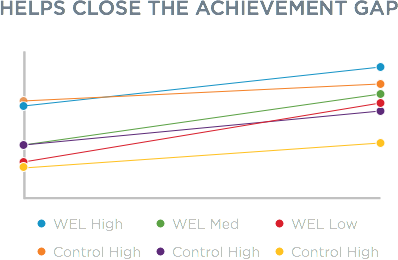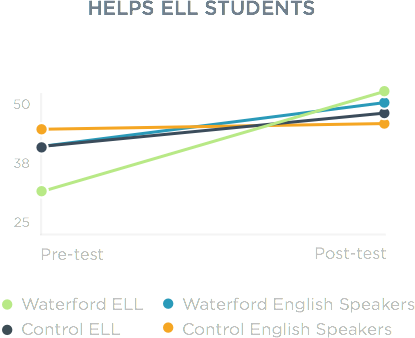 TUCSON STUDY, 15 TITLE 1 ELEMENTARY SCHOOLS
Waterford was tested on 740 kindergarten students from 15 Title 1 elementary schools in the Tucson Unified School District. The study evaluated the reading achievement of students alongside 15 comparison schools in the same district. The Waterford students consistently outperformed the comparison group on all outcome measures. One of the most notable findings was that ELL students showed greater gains than both the ELL students in the comparison group and the native English-speaking groups.
UTAH UPSTART PROGRAM EVALUATION: EVALUTION AND TRAINING INSTITUTE, LOS ANGELES, CA
An external evaluation of UPSTART by the Evaluation and Training Institute shows children who participate in UPSTART score two and three times higher academic growth rates than children who are not using UPSTART.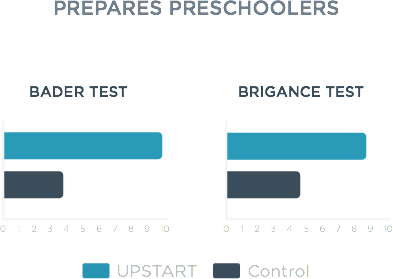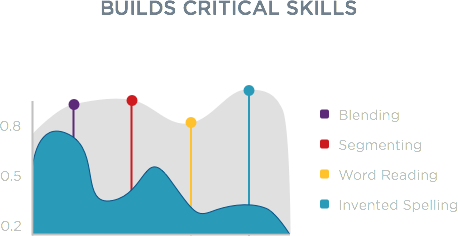 FLORIDA ATLANTIC UNIVERSITY STUDY,
42 LOW-INCOME KINDERGARTENERS
This study compared the pre-literacy gains of Waterford users to a control group over the course of a school year. Waterford users significantly outperformed the comparison group in phonemic awareness tests, invented spelling and word reading. The researchers used several standardized tests to compare the two groups. The chart above compares the effect size of these multiple tests.
STATEWIDE IDAHO STUDY, 8 SCHOOL DISTRICTS
Waterford was implemented in eight school districts and the study evaluated nearly 2,500 Idaho students, using a historical comparison group from the same schools from the previous year that had not been exposed to Waterford. Researchers reported that Waterford produced the highest results with the lowest-performing children who initially were at risk for learning to read well, and demonstrated the use of Waterford is directly correlated with reading gains.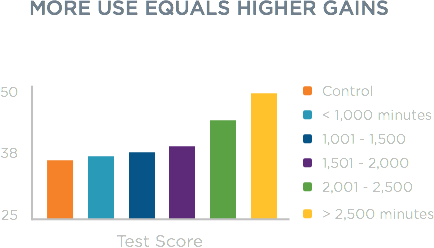 Advisors
Waterford curriculum is co-developed with the expertise of nationally recognized researchers and practitioners.
Marilyn J. Adams
PhD
Joseph K. Torgesen
PhD
Isabel Beck
PhD
Robert Siegler
PhD
Richard K. Olson
PhD
James Barufaldi
PhD
Philip B. Gough
PhD
David C. Geary
PhD
William H. Teale
EdD
Barbara Wise
PhD
Jean Casey
PhD
Patricia Kerr
MEd
Stephanie Sheffield
MD
Patrick C. Donaghy
PhD
June Schofield
1st GRADE TEACHER
Let's get started!
Thank you!
A Waterford representative will be in touch shortly.
Want to speak with someone now? Call us at 877-299-7997