Often held in the fall and spring, parent-teacher conferences are a great opportunity for families and caregivers to get informed about their child's education. Sometimes, however, it can be difficult to know what to talk about at parent-teacher conferences. This conversation is a great time to get the information you'll need to best support your child through their educational journey. A bit of preparation beforehand can go a long way toward making the most out of this meeting with your child's teacher.
Read on for a list of good questions to ask at upcoming meetings or parent-teacher conferences. These questions are good starting points as you and your child's educator work together to help your child succeed this school year.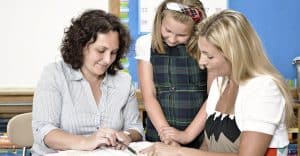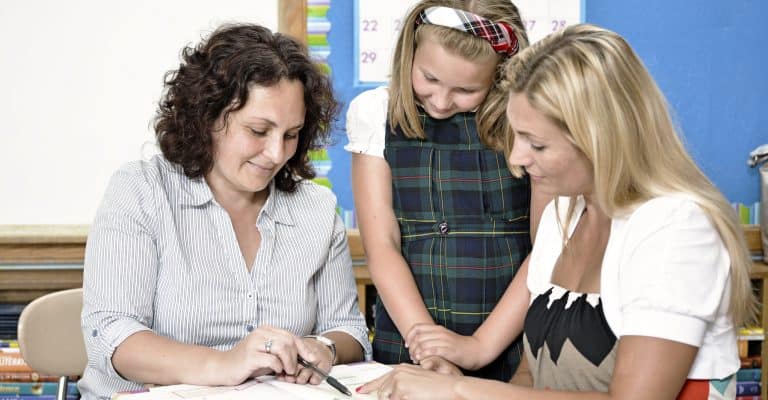 1. What are my child's strengths and weaknesses?
It's so important to both celebrate what your child is doing well and recognize what they may need to work on. Ask your child's teacher what their strongest and weaker areas are, along with what progress the teacher has noticed this year.[1]
2. I noticed my child is struggling with ___. How can I support them with this at home?
Discuss ways that you can help your child practice skills at home.[2] Your child's teacher can provide resources and suggest ways to practice the concepts your child needs more support with. If you want to work on math skills, for example, the teacher can show you simple ways to practice adding and subtracting together during your daily routine.
3. What educational skills will my child be learning in class this year?
Take time to ask your teacher what skills your child will be learning this school year—including ones they haven't started yet.[3] That way, you can keep an eye out for these skills on your child's homework and focus on them together.
4. Can you give an example of ___?
Because your child's teacher is more familiar with educational terminology, their comments during the parent-teacher conference may include words that you are not familiar with.
If the teacher uses a term that leaves you confused during your meeting, ask them what it means and why it's important for your child's education.[4] This can give you a better understanding of your child's assignments as well as their teacher's classroom methods.
5. How can we work together to support my child's learning?
You and your child's teacher both play a role in your child's learning development—you know your child better than anyone else, and their teacher is well-versed in educational principles.[5] Students need you both in order to be their best at school.
After discussing your child's progress and where they could use support, come up with a plan together to help your child continue to learn and improve.[5] You could, for example, read a book out loud at home every day with your child while your teacher helps them find classroom library books that are appropriate for their reading level.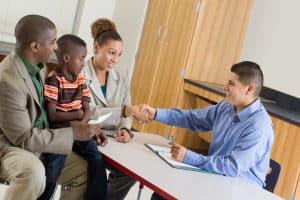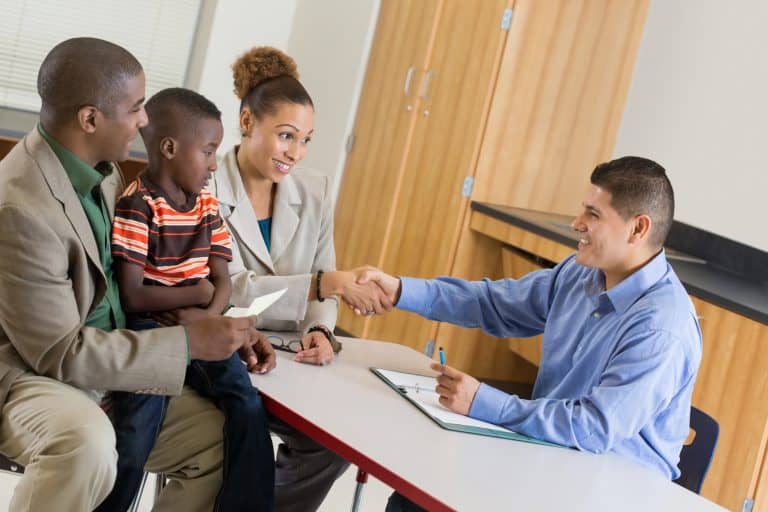 6. What is the best way to stay in touch?
Once you've made a plan, make sure to check in regularly with their teacher to discuss your child's growth and where they continue to struggle. Often, teachers will work with you in a way that suits you best. Let them know whether email, texts, or another communication method works best for you for updates or reminders. And talk about whether you would like to follow up over the phone or with an in-person meeting.
7. I would like to be more involved in school events. What can I do?
Not everyone has the time to be an active part of classroom events—and that's okay! But if you do have time, consider helping with school events or other aspects of the school community. What that looks like can be flexible depending on your schedule and interests. You could join your school's parent-teacher organization, for example, or volunteer in your child's classroom. Talk to your child's teacher about ways to get involved.
The most important way for you to be involved is to stay in touch with your child's teacher throughout the year. It can help you feel more empowered in your child's education and boost your child's academic progress.
Sources:
Colorín Colorado Staff. Questions to ask at your parent-teacher conference. Understood. https://www.understood.org/articles/en/checklist-questions-to-ask-at-your-parent-teacher-conference
Putnam City School District. Successful Parent-Teacher Conferences. https://www.putnamcityschools.org/parents/tips-for-parents/successful-parent-teacher-conferences
Carmin-Ainsworth Community Schools. Parent Tips For Effective Parent/Teacher Conferences. https://www.carman.k12.mi.us/domain/113
Colorín Colorado Staff. Tips for Successful Parent-Teacher Conferences at Your Child's School. https://www.readingrockets.org/article/tips-successful-parent-teacher-conferences-your-childs-school.
Harvard Family Research Project. Parent–Teacher Conferences: A Tip Sheet for Parents. https://www.saratogausd.org/cms/lib/CA01902749/Centricity/Domain/80/conferencetipsheetforparents.pdf.