Did you know that when parents play an active role of their child's education, academic achievement improves, students are more likely to feel confident and self-motivated, and chronic absenteeism drops? By empowering parents and giving them a voice, you can partner with them to help every student in your class reach their potential.
Read on to find out what parent empowerment is and how it ties into family engagement. Then, discover a few strategies for improving parent empowerment in your school.
How Is Parent Empowerment Different From Family Involvement?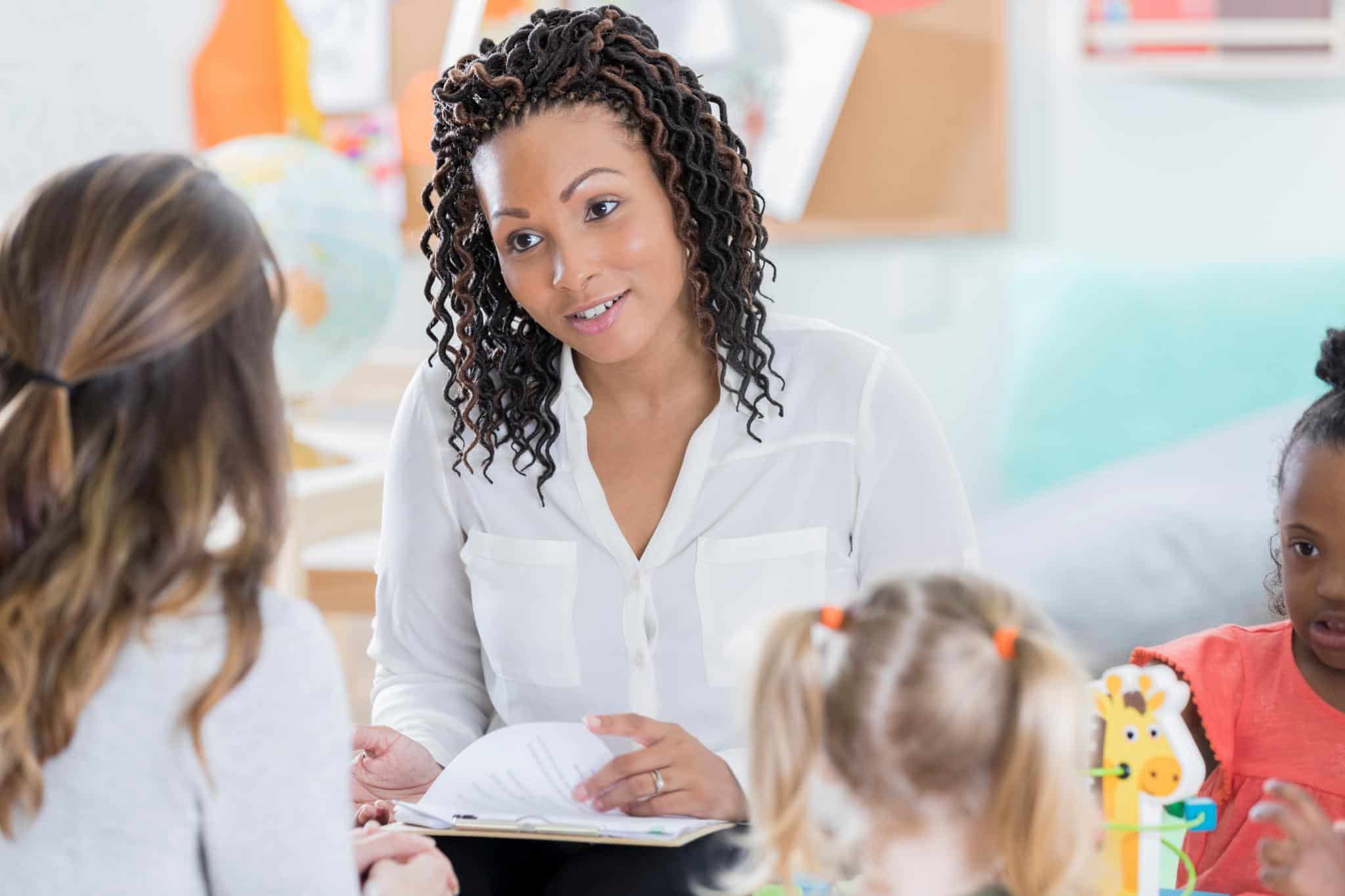 You may already be familiar with parental involvement and engagement in education, or listening to and working with parents in the classroom. Welcoming parents to school events and into their child's education is essential, but parent empowerment goes further to create strong parent-teacher partnerships.
Parent empowerment involves both informing and organizing parents so they can participate fully in your school's community. It means embracing the belief that all voices and perspectives are welcome in your classroom,[1] and intentionally providing space for those voices to be heard. In many cases, it also includes actively removing barriers to parent-teacher relationships faced by marginalized communities.
While parent engagement gets parents in schools and informed about student assignments, parent empowerment involves them by creating opportunities to collaborate on school events or partner with teachers on their child's academic goals.
To be clear, parent engagement and involvement are important. But without empowering parents and giving them space to offer their perspective, you will lose out on their unique insights and knowledge. An empowered parent is an asset to their child's learning (at school and at home), as well as to the school community. Problem-solving for an individual child, class, or whole school can be more effective when parents are partners in designing and implementing the solutions.
The end goal of parent empowerment is to make parents active advocates rather than passive recipients of decisions.[6] That way, you can help families become passionate about their child's education and feel confident that their voice matters and is being heard. When schools prioritize parent empowerment, families are seen as equal partners and key contributors to the school community, which ultimately helps to create the best possible learning environment for students.
Why Parent Involvement, Engagement, and Empowerment Matter
Engaging families is arguably one of the most effective steps you can take for your students' long-term academic success. In a cross-analysis of fifty different studies, researchers found a strong link between parent engagement and student achievement.[8] Additionally, one study found that when parents are involved in schools, their children are more likely to graduate from high school and attend post-secondary education.[9]
Family engagement can also decrease levels of chronic absenteeism in schools. Steps that teachers take to communicate and collaborate with parents, such as home visits, can reduce student absences by as much as 20%.[10] The less class time students miss, the more likely they are to reach their academic potential—making parent engagement vital to their success.
The benefits of parental involvement in schools also extend to a student's social-emotional development. When parents involve themselves in the classroom, for example, their students are more likely to express self-confidence and a motivation to learn.[11] And on a schoolwide level, students whose families are engaged in their education are less likely to need discipline or redirection during class.[12]
And why transition from parent engagement to empowerment? The benefits are profound for both you and your school's families. Each family has unique skills, perspectives, and experiences that can enrich your school or classroom. When you take steps that intentionally involve parents as partners in their child's education, you can rely on their expertise as the person who knows their student's needs better than anyone else.[13] This can lead to academic and social-emotional goals that are better tailored to a student's unique needs.[14]
Additionally, some families—especially those from marginalized backgrounds—may feel unsure about how to best engage in the school community. If you make sure they know that their contributions are valued and welcome in your classroom, you can help them find confidence in their ideas and abilities. And as you spread the message that all are invited to participate and help shape their child's education, your classroom will benefit from having the input of both teachers and parents.
How to Create Opportunities for Parent Empowerment
The advantages to engaging and empowering families in schools are clear. But if you've never made this a specific directive in your school or classroom before, where do you start? Here are a few ideas for getting families not only involved, but also empowered as active participants in their child's education.
Recognize and Alleviate Barriers to Involvement
Take structural barriers that might be inhibiting family empowerment into account.[3] For example, under-resourced and minority families are significantly more likely to report that school faculty made them feel uncomfortable or showed them a lack of cultural awareness.[8] And under-resourced families are less likely to be engaged and have the same involvement opportunities as affluent families.[4]
Be mindful of the different backgrounds and experiences of the families in your classroom, and take steps to make them feel welcome. And, if needed, connect them to school resources to help remove or lessen barriers that limit their engagement.
Create a Parent-Teacher Organization with Equal Voices
Parent empowerment is so much more than making sure families feel welcome in school. It's also about connecting them with other parents who can use their skills and experiences to make a difference.[7] Instead of using your school's parent-teacher association as a group that "helps" with administrative projects, allow them to weigh in on school events or issues.[5] Parents, teachers, and administrators can work together toward co-constructing solutions.
Develop Strong Parent-Teacher Partnerships
Schedule a meeting with each family as early as possible in the school year to discuss their hopes for their child's education and how they would like to be involved in school. Be sensitive to socio-cultural factors that may affect their values, goals, and participation methods, and connect them and their child with opportunities that fulfill these goals.[2]
Focus On and Incorporate Parent Strengths
Parents have unique perspectives and strengths that can make your school's learning environment more engaging and welcoming. Help them find ways they can use these strengths to get involved with their child's education.[4] If you know a parent with strong leadership skills, for example, you could connect them with your school's parent-teacher organization.
Sources:
Parent Power in Education. Parent Empowerment: Key to Changing Education Systems. Retrieved from parentpowerined.org: https://www.parentpowerined.org/key-to-changing-education-systems/.
Cooper, C.W., and Christie, C.A. Evaluating Parent Empowerment: A Look at the Potential of Social Justice Evaluation in Education. Teachers College Record, October 2005, 107(10), pp. 2248-2274.
Kim, J., and Bryan, J. A First Step to a Conceptual Framework of Parent Empowerment: Exploring Relationships Between Parent Empowerment and Academic Performance in a National Sample. Journal of Counseling & Development, April 2017, 95(2), pp. 168-179.
Rich, E. Empowering Parents to Transform Schools. Retrieved from edweek.org: https://secure.edweek.org/media/131115-empoweringparents.pdf.
Petrelli, M.J. Empowering Parents to Help Schools. Retrieved from educationnext.org: https://www.educationnext.org/empowering-parents-to-help-schools/.
Hsiao, Y., Higgins, K., and Diamond, L. Parent Empowerment: Respecting Their Voices. TEACHING Exceptional Children, 2018, 51(1), pp. 43-53.
Kominiak, T. Parent power: 4 ways to turn parents into forces for change in schools. Retrieved from k12insight.com: https://www.k12insight.com/trusted/parent-power-4-empowering-parents/.
State of Michigan. Strategies for Strong Parent and Family Engagement. Retrieved from michigan.gov: https://www.michigan.gov/documents/mde/strategies_for_strong_parent_and_family_engagement_part_III_370143_7.pdf.
Hill, N. E., and Tyson, D. F. Parental involvement in middle school: a meta-analytic assessment of the strategies that promote achievement. Developmental Psychology, 2009, 45(3), pp. 740-63.
Sheldon, S. B., and Jung, S. B. The Family Engagement Partnership Student Outcome Evaluation. Johns Hopkins University, 2015, School of Education.
Wairimu, M.J., Macharia, S.M., and Muiru, A. An Analysis of Parental Involvement and Self-Esteem on Secondary School Students in Kieni West Sub-County, Nyeri County, Kenya. Journal of Education and Practice, November 2016, 7, pp. 82-98.
Nokali, N.E.E., Bachman, H.J., and Vortrubaa-Drzal, E. Parent Involvement and Children's Academic and Social Development in Elementary School. Child Development, 2010, 81(3), pp. 988-1005.
Head Start ECLKC. Head Start Parent, Family, and Community Engagement Framework. Retrieved from hhs.gov: https://eclkc.ohs.acf.hhs.gov/school-readiness/article/head-start-parent-family-community-engagement-framework
Angell, S.R., Bass, H.P., Meisinger, R.E., Marcus, M.J., and Sheridan, S.M. Achieving Academic Success for Your Student Through Family School Partnerships: A TAPP Research Brief. Retrieved from unl.edu: cyfs.unl.edu/TAPP/assets/downloads/research-briefs/TAPP-Research-Brief-Academic-Success.pdf.