International Literacy Day (ILD) is Sept. 8. It's a celebration of literacy as well as a reminder about how crucial literacy is for building empowered people and communities.
The first celebration of ILD was in 1967. And it's still important today. According to the United Nations Educational, Scientific, and Cultural Organization, at least 773 million people still lack basic literacy skills.
The theme this year is: "Literacy for a human-centred recovery: Narrowing the digital divide."
Read on for some fun and engaging ways to celebrate with your class.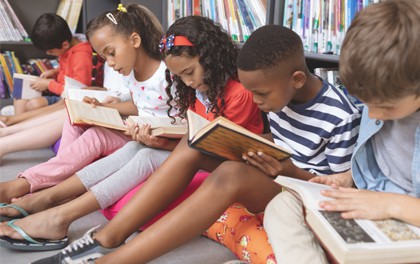 Ways to Celebrate International Literacy Day in Class
Use one of the Waterford Early Learning songs, books or activities—like this one from Waterford's YouTube page.
Read about some of history's Heroes of Literacy who contributed to worldwide literacy.
A solid foundation of financial literacy is more important than ever, but unfortunately, it's a skill not often focused on at home or in schools. Here are some financial literacy activities to help students of all ages get a handle on their money for life.
Media literacy is critical in today's world, and you should make sure your students have the tools they need to understand what's real and what's not. Devote some class time to helping them spot misinformation with our guide on Ways to Build Media Literacy in Your Students, and Why You Should.
Celebrate with a Read-a-Thon using your classroom library. Need ideas on getting started with one, or want to supercharge your current setup? Check out our advice here. Waterford Reading Academy also has digital books in English and Spanish for younger readers. Log in to your account and search under Activities > Resource Type > Books for more.
Schedule a video conferencing session with an author. Or, if you know any local authors in your area, invite them to your class. Get some pointers for a smooth visit here.
Digital literacy is key to the future for your students. Make specific plans to discuss the 9 Elements of Digital Citizenship with them.
Share the story of NASA Astronaut Kjell Lindgren and how reading paved his path to space. You can find his story here.
Practice spelling with young learners by using different materials to spell out words. Here's a wonderful example of this. Waterford Reading Academy also has practice materials for letter-tracing and sentence-starting. Log in to your account and search under Activities > Resource Type > Practice Materials for more.
Discuss and brainstorm together 100 reasons why learning to read, write, and speak is important.
Practice phonemes with this Sorting Baskets Phonics Activity.
Play this Beach Ball Sight Word Activity to teach early elementary students vocabulary words.
Reading and writing can be tough for children with dyslexia. We have a resource with classroom activities, accommodations, and strategies for students with dyslexia that you can use for International Literacy Day.
Have early learners create their own short story books and pair them with an older student to read with. You can use these storyboards (also available in Spanish) to help your students organize their own stories.
Most of us have a favorite story, and sometimes we find a tale we wish had a different ending. Have your students come up with "How it Should Have Ended" chapters for these stories. (Scroll down to the "High School" level on the link). Then students can discuss their changes with classmates.