Happy Juneteenth! On June 19 every year, communities celebrate this holiday as a milestone in the fight for freedom and equality.
Read on to learn more about the meaning of Juneteenth and get ideas for celebrating it. Then, check out five children's books about Juneteenth and Black history to get you started.
What is Juneteenth and Why Is It Important?
If you're not familiar with Juneteenth, here are a few quick facts to familiarize yourself with the date and its history.
Juneteenth (also known as Jubilee Day or Emancipation Day) is short for "June Nineteenth."
It celebrates the freedom of all enslaved Americans on the day those freedoms were finally announced in Texas: June 19, 1965. This was more than two months after the end of the Civil War, and two and a half years after President Lincoln first issued the Emancipation Proclamation.
Even after the announcement, it took time for those freedoms to begin to take effect.
Black Texans began celebrating Juneteenth the next year, June 19, 1866.
The celebration spread to other Black communities, especially during the civil rights movement of the 1960s.
Texas was the first state to make Juneteenth a holiday (in 1979), and 47 states recognize it as a state holiday as well. Across the country, many cities hold community celebrations or awareness events to honor the anniversary.
This is the first year it will be recognized on a national level. On June 17, 2021, President Biden signed the "Juneteenth National Independence Day Act," which makes Juneteenth a federal holiday.
How to Celebrate Juneteenth with Kids
Look for Local Juneteenth Events
Your area may be holding marches, festivals, or other special events to take part in. The best way to look for a Juneteenth event in your community is to search "Juneteenth events near me" in your browser.
Learn About the Juneteenth Flag
Many communities raise the official Juneteenth flag or decorate using its colors to honor the significance of the date. Watch this explainer from Educational Videos for Students to learn about the Juneteenth flag and what its colors symbolize.
Celebrate and Honor Black History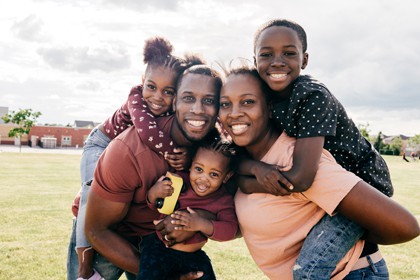 Juneteenth is significant, but it marks just one milestone of many. Black Americans have made great strides toward securing equal rights and treatment for all people.
Oprah Daily suggests celebrating Juneteenth by learning about Black history, art, and culture. You could, for example, use the resource Brittanica Kids to learn about the art made during the Harlem Renaissance or key points in the civil rights movement.
Volunteer with a Black-Led Organization
The fight against racism has progressed, but there is still a long way to go. Volunteering for a local organization that improves the lives and treatment of Black people is a meaningful way to celebrate Juneteenth.
If it's in your area, for example, you could sign up to volunteer with Black Girls Code—a nonprofit that teaches Black girls crucial STEM skills.
5 Children's Books About Juneteenth and Black Heritage
One excellent way to celebrate is by reading books about Juneteenth and Black history. These five children's books all explore the importance of Juneteenth, as well as a few historical events that led to the Emancipation Proclamation.
Juneteenth for Mazie by Floyd Cooper
Mazie is excited to celebrate Juneteenth. Follow her as she learns about the significance of Juneteenth and honors the lives of her ancestors.
I, Dred Scott by Shelia P. Moses and illustrated by Bonnie Christensen
This middle-grade chapter book can be a great way to learn about a Black man who fought for freedom in the years before the Emancipation Proclamation. In 1846, Dred Scott sued for freedom for himself and his wife Harriett. Read about his story, along with a forward written by Dred Scott's great-grandson.
All Different Now: Juneteenth, the First Day of Freedom by Angela Johnson, illustrated by E.B. Lewis
This picture book retells the story of the first Juneteenth from the perspective of a young girl. If you're interested in learning more about the events leading up to the Emancipation Proclamation, this is an excellent place to start.
Escape North! The Story of Harriet Tubman by Monica Kulling, illustrated by Teresa Flavin
This early chapter book is perfect for teaching children about the life and legacy of Harriet Tubman. Learn about her work as a conductor on the Underground Railroad, which helped Black people to escape from slavery in the nineteenth century.
Ben and the Emancipation Proclamation by Pat Sherman, illustrated by Floyd Cooper
During the Civil War, a young boy named Ben is sent to a slave prison. But when Abraham Lincoln delivers the Emancipation Proclamation, Ben is one of the first people to read this history-changing document. Based on a true story, this picture book is great for teaching children about the events that Juneteenth celebrates.