A library is one of the most valuable resources a community can offer. Children often develop a love of reading as they pick out books for themselves in the library for the first time. Best of all, these books are all available for free to read in the library or at home.
But did you know that public libraries offer more educational tools and services than just print books? You can find Internet and computer access, social events like read-alouds and book clubs, and more at local libraries.
Beyond books, what resources do public libraries have available for their patrons? Read on to learn about 7 services many public libraries offer to families.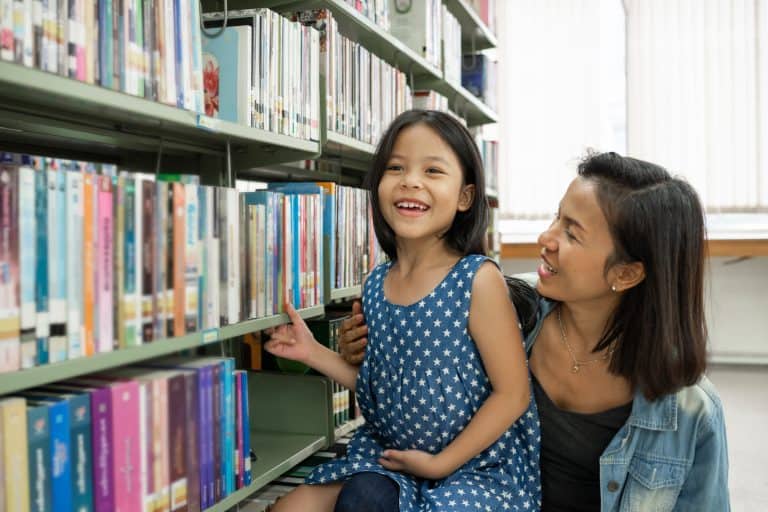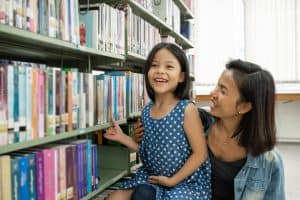 1. E-books and Audiobooks
In addition to books you can browse at the library, most libraries offer ebooks and digital audiobooks for patrons to check out through an app. Many libraries use Overdrive and its companion app Libby. Check with your local librarian to find out which apps and programs your library uses.
2. Checkout Items Other Than Print Books
Did you know that many libraries offer items besides print books for checkout? You can borrow video games, DVDs, music albums, and audiobook CDs from many libraries. Audiobook CDs can be helpful resources for patrons with limited vision. Some libraries also have ebook readers that patrons can check out and return as needed.
Plus, libraries often have items like sewing machines or board games that you can check out for family time. Some even have seed banks that you can use to start your own garden.
3. Language Learning Tools
Libraries often provide digital language learning resources and in-person classes for their patrons. Mango Languages is a program used by many libraries. Ask your local librarian about the resources your library offers.
4. Internet Access and Computer Stations
Many libraries have free Wi-Fi that patrons can use on their computers, phones, or tablets while they're visiting. If you need access to a computer, many also offer computer stations where you can browse the Internet and use printers.
5. Study and Work Spaces
If you need a quiet place to work, study, or conduct a job search, libraries have tables you can use for free. They may also have meeting rooms that you can use for study sessions, work calls, or space to work on a project.
6. Book Club Kits
Are you hosting a book club, but aren't sure how to get enough copies for everyone? Many libraries offer sets of popular books that people with a card can check out for their group. Some come with discussion guides and other resources to help organize your book club meetings.
7. Social Events and Classes
Libraries often have tons of family-friendly events that you can take part in—from picture book read-alouds to craft lessons and summer reading challenges. Your library may even hold author reading events, where your family can meet and ask questions of writers in your community.
For adults, libraries often offer classes on a variety of subjects, including job skills like writing, coding, and resume-building. They also hold book clubs where you can meet people who share your interests and favorite genres.
There is so much to enjoy at the library! Why not visit today? For more free learning resources, check out this list of 8 places to find free books for kids, including Waterford.org.