For many students, December is an especially memorable time of year—with plenty of winter activities, holidays, and classroom parties during the days before winter break.
However, even the most well-meaning teachers can show implicit bias when it comes to holiday events and only focus on Christmas holiday traditions. That's why it is important to be mindful of the cultural diversity in your classroom, especially at this time of year. Not every student celebrates Christmas; some may come from other cultural or faith backgrounds, and some may not celebrate any holiday at all.
This doesn't mean you can't have fun! It just calls for some creativity to find ways to celebrate that include all of your students. The great news is, acknowledging the diversity in your students' experiences gives you an excellent opportunity to celebrate ALL the special things your students love about this time of year.
A Guide to Inclusive Holiday Celebrations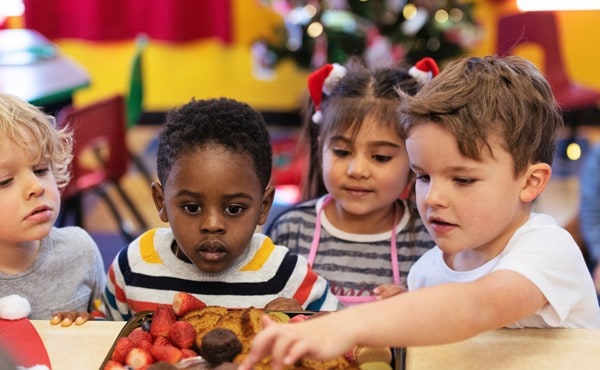 Holidays, religious celebrations, and cultural festivities all come into play for students and teachers during the early winter months at school. And public schools are more diverse than ever, with the percentages of white students decreasing and the percentages of BIPOC students increasing from 2000 to 2019.[2] While that data focuses on racial backgrounds, the numbers clearly show that diversity in schools is increasing as a whole.
While you plan winter activities, keep in mind that a students' religious expression is fully protected by the First Amendment of the US Constitution. What does that mean for school officials or teachers? Courts have found that schools may teach about religion and its influences on culture, history, and literature, but they can not provide religious instruction.
The US Department of Education puts it like this when it comes to religious holidays: "Although public schools may teach about religious holidays, including their religious aspects, and may celebrate the secular aspects of holidays, schools may not observe holidays as religious events or promote such observance by students."[1]
So how do educators help students celebrate the best of the holiday season in a way that is inclusive for all their students?
10 Multicultural Classroom Holiday Ideas
It might be tempting to ask children to expound on their family's religious or cultural celebrations, but the Anti-Defamation League points out that this can cause children to feel singled out or insecure about sharing.[3] Instead of relying on students to instruct the class about their traditions, consider providing books and other media about holidays to encourage all your students to learn about a variety of celebrations.
Look for themes common to most holidays—things like sharing and togetherness, or the way lights are used for holidays like Hanukkah, Christmas, Kwanzaa, Diwali, and more—and emphasize these shared elements in your curriculum or celebrations.[3]
Because sharing and caring for others is such a common theme, some classrooms have held food and supply drives for the community during this time of year.
A2: We encouraged donations that were put together to feed needy families in our communities. #LeadLAP pic.twitter.com/gmgaILPq2e

— Russell Schwartz (@Russ_Schwartz) November 18, 2017
Teachers may feel like they're walking a tightrope between what is needed and what seems to be allowed, but creating an inclusive classroom is not difficult. Plus, it's important for many reasons, including preparing students for a global workforce, promoting equality, and building a better community understanding.[5] Here are 10 more suggestions to help students feel festive in a loving, inclusive, and fun way.
1. Set the stage by decorating your classroom.
2. Adapt some family holiday crafts to in-classroom activities.
3. If the weather allows, go outside and have fun playing in the snow.
4. Try this fun snow globe writing prompt activity and let your students' creativity flurry.
5. A milk jug igloo is a fun STEM activity using recycled materials and a lot of hands-on fun. It can even be large enough to make a cozy reading nook.
6. Make sleds out of candy canes and popsicle sticks.
7. Use props and a variety of holiday decorations in a corner to make a selfie-friendly photo booth for your students to remember the day.
8. Add books to your classroom library that feature different winter holiday celebrations from around the world.
9. Ask students to create their own holiday and write about what it would involve.
10. Ask students to write about this prompt: "If you could give a gift to everyone in the world, what would it be?"
Sources:
U.S. Department of Education. Guidance on Constitutionally Protected Prayer and Religious Expression in Public Elementary and Secondary Schools. January 2020. https://www2.ed.gov/policy/gen/guid/religionandschools/prayer_guidance.html
National Center for Education Statistics. Racial/Ethnic Enrollment in Public Schools. May 2020. https://nces.ed.gov/programs/coe/indicator_cge.asp
Anti Defamation League. How Can I Plan Inclusive Holiday Celebrations? https://www.adl.org/education/resources/tools-and-strategies/question-corner/plan-inclusive-holiday-celebrations
Stinchcomb, Samantha. Ten Ways to Celebrate Diversity During the Holidays. December, 2017. https://literacyworldwide.org/blog/literacy-now/2017/12/14/ten-ways-to-celebrate-diversity-during-the-holidays
Teacher.org. How to Teach Students About Holidays & History. https://www.teacher.org/resource/teaching-holidays/