Digital Citizenship Week is right around the corner. This year, it's from October 17th to the 21st! Held every year by the nonprofit Common Sense Media, this event encourages families to teach their little ones the skills kids need to stay safe and informed online.
According to the ISTE, these nine skills help children become digital citizens:
Digital Access
Digital Commerce
Digital Literacy
Digital Communication
Digital Etiquette
Digital Rights and Responsibilities
Digital Health and Wellness
Digital Law
Digital Security
But what are these skills, and how can you teach them at home? Read on for a quick intro to each skill along with nine activities you can use to teach them as a family. Any step you can take to help your child become a good digital citizen will be valuable to them for their whole life!
Plus, use this digital citizenship fact sheet as a handy resource as you consider ways to teach your children healthy digital habits.
1. Digital Access
Digital access involves the ability to access and use digital resources. Sadly, access to digital technologies is not the same for everyone due to financial, regional, and other barriers.
However, many local libraries offer free internet access and computer stations. Contact your local library to learn about the resources available to your family.
2. Digital Commerce
Digital commerce is all about skills that help people stay smart about buying and selling items online. Even though children aren't necessarily buying things on their own, they will most likely see ads every time they use the internet.
This online lesson from Common Sense Media can help children recognize ads and be smart about interacting with them.
3. Digital Literacy
Digital literacy teaches children digital skills like coding, using a search engine, or even using a mouse. Scratch Jr is an excellent website for teaching kids basic coding skills in a fun way for free.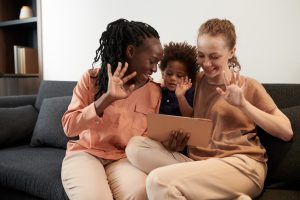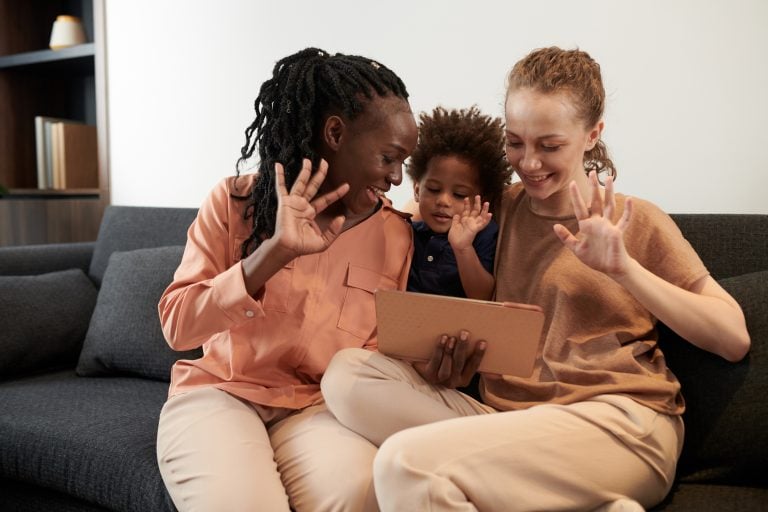 4. Digital Communication
Digital communication includes any kind of online interaction, like sending a text message or playing an online game with family.
We'll go over staying safe online later in this article, but to practice communicating with people your child knows in real life, try drafting and sending a nice message or making a voice call to a loved one together.
5. Digital Etiquette
Digital etiquette means to treat people with respect and know the warning signs that your child or someone they know is being cyberbullied.
This video from the nonprofit Barbara Sinatra Children's Center Foundation is a great way to help your children learn what cyberbullying is and what to do if they are being bullied.
6. Digital Rights and Responsibilities
Digital rights and responsibilities is about teaching children that everything they do online has an impact—often for many years.
Keep this helpful infographic in mind when teaching children about their impact—or "digital footprint"—online. You could share a new tip every day to keep digital rights and responsibilities fresh on your family's mind.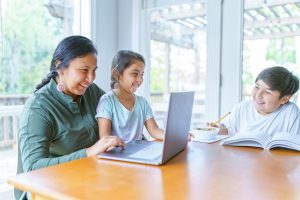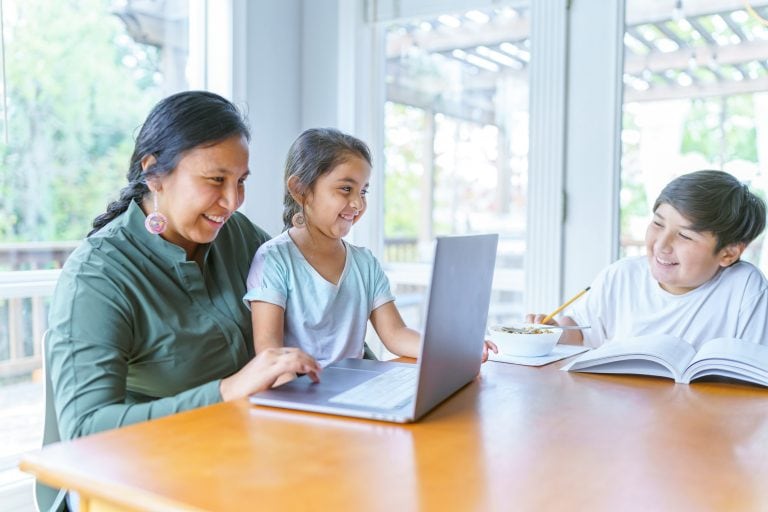 7. Digital Health and Wellness
Think of digital health and wellness as anything that helps your kids stay healthy while using digital tools. This could include, for example, setting personal screen time limits.
Time management is a great skill to learn for healthy online habits. Use this age-by-age guide from Scholastic to practice time management skills with your family.
8. Digital Law
Digital law mean following any rules set for a child while using digital media. To make this skill a part of your child's life, make a list of family guidelines together.
Here are a few examples of helpful digital media rules for family:
Finish all homework before playing video games
Never talk to someone online that you don't know in real life
Keep all personal information to yourself
9. Digital Security
Digital security teaches kids how to be safe on the internet by protecting themselves from viruses and staying away from strangers. For teenagers, this could also include staying safe on social media.
To introduce digital safety to your child, watch this talk from Common Sense Media on five quick internet safety tips. Then, have a discussion about how you can practice safe internet habits as a family.
These nine skills can help your children stay safe and informed while using the internet! For more ideas, check out these seven Internet safety tips.