International Teachers Day (also known as World Teachers' Day) is right around the corner. On October 5, families around the world will come together to show gratitude for the teachers who have made a difference in their lives.
According to UNESCO, the 2020 theme for International Teachers Day is, "Teachers: Leading in crisis, reimagining the future."
Teachers have gone above and beyond this year to make school a safe and enlightening place for their students. These 40 social distance-friendly suggestions for celebrating International Teachers Day are a great way to give back to the educators who have helped your child learn and grow.
1. Send a themed teacher appreciation e-card as a quick reminder of how much you care.
2. Share five reasons why you and your child are grateful for their teacher.
3. Make and share this cute plant craft to show how much your child has "grown" with their teacher's help.
4. Organize a drive-by parade with other families to celebrate your teacher from a distance.
5. Hold a virtual meeting with your child's teacher to express your gratitude for all they've done.
6. Put together a care package full of goodies your teacher is sure to love.
7. Record your child sharing a talent or singing a song and send it to their teacher.
8. Coordinate with families to share on social media why your teacher rocks. Make sure to tag them or their school in it, if possible!
9. Write an email detailing what you've appreciated about your child's teacher this year.
10. Make a teacher appreciation scrapbook page as a memento of your child's gratitude.
11. Put together a bookmark your teacher is sure to appreciate using this free print-out.
12. Make a pop-up card with your child as a creative and delightful way to thank your teacher for brightening their students' days.
13. Share some caffeinated goodness (if your teacher enjoys it) with this print-out tag showing how you "espressonally" like your child's teacher.
14. If you can, give some school supplies for a practical gift any teacher will appreciate.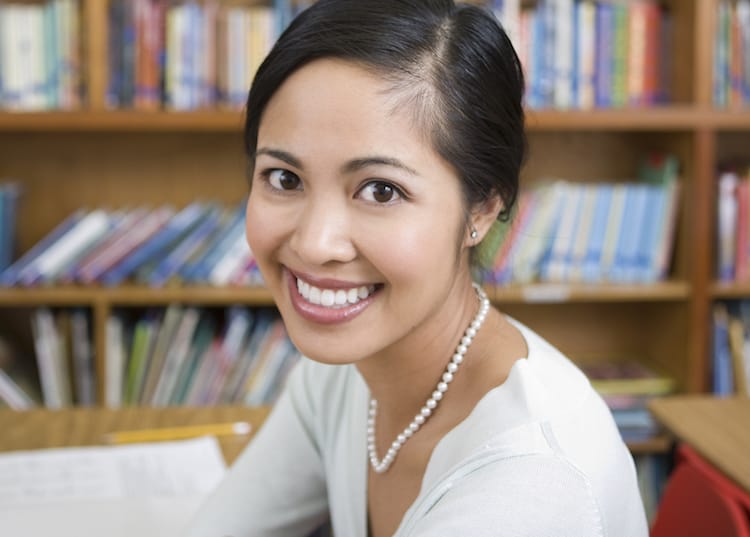 15. For a fall-themed gift, put together this DIY apple jar your teacher could hold school supplies in.
16. Arrange a virtual surprise party via video chat as an opportunity for students and families to share how much they care about their teacher.
17. Send a snack to your educator for them to enjoy while teaching from a distance.
18. Set up a classroom fundraiser for your teacher to help them raise money for school supplies or classroom books.
19. Help your child make a drawing that expresses their gratitude, then scan and send it to their teacher.
20. Work with other parents to make a memory book sharing all the fun your class has had so far.
21. Help your child fill out this thank you questionnaire, then mail it to their teacher.
22. Self-care is so important for teachers and families alike this year. Send a gift that will help your teacher take care of themselves, like a candle or a spa-themed gift.
23. If your school is holding in-person classes and you have permission from your school administrators, decorate your teacher's door.
24. Plant a celebration tree in honor of your teacher's hard work through The Trees Remember.
25. Use these teacher appreciation printables to add personalization to any gift you send them.
26. For a practical gift, make a fabric face mask for your child's teacher.
27. Put together this cute card to say thank you for "bee-ing" your child's teacher.
28. Pair this printable teacher appreciation poem with a colorful candy for a gift that's both sweet and unique.
29. If you need inspiration for what to say in a thank-you card, use these short teacher appreciation messages to share your gratitude.
30. Print out these teacher-themed coloring pages with some crayons or colored pencils for a relaxing gift.
31. Put together a list of quotes to remind your teacher how much of a difference they make.
32. Gift a picture or chapter book your teacher can add to their classroom library.
33. Remember to thank school administrators, substitute teachers, and staff, too—on International Teachers Day, all educators should be celebrated!
34. Give your teacher some hand sanitizer with this printable tag to remind them about their "hand" in shaping their students' futures.
35. Coordinate with other families on this thank you flower card where each child shares their gratitude on a petal.
36. Print out this word cloud poster that doubles as a thank you gift and a lovely classroom decoration.
37. Share a funny school meme to make your teacher laugh on International Teachers Day.
38. To add personalization to a teacher appreciation letter, send it out in an origami envelope.
39. Give your teacher a free meal coupon from their favorite place to eat so they can enjoy a relaxing night of takeout.
40. If you have your school administrator's permission, decorate the school sidewalk with chalk art thanking teachers for their hard work this year.