Through audiobooks, you can engage your kids with classic and modern stories, introduce them to historical periods and situations beyond their own, and boost their listening comprehension. And if you need time to work or finish other to-dos, setting your child up with an audiobook can give you some space to get things done.
Check out four ways you can help your children find free audiobooks (including plenty of children's classics) and a few recommendations to get you started.
Audible Stories
In response to schools around the world moving online, Audible launched Audible Stories, a platform where families can access hundreds of free audiobooks without signing up for an account.
These audiobooks are set to stay up at least until U.S. schools reopen, and they were chosen with PreK-12 students' interests in mind. Here are a few popular picks to start with:
Audible has also put together a guide on how to get started with this new program, along with frequently asked questions. And if your children speak or are learning more than one language, Audible Stories also offers audiobooks in Spanish, Italian, French, Japanese, and German.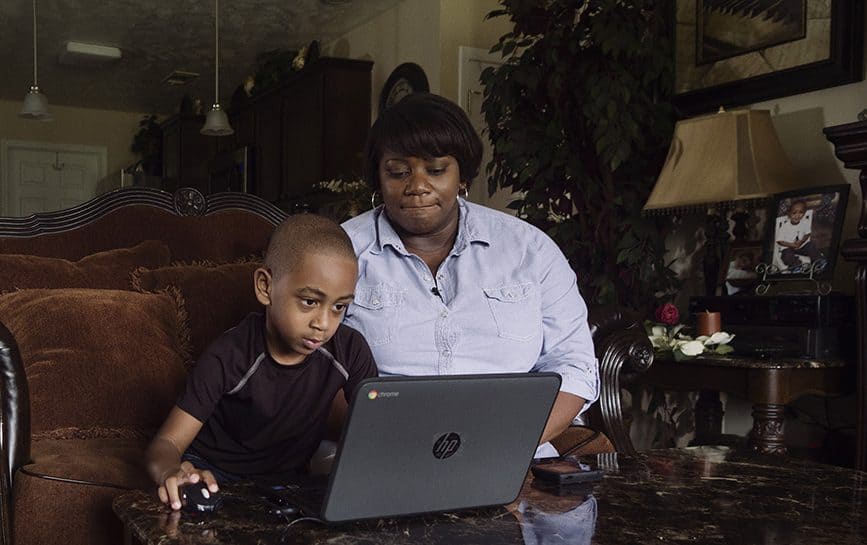 Spotify
Through Spotify, you can access tons of free audiobooks for titles in the public domain, such as:
Beyond these beloved classics, Spotify also has a whole Spoken Word section dedicated to audiobooks, poems, and other non-musical resources. To access any of these, however, you will need to create a free Spotify account.
LibriVox
LibriVox, a project launched by Project Gutenberg, has created thousands of free classic audiobooks read by volunteers. Like Spotify, all books available on LibriVox are open to the public domain, so you won't find some of the more modern stories that are still under copyright.
While not all of these audiobooks will be suitable for a younger child's listening comprehension level, LibriVox has many books by authors who are commonly taught in elementary and middle school, including:
OverDrive
Public libraries might be closed for now, but that doesn't mean you can't check out digital audiobooks! Through OverDrive, you can access audiobooks available from your local library and listen to them online.
Because every library purchases a different selection of books, the children's books you can find will vary depending on where you live. Additionally, this option is only available if you already have a library card.
Try this Library Finder to locate the library nearest to you that uses OverDrive.