Waterford UPSTART was recently evaluated against high-quality preschool programs in Utah to determine the effectiveness of these programs on early literacy. The study was conducted by the nonprofit Evaluation and Training Institute as part of The Utah High-Quality School Readiness Expansion (HQSR-E), which aims to help provide children in Utah with the highest-quality kindergarten readiness program. The HQSR-E program is currently in its second year out of three, with this study being a key measurement of its efficacy.
The study shows that children who use Waterford UPSTART at home before starting kindergarten showed positive gains, even when compared to children enrolled in high-quality public and private preschools. While public and private preschools did not produce a significantly positive effect on student growth, the Waterford UPSTART program scored an impressive .78 effect size. That means the average Waterford UPSTART student outperformed nearly 80% of children who did not use the program.[1]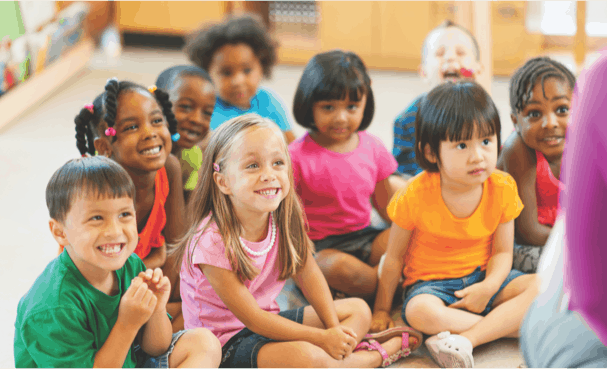 According to the study, some of the most significant growth is in literacy development. The study states, "Children using [Waterford] UPSTART had higher overall literacy test scores at post-test than the comparison children. Specifically, [Waterford] UPSTART students had significantly higher scores on subtests that measured letter knowledge, listening comprehension, and phonological awareness."[2] The study also found that Waterford UPSTART children showed similar gains in social-emotional development and math compared to their peers in high-quality preschools.
Researchers are confident that Waterford UPSTART can also be successful as a supplement to public and private preschools, stating that those PreK programs "do not have the same positive impacts on specific literacy skills that the [Waterford] UPSTART program does."[3] Speaking directly to the efficacy of the program, the study finds that 77% of students enrolled in Waterford UPSTART met listening comprehension benchmarks, compared to just 65% of children in public preschools and 61% of children attending private preschools.[4]
Click here to read the full study conducted by the Evaluation and Training Institute.Waterford UPSTART is excited to continue serving Utah's four-year-olds and helping them prepare for kindergarten.
Sources:
Evaluation and Training Institute. Utah High-Quality School Readiness Expansion (HQSR-E) Program Evaluation, September 2018, Page 10.[1]
Ibid., (Page 2).[2]
Ibid., (Page 3).[3]
Ibid., (Page 13).[4]