Every day can be an opportunity to show your loved ones that you care in ways both big and small. Practicing random acts of kindness can help children learn empathy and gratitude for the people in their lives.
If you're looking for ways to lift others up and show kindness as a family, try these 52 random acts of kindness—one for each week of the year. Many of the crafts we've listed can be made from items that you may already have around the house. Look through the list, and, if you can think of someone who might appreciate one of the ideas, make it your next project to brighten that person's day!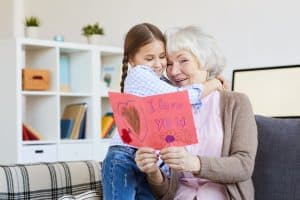 1. Check in with a friend or family member you haven't heard from in a while to make sure they're doing well.
2. Write an encouraging note with sidewalk chalk outside to brighten the day of people who pass by.
3. Compliment a loved one in the morning to make their day bright as it starts.
4. Smile or give a friendly nod at a stranger you see while on a walk or doing errands.
5. Send a card in the mail to someone you miss.
6. Put a whiteboard or some poster board out in your home for family members to write nice messages for each other.
7. Leave some treats or a small gift on a neighbor's doorstep.
8. If you have old clothes or toys you can do without, donate them to charity.
9. Gather up any recyclable items like plastic or paper you have sitting around and take them to a recycling plant to treat the earth kindly.
10. Make a simple bird feeder and hang it outdoors for local wildlife to enjoy.
11. If you can afford it and are comfortable doing so, tip a waiter or waitress more than you usually would while eating at a restaurant.
12. It's important to have compassion for yourself, too! Make time for one act of self-care each day, like going on a walk or eating a nutritious meal.
13. Help a loved one with something they've been struggling to complete, like homework or a big project.
14. Give a hug to someone who needs one.
15. Write a note to someone you care about with the top reasons you love them.
16. If you're in line at the grocery store and have some extra time, let someone else go in front of you.
17. Ask a loved one how their day went, and if they're struggling, find ways to help.
18. Place sticky notes with encouraging words in places for strangers or loved ones to find them.
19. While making dinner, double your recipe (if you can) and send a meal to someone in need.
20. Forgive someone who you've been struggling with for a while—if not to be kind to them, then to be kind to yourself.
21. Send a care package to someone you miss.
22. Send someone flowers from a store or (even better) freshly picked from your yard.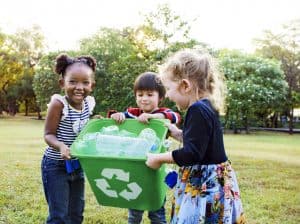 23. If you don't have any flowers on hand, make some origami flowers to share.
24. If you have a favorite restaurant or small business, leave a positive review online to help them out.
25. When you're overwhelmed, remember to be kind to yourself and recognize that it's okay to be stressed or afraid during uncertain times.
26. Take your pet (or your neighbor's pet) for a walk around their favorite park.
27. Pick up trash around your neighborhood or a nearby park.
28. Leave some spare change in a vending machine with a note so the next person who uses it can get a treat on the house.
29. Donate or raise awareness for a charity that helps a cause you're passionate about.
30. Buy some pre-wrapped treats and deliver them to local healthcare workers (Note: call ahead first to make sure this is allowed).
31. Make and deliver treats to someone in your neighborhood who is going through a hard time.
32. Thank your child's teacher for their advice and support through the school year.
33. Donate blankets, clothes, or other essential supplies to a homeless shelter.
34. Tell a joke to someone and make them laugh.
35. Hold the door open for someone while running errands.
36. Build a Little Free Library for people in your neighborhood to share books that they love.
37. Help your neighbor with their yard work, like mowing the lawn or shoveling the driveway.
38. Put all phones away for an hour and give your loved ones your full attention.
39. The next time you see someone struggling to carry their groceries, lend a hand.
40. Help a family member with a chore around the house before they ask.
41. Volunteer at your local animal shelter or other nonprofit organization.
42. Learn how to finger knit and make someone a scarf.
43. If you can, buy school supplies or books for your child's teacher.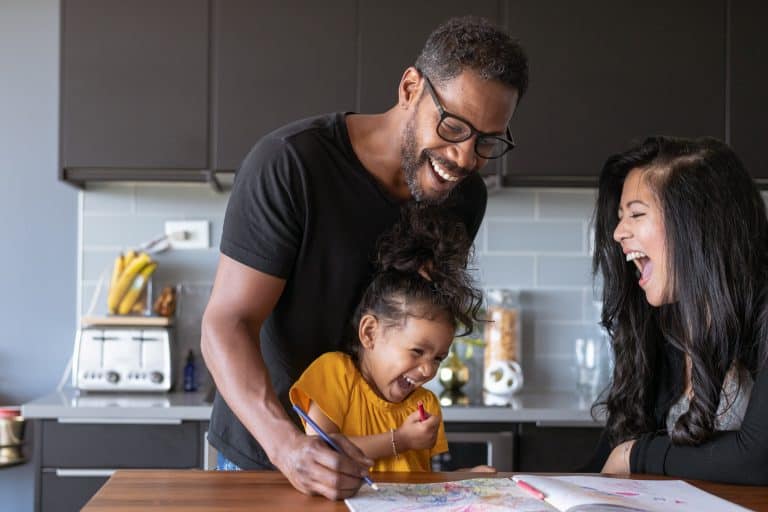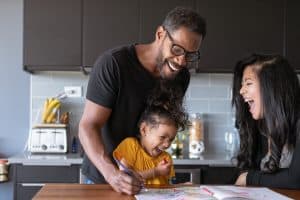 44. Print out this coloring page from the Random Acts of Kindness Foundation for your little one to color in and give to a loved one.
45. Donate any extra canned food to a food bank.
46. Leave a kind comment on a loved one's social media profile, like your favorite memory together or what you like about them.
47. Call a loved one for no reason in particular—just to say hi.
48. Share a toy or treat with a sibling or loved one.
49. Bring cookies or flowers to a local retirement home and spend time visiting with the residents (again, call ahead first to make sure this is allowed).
50. Make it a goal to give five compliments to different people each day.
51. Leave a note in your mailbox to thank your mail carrier for their hard work.
52. Encourage your child to sit next to someone new at school and get to know them.