As remote or hybrid learning continues across the country, establishing home learning routines is more crucial than ever. Educators understandably continue to worry about learning gaps caused by COVID-19, but bringing parents into the conversation can be an excellent way to improve outcomes for students who are learning at home.
When families learn how to support their children from home—especially during the early learning years—students can develop stronger reading and vocabulary skills.[1] Plus, home learning environments play a role in social-emotional development.[8] Even if students aren't attending school in person, teachers can help parents develop effective home learning skills, techniques, and routines. In this way, each child can have the tools to reach their potential, no matter where they spend their days.
Teachers, here are some tips on coaching families to set up strong home learning spaces. Together, you and your students' families can create a place for them to learn well at home.
1. Connect families with age and ability-appropriate school resources.
A family's needs will vary depending on their child's grade and current learning level. A kindergartener who is a grade level ahead in math, example, will have different needs than a first grader who is a grade level behind.
If you have not met a family in person, take time to connect so you can get to know them and their remote needs. Learning is rarely one-size-fits-all. Then, connect families with any remote resources your school provides based on their unique circumstances. If a child has a learning disability that makes it difficult for them to read, for example, it may help to connect them with your school counselor or specialist for extra support.
2. Suggest that families base their home learning environment around structure.
Children work best when they know what to expect, which is why routines are so effective. Help families create a structured schedule and home environment in a way that works best for them.
Structure could take many forms: even ensuring that a child works on the same desk or table every day can help students develop a routine.[2] Whatever form of consistency a family can provide for their child will help them adjust better to remote learning.
3. Encourage families to remove distractions.
Once a family has established their home learning area, help them brainstorm any potential distractions so they can remove them from the learning space. For some, this might involve blocking certain websites while a child is using a computer to complete work. Others might need to move toys out of the room so children are not tempted to play during homework time.
It's important to note, though, that some students might work better with a little music or noise in the background.[4] Eliminating distractions is all about determining what helps a student work at their highest potential—and avoiding things that detract from that.
4. Help families understand the importance of time management.
If a child has multiple assignments, they may have trouble determining where to start and feel overwhelmed. That's where time management comes in.[7]
Show parents how to help a student arrange their assignments from most to least important to finish today. That way, their student can work independently in a way that helps them get the most out of each day. If a family isn't sure which assignments are most important, make it clear that they can always reach out to you for support.
5. Teach parents how to extend home learning beyond school assignments.
A strong home learning environment doesn't end with completing homework assignments. When parents are aware of what their child is learning in school, they can find ways to incorporate practice into their daily routines.[3] Encourage families to have conversations around school topics, and provide instruction on simple ideas or techniques.
If a child is learning about counting, for example, they could help their parent count up change while in the grocery store checkout. Or if a child is learning about different kinds of clouds in science class, their parent could quiz them on the clouds that they see outside. These techniques don't require any extra time or money for families, but the impact can be significant.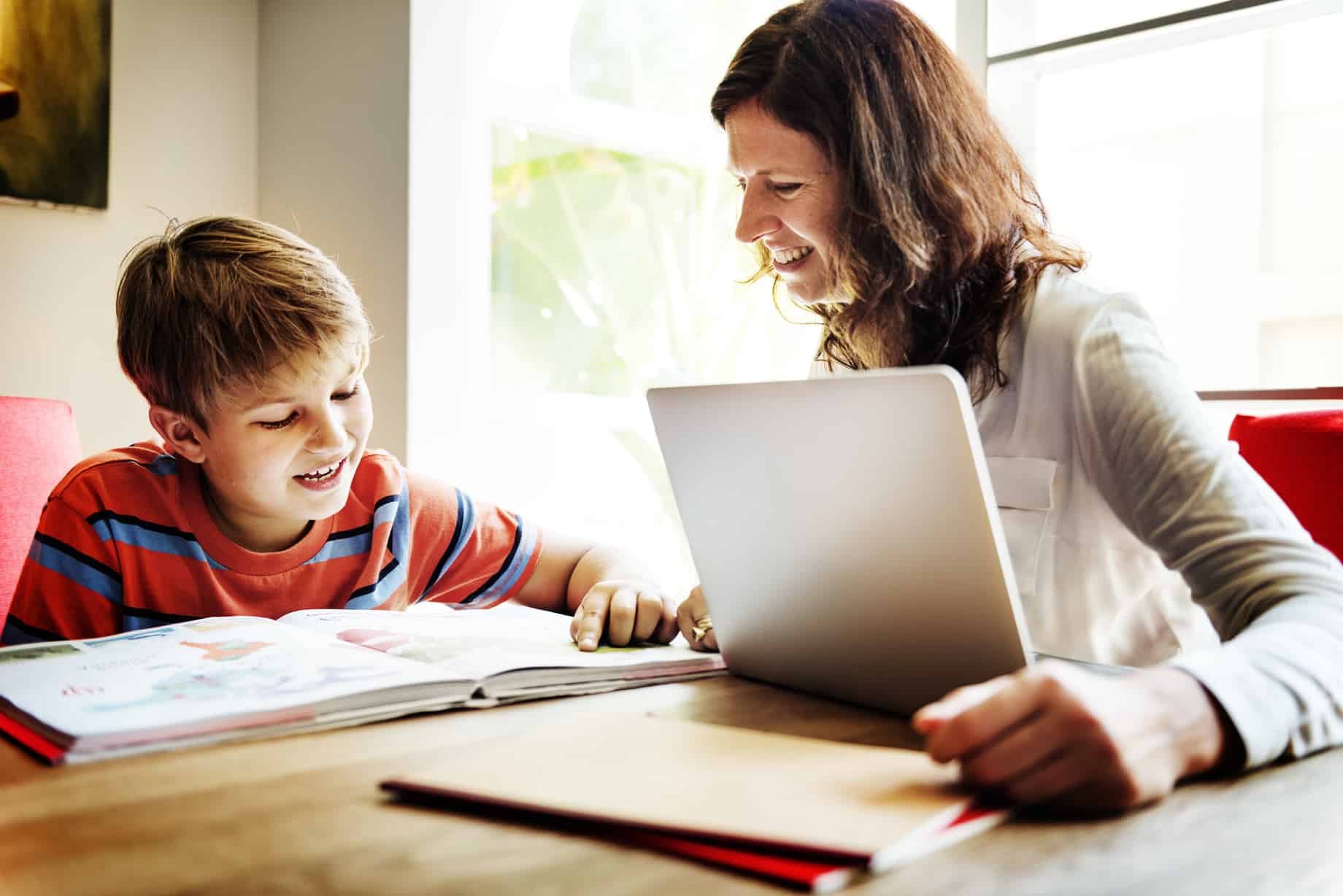 6. Allow some flexibility in a child's home learning environment.
Although consistency is crucial for establishing a strong home learning routine, some flexibility can help students feel refreshed after a long morning of work. For example, a student could complete their work outdoors on a sunny day or take a quick break after a tough assignment is finished.
The National Children's Bureau and Children's Literacy Organization also suggest allowing flexibility in your communication with families.[10] Instead of having set online lessons, for example, you could record your lessons for flexible viewing. And consider allowing for parent-teacher meetings during evening or weekend hours..
7. Encourage families to set regular learning goals.
Learning goals in class often feel clear-cut. At home, however, families may feel lost as to how they should measure their student's academic progress.
Setting a goal every day or week can help parents track their child's growth. It can also help to set a goal for the school year so students can work toward it each day.[10] If a family is not sure what their child's daily, weekly, or long-term goal should be, have a few ideas to offer as suggestions.
8. Be open and available to support families from home.
Adjusting to home learning can be difficult for families, and they may have concerns—especially during the first few months. Let parents know that you are here and happy to offer advice and support for their individual questions.
It can be helpful to set up "online office hours" and encourage families to schedule an appointment with you. Additionally, reaching out to parents regularly can help establish strong relationships so they feel comfortable coming to you with their concerns later on.
Sources:
Smees, R., and Sammons, P. What role does the home learning environment play in supporting good child development in the early years and positive outcomes in later life? Retrieved from actionforchildren.org.uk: https://www.actionforchildren.org.uk/media/9370/hle-think-piece.pdf
Government of Western Australia Department of Education. Set up a learning environment. Retrieved from education.wa.edu.au: https://www.education.wa.edu.au/learning-at-home/learning-environment
Villarreal, A. Parents as First Teachers: Creating an Enriched Home Learning Environment. Retrieved from idra.org: https://www.idra.org/resource-center/parents-as-first-teachers-creating-an-enriched-home-learning-environment/.
Hallmark University Staff. Student Tips: Reducing Distractions at Home. Retrieved from hallmarkuniversity.edu: https://hallmarkuniversity.edu/student-tips-reducing-distractions-at-home/
Ries, J. How to Create a Learning Space for Your Child. Retrieved from familyeducation.com: https://www.familyeducation.com/school-learning/how-to-create-a-learning-space-for-your-child.
Reynolds, K. How to Create a Learning Environment in the Home. Retrieved from housemethod.com: https://housemethod.com/blog/how-to-create-a-learning-environment-in-the-home/.
Parentzone Scotland. Supporting Study. Retrieved from education.gov.scot: https://education.gov.scot/parentzone/learning-at-home/supporting-study.
Foster, M.A., Lambert, R., Abbott-Shim, M., McCarty, F., and Franze, S. A model of home learning environment and social risk factors in relation to children's emergent literacy and social outcomes. Early Childhood Research Quarterly, 2005, 20(1), pp. 13-36.
The National Children's Bureau and National Literacy Trust. Home Matters: making the most of the home learning environment. Retrieved from ncb.org.uk: https://www.ncb.org.uk/sites/default/files/field/attachment/HLE_doc.pdf
Logurercio, K. Helping Your Kids Stay Focused on School During the Coronavirus Pandemic. Retrieved from hopkinsmedicine.org: https://www.hopkinsmedicine.org/health/conditions-and-diseases/coronavirus/kids-learning-at-home.