When you think about the factors that affect a student's achievement, you might think of their teachers or resources available at home. But did you know that a child's classroom environment can have just as much effect as the lessons given by their teachers or parents?[1]
Teachers often decorate based on simple aesthetics but overlook the ways classroom decorations can be useful.[2] If you know how to make or choose decorations that promote learning, you'll do your students a serious favor. The more students are exposed to a positive learning environment in school, the greater their potential for long-term success.
Ready to prepare your classroom for the first day of school? Check out what educational researchers pinpoint as the hallmarks of a good classroom aesthetic, then discover 50 class decoration ideas for the first day of school!
The Research Behind Classroom Decorations: What Works and What Doesn't?
When it comes to elementary students, it's important not to add too much visual stimulation. Since elementary students already spend 25% to 50% of their class time off task, an over-decorated classroom can become a serious distraction.[3] Additionally, too many decorations can make it difficult for children with conditions that affect learning, like dyslexia or autism, to stay focused.[4]
Try to keep at least 20% of the space on your wall free of decorations, if possible.[5] If you're running low on space, swap out some decorations for others throughout the course of the year. Research suggests that if you can create a room that feels nicely balanced between organized and inviting, your students will be better prepared to learn.[6]
Additionally, why not take a cue from students on what they find important in their learning environments? According to a poll, elementary students consider these factors the most helpful for a positive classroom:[7]
Cleanliness
Artwork and decorations
Classroom pet
50 Back to School Classroom Decoration Ideas
Not sure how you want to decorate your classroom this year? Check out these fifty classroom decoration ideas to help you brainstorm ways to make your room as welcoming as possible!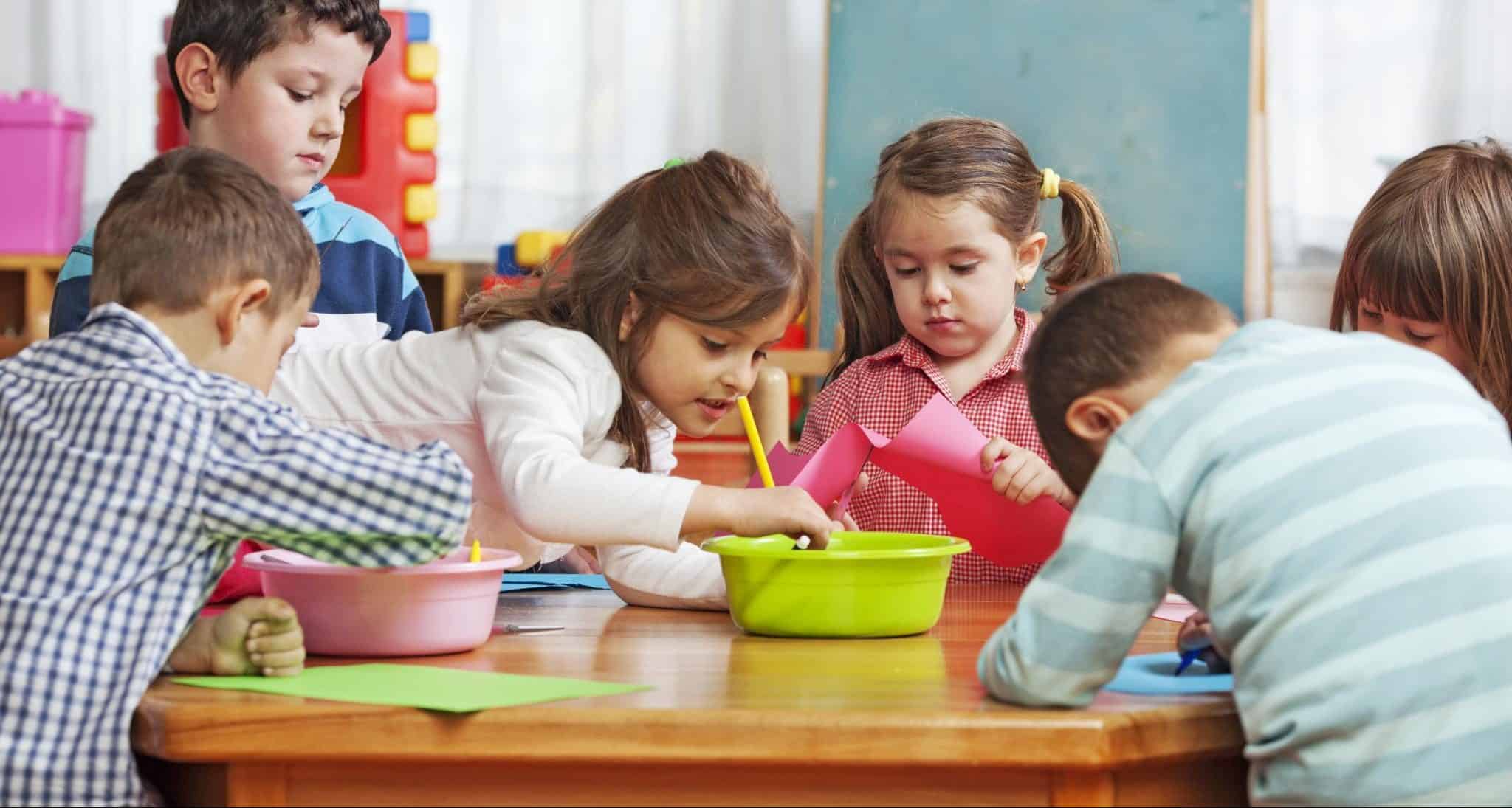 1. Reading Bench: Classroom libraries are a great way to encourage a lifelong love of reading.[8] Need a piece of furniture for yours? Make this reading bench out of plastic crates—and it can also store books.
2. Patterned Student Sit-Upons: These sit-upons make a great spot for students to sit during outside lessons or field trips. And best of all, you can put them together using basic craft store materials!
3. Compliment Jar: A compliment jar can be a great classroom management tool for teaching students how to be kind. This simple craft is made from cut-out paper shapes and magnets, for an easy and functional classroom decoration.
4. Week in Focus Chart: Keeping elementary students on task can be tough, but this weekly chart can do wonders. Hang it up in your classroom to help students stay informed while teaching them the days of the week.
5. "Affirmation Station" Mirror: When you teach students to have confidence in themselves and others at a young age, that lesson can have long-lasting effects. This decorative mirror reminds students to see the positives when they reflect on themselves or their classmates.
6. Hanging Jellyfish Decorations: If you're interested in doing an Under the Sea theme for your classroom, check out these beautiful hanging jellyfish decorations. You can make these hanging jellyfish from markers, coffee filters, and other household items.
7. Motivational Posters: An inspirational quote or photo can go a long way for a young student. Try choosing quotes or pictures from role models who come from a variety of different backgrounds so every student in your class feels welcome.[8]
8. Decorative Handprint Tree: Although you can't assemble this handprint tree until the first days of school, it can be a great craft to do with your new students. Since each student will get to put their handprint on the tree, you can use it to drive home the message that every student belongs in class.
9. "We Are Family" Banner: By the end of the year, your students will ideally be more than just school peers—they'll be a "family!" Spread this message of inclusion from the first day onward by hanging up a "We Are Family" banner in your classroom.
10. Seuss-Themed Reading Nook: Themes that connect to your curriculum are more likely to promote student achievement in the classroom. Use this Dr. Seuss-themed reading nook idea (or other nook ideas here) as an effective and cheap way to decorate a classroom!
11. Hispanic Heritage Month Decorations: September is Hispanic Heritage Month, so these crafts and activities that celebrate this holiday are appropriate fall classroom decorations!
12. Behavior Bingo Chart: Back to school decorations that also function as a game can be a great way to engage students. This easy-to-make bingo chart rewards students with fun school activities for good behavior.
13. Succulent Table Markers: Need a decoration that also ties into a biology lesson? Try putting together these succulent table markers!
14. Desert-Themed Classroom Decor: Elementary school students learn a lot about different climates in the environment. This back to school decoration idea helps students learn all about deserts.
15. Tropical Classroom Theme: If you're looking for something more colorful than a desert theme, use these tropical decorations to give your class some vibrancy!
16. Paper Bag Owl Decorations: These paper bag owls can bring some friendliness to a school door decoration. Create as many paper bag owls as there are students in your class and hang them on the door so that children know which classroom is theirs for the year.
17. Shoe Box Classroom Organizer: Creating an organization system for your classroom doesn't have to be difficult. With some shoeboxes and a few other household items, you can create storage bins for school supplies.
18. Read-Aloud Organizers: Because read-aloud books are so short, it's easy for them to get lost. But with this read-aloud organizer, you can keep your classroom library organized and easy for students to access.
19. "Where Our Adventure Begins" Bulletin Board: Bulletin boards are an excellent way to keep students in the know on school and class events. This "Adventure Awaits" bulletin board idea can get students excited to come back to school.
20. Watercolor Classroom Theme: Watercolor-themed decorations can give your classroom a vibrant yet calm and inviting aesthetic. Use these watercolor-styled decorations as a cute and unique theme for your classroom
21. Growth Mindset Bulletin Board: Do you know the difference between a growth mindset and a fixed mindset? This fall bulletin board idea can teach you and your students how to have a positive mindset about school assignments.
22. Focus Chart: Focus charts can reinforce concepts that you're learning in class through simple, bite-sized reminders. This activity shows you how to put together your own focus chart.
23. Classroom Plants: If you're not quite ready to commit to a class pet, a classroom plant can be a great alternative. Choose one of these plants recommended for classrooms, and use it to teach students all kinds of fun science lessons.
24. 3D Crayon Door Decoration: If you're looking for classroom door decoration ideas that can give your room some color, look no further! This decoration features 3D crayons made from cardboard and stock paper.
25. Rainbow Ribbon Curtains: Even the curtains you put up can give your classroom personality. Use this craft to create unique curtains from multicolored ribbons.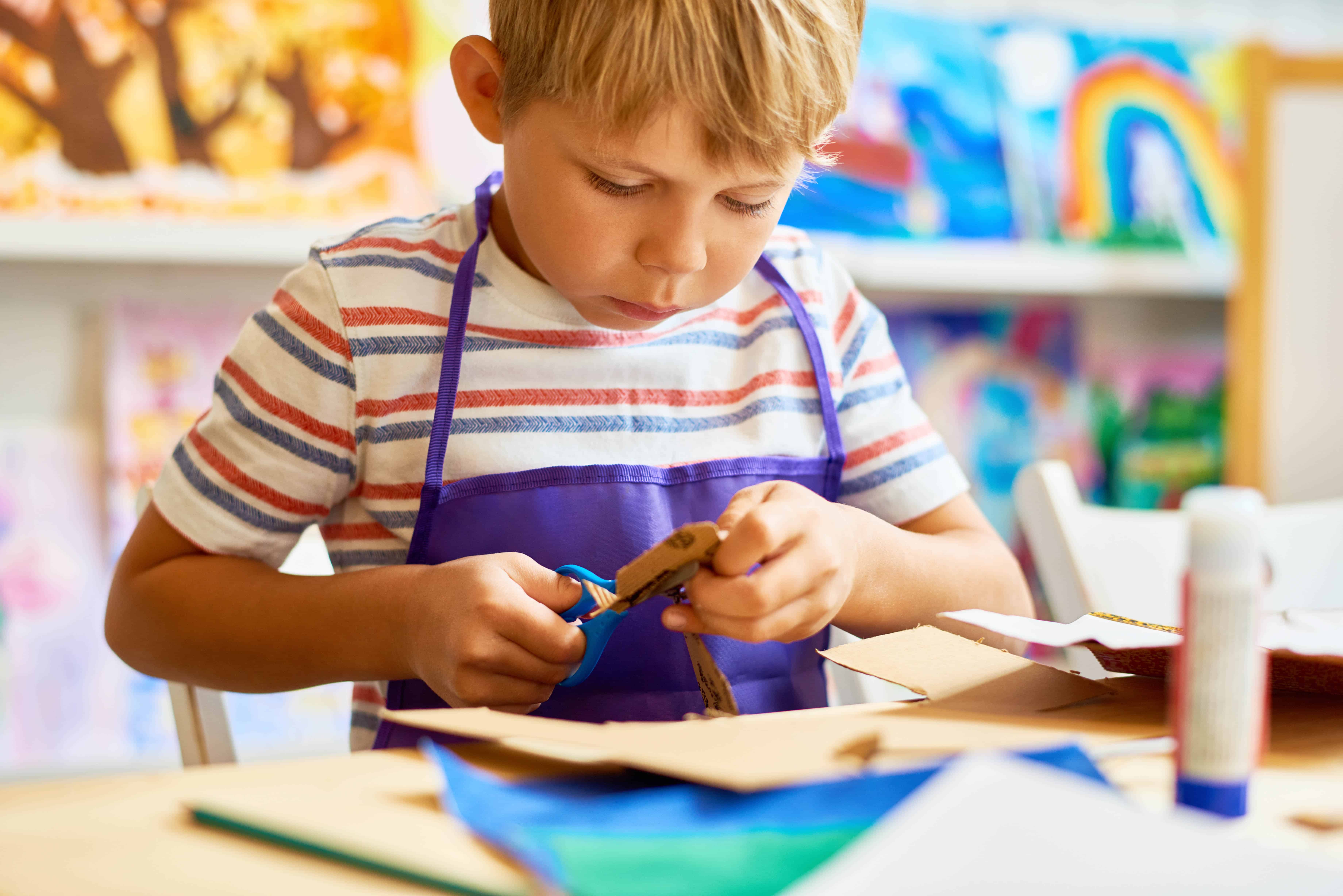 26. Substitute Teacher Tub: You don't have to wait until the middle of the school year to prepare for substitute teachers. This decorative substitute teacher tub can be filled with all of the supplies your sub will need to teach an awesome lesson.
27. Artsy Classroom Door Theme: This door decoration idea is perfect for a school art teacher who wants to get their students excited for another year of fun crafts.
28. Disney Classroom Makeover: Disney-themed decorations can be a fun way to grab your students' attention. Use these crafts and decoration ideas to bring a little Disney into your class.
29. To-Do Drawers: We know that from the first day of school onward, teachers have a lot on their to-do plate! This cute to-do drawer helps keep school assignments organized for grading or filing later on.
30. Llama Bulletin Board: This back to school bulletin board is sure to help your students feel welcome and know that the school year will be a "llama" fun!
31. Monster Vocabulary Chart: If you dress them up with the right decorations, even spelling words can be fun! Use this monster-themed vocabulary chart to get your students excited to learn new words.
32. "Be You" Poster: Students often feel afraid that they won't fit in on the first day of school. This fun poster can remind students that the best way to make friends is to just be themselves.
33. "Shout Out" Corner: It's so important to help your students bond from the first day onward. This "Shout Out" Corner encourages students to compliment others and recognize the talents that everyone brings to a classroom.
34. DIY Paper Succulents: If you liked the succulent table markers featured above, then these crafts will be right up your alley! These paper succulents are easy to make and can give your classroom a splash of life.
35. "Desk Fairy" Door: This decoration can teach students how to regularly clean out their desks through the example of the "desk fairy." Place it anywhere in your classroom and encourage students to keep their space nice and tidy.
36. Elementary Class Organizer Folder: If you're looking for a system to keep all of your class information in the same place, check out the instructions for this cute and practical class organizer!
37. Class Leader Clothespin Board: Assigning students class leadership duties can help them stay invested in class. With this clothespin chart, you can change leadership roles every week so everyone gets a chance to help out.
38. "Everybody is Somebody" Board: We all need a reminder that we matter and belong in school. This bulletin board spreads the message that each student brings a unique perspective that your class needs.
39. Scarecrow Door Decoration: Since back to school closely follows the end of summer, now is a great time to prepare your autumn class decorations. This scarecrow door decoration is a cute and festive way to celebrate fall.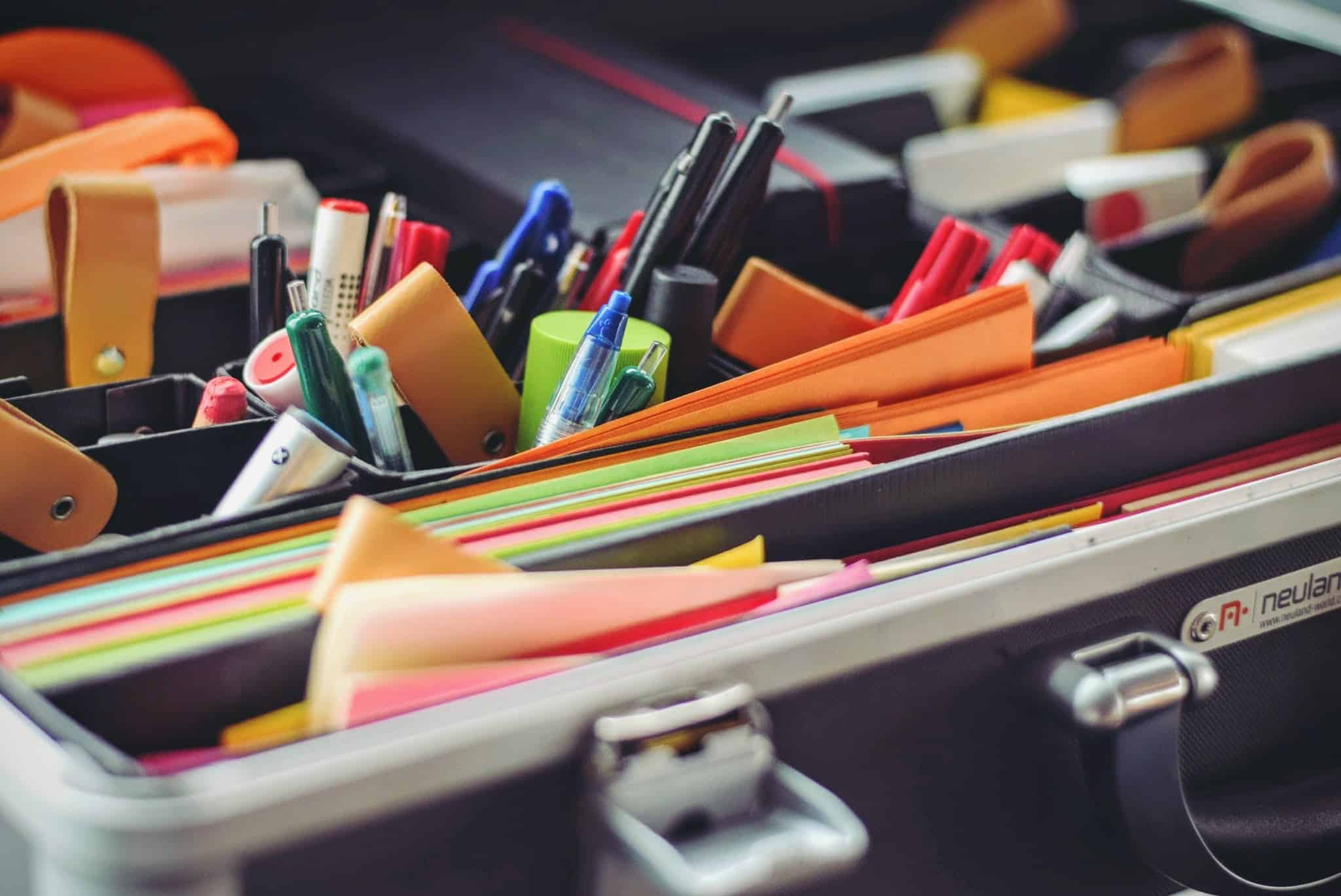 40. Student Supply Corner: Decorating school supplies while keeping them organized can be tough. But with a student supply corner, your students can access all of the materials they need for class in one spot.
41. "Cookie Time" Positive Behavior Chart: This crafty behavior chart helps students count toward a classroom reward by behaving well in class.
42. Mental Health Check-In: Keeping in touch with your students' emotional health can help them feel safe and supported throughout the school year. By using sticky notes and this simple chart, you can give students the opportunity to check in with you every day.
43. Mason Jar Organizers: What organization system could be as simple and elegant as mason jars? With this thrifty decoration, you can make sure you have everything you need to start each day in class right.
44. "When You Enter This Classroom" Door Decoration: Children are so much more than students! This classroom door decoration reminds students that they have the potential to do anything if they put their mind to it.
45. Kindness Chains: Kindness chains can be a fun craft and decoration to start during the first few days of school. As your students complete random acts of kindness, the class kindness chain will grow over time.
46. Teacher Ruler Wreath: Usually, the first day of school is too early to put up a holiday wreath. But with this teacher ruler wreath, you can have a festive and timely decoration for your door at the beginning of the year.
47. Clipboard Desk Organizer: Students and teachers alike know how cluttered a desk can get. With this clipboard organizer, everyone in class can keep their desk nice and tidy.
48. "Donut Stress" Door Decoration: The first day of school doesn't have to be intimidating! This door decoration reminds students to check their worries at the door and prepare for a sweet school year.
49. Fabric Table Skirt: Check out these no-sew instructions for a table skirt that can give your classroom decor just the right pop of color. It pairs best with the homemade ribbon curtains featured earlier in the list.
50. Paintbrush Hall Pass Hanger: If you have to hang up a hall pass, why not make it fun and crafty? This paintbrush hall pass makes for a quirky and creative classroom decoration.
Sources:
Strong-Wilson, T., and Ellis, J. Children and Place: Reggio Emilia's Environment As Third Teacher. Theory Into Practice, 2007, 46(1), pp. 40-47.[1]
Glatter, H., Deruy, E., and Wong, A. Reimagining the Modern Classroom. Retrieved from theatlantic.com: https://www.theatlantic.com/education/archive/2016/09/reimagining-the-modern-classroom/498224/.[2]
Godwin, K.E., and Fisher, A.V. Allocation of Attention in Classroom Environments: Consequences for Learning. Cognitive Science Society, 2011, 33, pp. 2806-2811.[3]
Rodrigues, P.F.S., and Pandeirada, J.N.S. When visual stimulation of the surrounding environment affects children's cognitive performance. Journal of Experimental Child Psychology, December 2018, 176, pp. 140-149.[4]
Parrett, P., Zhang, Y., Davies, F., and Barrett, L. Clever Classrooms: Summary Report of the HEAD Project. Retrieved from salford.ac.uk: https://www.salford.ac.uk/cleverclassrooms/1503-Salford-Uni-Report-DIGITAL.pdf.[5]
Concordia-Portland University Room 241 Team. How Comfortable Classrooms Lead to a Better Student Community. Retrieved from education.cu-portland.edu: https://education.cu-portland.edu/blog/classroom-resources/welcoming-classrooms-better-students/.[6,7]