Springtime means big changes to the weather, and that's a great opportunity for outdoor spring activities that help your child learn all about the weather.
From learning about different types of clouds, discovering wild facts about tornadoes, or finding out where rain comes from, these spring-themed science, craft, and reading activities are sure to provide hours of educational and fun STEAM learning. (STEAM stands for science, technology, engineering, arts and math.)
30 Fun Weather Activities, Crafts, and Stories for Kids
All About Stormy Weather
1. Tornadoes are a springtime fact of life for many people. They can be scary, but the science behind why they happen is fascinating. Find out what causes a tornado with this kid-friendly site or this age-appropriate video.
2. Be prepared for severe weather so you don't have to feel afraid. Tornadoes and violent storms can be scary for children (and anyone), but being prepared with a disaster kit and knowing what to do when there's a tornado watch or warning can help reduce the fear of the unknown. This ready.gov site has disaster kit and preparedness information for children, and here's a kid-friendly site about taking shelter in a tornado.
3. Make your own tornado in a bottle with these instructions that use old soda bottles and duct tape.
4. A thunder storm can be frightening. They don't have to be if you understand what causes thunder and lightning:
5. Hurricanes are a fascinating weather phenomenon. People in the Gulf Coast and East Coast especially need to be aware of these monster storms. This Weather Wiz Kids page is a great hurricane explainer.
Observing and Recording the Weather
6. What can we observe today? Observing and recording is an important part of the scientific process. Print out free this sheet so your little one can draw what they see in the sky.
7. What is the weather like today? Color how the weather today feels with this printable. Plus, try these plans for making a reusable weather board perfect for keeping track of today's conditions.
8. Get singing with this weather song for children: "What's the Weather Like Today?"
9. What kind of cloud is that? Discover why clouds are Earth's "security blanket," and what the different types of clouds mean, along with more facts about clouds here.
10. The earliest days of weather study consisted of observers keeping a journal of the daily weather. Help your child make a weather journal for recording the daily temperature and conditions.
Rain and Clouds
11. One common question children ask is "Why does it rain?" Find out where rain comes from with this video.
12. It's easy to learn how clouds form by making your own cloud with some ice, a jar, and hairspray.
13. Be a weather observer by tracking rainfall. It's easy and cheap when you make your own rain gauge out of an old soda bottle.
14.The water cycle is essential to life. Help your kids learn more about it with this weather-themed science experiment for children: Water cycle in a bag.
Colorful Rainbows
15. One beautiful benefit of rainy weather is when a rainbow appears. Learn what causes rainbows here.
16. Discover how children can make their own rainbows with a flashlight and prism. If you don't have a prism handy, a glass of water works too.
17. Make rainbow crafts using paper plates, cotton balls and construction paper—a perfect activity for a rainy day.
18. If you'd rather make your rainbow artwork from materials you can snack on, here's an idea for making a rainbow using colored fruit ring cereal.
Crafts, Silly Songs, Stories, and Jokes
19. For many, the nighttime chirp of crickets is a comforting sound. It's also a handy way to know what the temperature is in Fahrenheit. Count how many times a cricket chirps in 15 seconds, then add 40 to that number. That's the temperature!
20. What did one hurricane say to the other? "I have my eye on you." Get more groan-worthy weather jokes for kids here for a giggle.
21. Read a weather book for children with this story about Joanne Simpson, a weather pioneer who contributed much to meteorology and opened the door for other women.
2. What's the difference between weather and climate? It's a common question, and an important one. Here's a video that talks about climate and weather for kids
23. Every season has something to love about it. Read "That's What I Like: A Book About the Seasons" to find the joy in each time of year.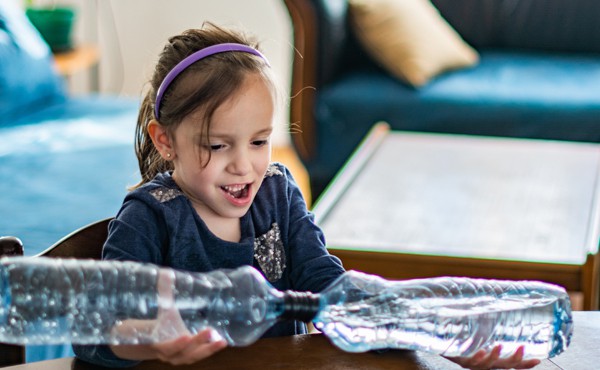 24. Whatever the weather, it's fun to play outside in it as long as you dress right. Read this fun story about children who observe what they think the weather is like, but don't quite get it right. Get "Whatever the Weather" here.
25. Read this book about the seasons to discover the differences in seasons with your little ones.
26. There are plenty of weather-related science experiments for children in kindergarten or younger at this page, including how to make lightning with a balloon.
27. Playing in puddles has always been one of the most fun outdoor activities for kids. Harness that energy with this fun outdoors experiment to learn about evaporation and the water cycle.
28. Your clothing plays a big part in keeping your warm or cool. But why do the color of clothes matter? Find out as a family with this simple science experiment for children.
29. Springtime means there probably won't be much snow for a while. Don't let that stop your child from making fake snow at home.
30. The sun is essential to life on earth and to the weather. It drives the water cycle, helps plants grow, and gives us light, electricity, and warmth. But most importantly, you can make s'mores with the sun by constructing a solar oven. It's one of the five experiments you can see in the video below. Watch and be awed by the power of the sun!