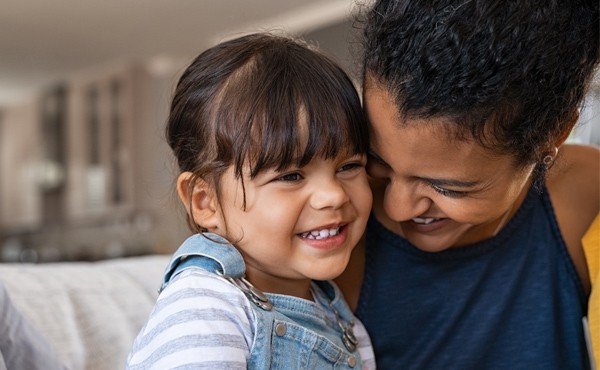 It's never the wrong time for a child to do or make something special for an important woman in their life. But on some days, it's time to go all out. Mother's Day is on May 9 this year, and it definitely qualifies as one of those "all out" days.
Here are some Mother's Day craft, art, and activity ideas for your child to create for their mother, grandmother, or any special person who fills that role. Most are easy for preschoolers, kindergarteners, and young children to do so that they can proudly say they made these awesome Mother's Day gifts themselves. Some activities will need an adult's help or supervision.
Mother's Day Card Ideas
Handmade cards are a cherished gift. Here are some low-cost or free options.
1. A simple homemade card is always welcome. If you're wondering what your child can write in their Mother's Day card, it depends on them and their true personality. It can be silly, simple, or sweet. A heartfelt "I love you" is always appreciated, or if they want to practice signing their name (or just drawing a nice picture) to a message you pen, that will be treasured too.
2. If your child likes to color, find some free printable Mother's Day coloring cards of varying difficulty here.
3. Making your own pop up card for Mother's Day takes some time, but it's worth it for the wow effect. Check out how to make one here:
4. Sometimes ordering photo cards can be expensive. If you can print out pictures at home or have some cute photos handy, here's a handmade option that's easy to create.
5. Water color paints are fun and easy to use, making them a perfect choice for a DIY Mother's Day card.
Mother's Day Stories to Read Together
Snuggling together to read stories is the perfect nighttime or rainy-weather activity. Here are some stories perfect for Mother's Day.
6. For a fun Mother's Day story to read together, read Nicky's Gift. This book is all about Nicky, a boy who imagines fun gifts for his mother. What would be the perfect gift for her?
7. Here's the Spanish-language version: El regalo de Nicky
8. Read Do You Know together and enjoy coloring the pages. This boy has a lot of questions for his mother. What will they learn about together?
9. Here's the Spanish-language version: ¿Sabías?
10. Your child can write their own story, poem, or spend time journaling about their love for mom. Check out these writing prompts that are perfect for Mother's Day.
Art to Make
Let your budding artist express their creativity with these projects.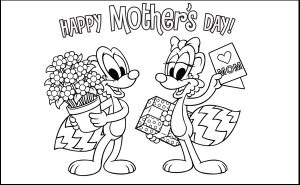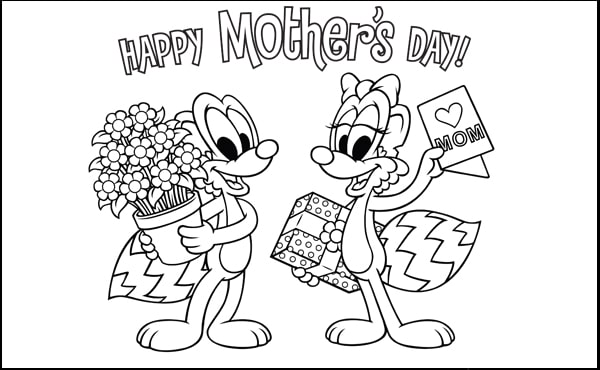 11. Print these free coloring pages for Mother's Day featuring your friends Rusty and Rosy.
12. Here is the Spanish-language version of Rusty and Rosy's printable coloring page.
13. Break out some construction paper and crayons and let your children draw a special picture straight from the heart.
14. If your child wants to make a drawing that's a little bit different, here's a Mother's Day drawing idea with a twist.
15. Get some DIY photoshoot ideas, plus handy tips on lighting and composition.
16. Grab some watercolors, print out this template, and let your children go wild for a fun-to-make, easy-to-do, unique, and memorable gift.
Mother's Day Crafts to Make, Grow, or Eat
Creative little ones will love these ideas for crafts, including handprint art.
17. This child handprint bouquet will brighten up mom's day.
18. Children keep a special place in a mother's heart. Now they can keep place in her books, too. Make Mother's Day bookmarks using a photo booth strip.
19. Someday mom will marvel at how tiny her children's hands once were. Use finger paints and construction paper for some handprint art she can keep forever.
20. Here's a handprint card inspiration with a sweet poem.
21. You can also add little feet to the mix with these footprint art ideas.
22. Want to make a 3D keepsake? Here's a video explainer on how to easily make homemade clay for handprints or footprints out of flour, salt, and water.
23. You can also use the salt dough recipe to make refrigerator magnets—a very useful gift.
24. Here are instructions for your child to make a Mother's Day collage (note: the site requires a free registration to use).
25. Bake a batch of cookies for mom. Your child can help out by measuring and mixing ingredients. Have fun with your child guessing which containers hold more or how much something weighs. Get more measurement fun for children ideas here.
26. One inexpensive craft that mom is sure to use all year are hand-decorated coffee mugs. A plain mug, some glass or ceramic markers, and your child's imagination is all it takes.
27. Craft a beaded necklace or bracelet with children's names, and let your child practice spelling their name. Note that this activity uses lots of tiny beads and requires adult supervision.
28. Practice origami with this folded card envelope.
29. Your child can make artwork for an easy DIY shadow box. Here are instructions.
30. Paint handprints or artwork onto a terra cotta flower pot craft to display mom's favorite flower or plant. (Hint: The official Mother's Day flower is the carnation).
31. Mason Jars are perfect for holding gifts: they're cute, infinitely reusable, and inexpensive. One idea is this brownie mix in a jar, though you can fill it with any number of favorite treats.
Activities to Do Together
Sometimes the best gift is some quality time together. A nice Mother's Day out could include a nature walk, a visit to the park, or time inside working on puzzles and games. Here are some more ideas.
32. Pack a picnic and get outside—even if it's just the back yard or balcony—for a lunch together.
33. Surprise mom with a unique song. Here are some Mother's Day songs for children to sing.
34. Your child can hide mom's present or favorite treats and let her find them by making their own personalized clues for a scavenger hunt.
35. Making breakfast in bed is a fun activity in which your child can practice following directions (like "first this, then that").
36. Take a hike! Americans are flocking to the great outdoors in record numbers, so why not join them and soak in the natural beauty.
37. Yoga has proven benefits for both grown ups and children. Taking a class or home yoga session together is a fun joint activity.
38. A family bike ride is great exercise and bonding time, and it's a perfect way to explore your neighborhood or city. You can see so much more than from a car.
39. Ask mom about her favorite times from when she was a child.
40. But first, let her sleep in, and when she wakes, give her a big hug.