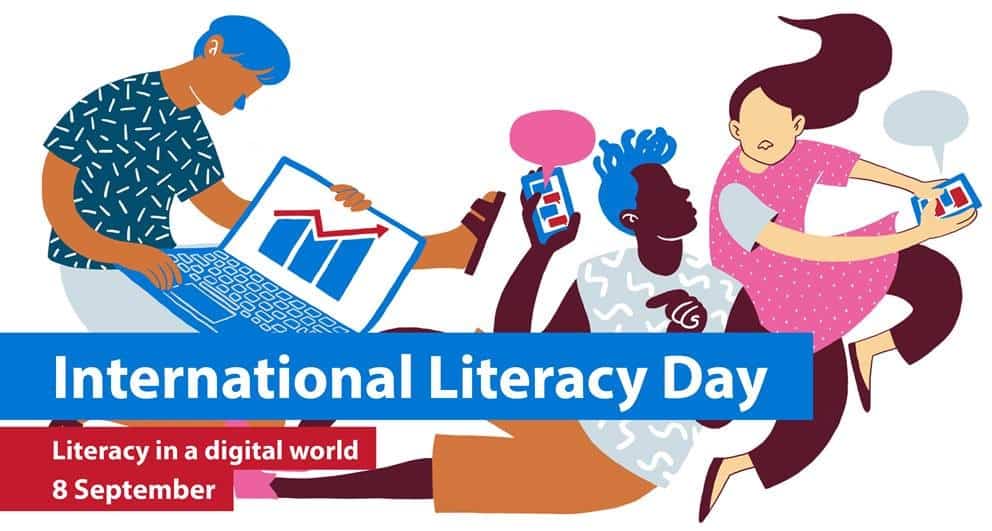 From ordering a meal to reading a text message or learning in a classroom, reading is an essential part of our lives—and technology is continuing to change and shape how we do it.
That's why this year's theme for International Literacy Day (September 8) is Literacy in a Digital World. This focus is meant to determine what literacy skills individuals need to better understand and navigate a digital world and to explore how technology can bring new literacy opportunities.
UNESCO (United Nations Educational, Scientific and Cultural Organization) sponsors International Literacy Day, which is organized to raise literacy awareness and celebrated by educators, organizations, communities and governments worldwide. It is also part of the 2030 Agenda for Sustainable Development that targets educating individuals on important skills to help close the literacy gap by 2030.
Are literacy rates improving?
While literacy has improved in the last 50 years, nearly 750 million adults and 264 million out-of-school children still lack literacy skills. Women who need basic reading and writing skills make up 63 percent of this statistic.
Among countries that have seen positive changes in literacy, the numbers have dramatically improved. Twenty-two percent of young people (15 to 24 years-old) in Asia and Africa lacked literacy skills 50 years ago, while today 9 percent of young people in these two countries lack literacy skills. Youth in Southern Asia have also seen dramatic improvements in literacy—59 percent (1990) to 89 percent (2016).
Rates in several countries have improved, but there is still a need to raise awareness of the importance of literacy and ensure equal opportunities.
As UNESCO writes, "At record speed, digital technologies are fundamentally changing the way people live, work, learn and socialize everywhere. They are giving new possibilities to people to improve all areas of their lives including access to information; knowledge management; networking; social services; industrial production, and mode of work. However, those who lack access to digital technologies and the knowledge, skills and competencies required to navigate them, can end up marginalized in increasingly digitally driven societies. Literacy is one such essential skill."
International Literacy Day events
International Literacy Day takes place around the world with the official celebration held at UNESCO headquarters in Paris, France on September 8 and 9.
The main event at UNESCO Headquarters will include the awards ceremony for the International Literacy Prizes. This year's awards will recognize organizations that demonstrate excellence in preparing people for literacy in digital societies.
The UNESCO King Sejong Literacy Prize (supported by Republic of Korea) has chosen two winners.
The Center for the Study of Learning and Performance (CSLP) at Concordia University in Canada is the first winner with their program Using Educational Technology to Develop Essential Educational Competencies in Sub-Saharan Africa.
The We Love Reading project from Jordan is the second winner with its online trainings that provide age-appropriate reading material, while encouraging reading out-loud through a digital library.
The UNESCO Confucius Prize for Literacy (sponsored by People's Republic of China) will present three awards.
The AdulTICoProgram for its contribution in teaching digital literacy to seniors. This program was created by Secretariat of Information and Communications Technologies in Armenia.
Pakistan's Citizens Foundation for the Aagahi Literacy Program. Focusing on women and young girls who are not in school, this program assesses their need for digital education and provides teaching opportunities.
The FunDza project in South Africa for its focus on encouraging enjoyable reading and connecting readers and writers through their program to develop a stronger literacy culture.
All five winners will present their projects and receive a medal, diploma, and $20,000 for their excellence toward boosting literacy.
The celebration of International Literacy Day raises awareness to further encourage reading and writing programs worldwide. As literacy rates continue to improve, an appreciation for lifelong learning will be available for people everywhere.