In 1972, the third Sunday in June was officially designated as Father's Day in the United States. Today, countries all over the world join in to thank fathers for their support and care.
Father's Day is the perfect time for families to bond together and learn more about their father, grandfather, or other male role model. Below, we've compiled 40 crafts, activities, and read-aloud books to celebrate Father's Day together!
10 Easy Father's Day Crafts and DIY Gifts for Dad
These 10 DIY Father's Day crafts and gifts use minimal supplies to make something special for the father figures in your child's life. As long as it comes from the heart, he is sure to love it!
1. Make a paper tie for a unique DIY gift that will show him that you care.
2. If your dad loves sports, this football handprint makes for a great personalized gift.
3. Dads love eating chocolate chip cookies, but your children can do half the work for him with this simple Father's Day gift! Let your kids measure out all of the ingredients, then layer it for him in a Mason jar for a delicious Father's Day gift.
4. Show him that he's truly number one in your child's life with these medals. He will love the gesture behind this gift that is certain to be a keepsake.
5. Make a family tree that Dad can proudly display at home or at the office!
6. Great for the bed or the couch, Dad will love his one-of-a-kind pillowcase with your child's handwritten message.
7. Make Dad a keychain so he can remember how much his family loves him whenever he uses his keys.
8. Help children write a heartfelt letter to their dad, grandpa, or other male role model with this useful template.
9. For a last-minute Father's Day gift that will get plenty of use, make a coupon book with redeemable presents like "extra big hugs" or "one hour of peace and quiet."
10. Hold a themed family photoshoot to make an especially meaningful gift: pictures of the people he loves most.
10 DIY Father's Day Card Ideas
A handmade card is one of the best ways to show Dad that he means a lot. These 10 free Father's Day card ideas all use materials that you may already have around your house.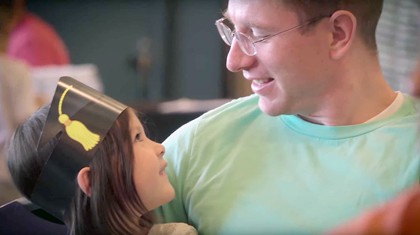 1. If your dad loves to fish, make him a themed card that will make his day.
2. Make a Monster Hug card so that no matter where the both of you are, your dad can always have a hug from you.
3. This Father's Day bowtie card comes with a sweet treat and an even sweeter saying.
4. This magical card is sure to delight with a message that appears different depending on how you hold it.
5. Not sure what to write in your Father's Day card? This idea comes with an extra-special message that will show Dad how much you love him.
6. Anyone with a bit of a sweet tooth will appreciate this cute and colorful popsicle card.
7. If Dad is always working on projects around the house, use your child's footprint to create a cool design with this handyman-themed card idea.
8. This message in a bottle template can give you a cute space to write a personalized message.
9. Is someone you love a sci-fi fan? This Father's Day, be sure to tell him "Yoda Best!" with this geektastic card.
10. If you're up for a challenge, this wallet card takes a little more effort than other ideas on this list but still makes for a heartwarming idea.
15 Father's Day Activities
What better gift to give than quality time? Try one of these 15 family activities to enjoy each other's company and celebrate Father's Day together.
1. Go on a hike or a walk around your neighborhood to appreciate the beauty of nature together.
2. These Dad-themed films can all make for a great family movie night. Or watch your dad's favorite movie!
3. For a fun evening activity, have a Father's Day game night. Bring out your favorite board games or try one of these simple games that uses a basic deck of cards.
4. Coloring can be a relaxing way to have fun with Dad. Print out this Father's Day coloring page featuring Rusty and Rosy from Waterford Upstart to get started.
5. Have a family picnic to spend some time outside enjoying each other's company.
6. Dads deserve spa days, too! Try one of these ideas to have a family spa day or pamper your dad.
7. Give Dad a break this Father's Day. Help out with chores around the house that he would normally do.
8. Make a playlist of his favorite songs for him to listen to while relaxing.
9. Then, have an extra special family karaoke night using your playlist.
10. This questionnaire is a fun way for kids to bond with and learn more about their dad or grandpa.
11. Make Dad breakfast in bed so he can wake up to a delicious surprise.
12. Try this Father's Day Scavenger Hunt for an activity that really celebrates your dad.
13. For a nighttime activity, spend some time outdoors and look at the stars.
14. If you're not sure what your dad would love to do most, ask him! Let him choose an activity for your family to do for the day.
15. For a nice joint project, try building a simple DIY birdhouse together.
5 Children's Books About Dads and Grandpas
Family read-alouds can also make for a great Father's Day activity. These five picture books celebrating dads and grandpas are some of the best books to share with loved ones on Father's Day.
1. Guess How Much I Love You by Sam McBratney, illustrated by Anita Jeram
How much does Big Nutbrown Hare love his child Little Nutbrown Hare? In this sweet picture book, the two realize that it's tough to measure the unconditional love that a family shares.
2. Hair Love by Matthew A. Cherry, illustrated by Vashti Harrison
Zuri's dad wants to style his daughter's hair for a special occasion. It can be tough to do a job that Zuri's mom usually does, but together, Zuri and Daddy create the perfect look.
This picture book was also turned into an Academy Award-winning short film, which you and your dad may enjoy watching together.
3. Grandpa Green by Lane Smith
Grandpa Green was an artist who created stunning sculptures from plants. In this picture book, a little boy learns about Grandpa Green's life and memories through his art, even though Grandpa Green can no longer remember them himself.
4. My Papi Has a Motorcycle by Isabel Quintero, illustrated by Zeke Peña
Daisy loves to go on motorcycle rides around the neighborhood with her papi. As she and Papi zoom around her community, she learns that no matter how things change, her family will always be there for her.
5. Drawn Together by Minh Lê, illustrated by Dan Santat
A young boy and his grandpa don't speak the same language, but they share a love of art. As they draw superheroes together, they form a bond that transcends words.