"I am sooooo boooooooooooored."
You have probably heard something like that coming from your child's mouth. Odds are good you heard it only a day or two into summer break.
Despite our lofty goals of good times packed with play and adventure, your children are going to be bored at some point—no matter how hard you try. And that's OK:
Boredom is normal. It doesn't mean you failed your child somehow.
Boredom can be good for children.
And we have a ton of fun family activities to help fight the dreaded boredom.
Why Boredom Can Actually Be Good (It's all About Social and Emotional Development)
Old or young, people don't like being bored. That's what makes boredom useful—it motivates us to try new things. When people get bored, they take new risks, create new things, and daydream.
Boredom also is good for helping children with their social and emotional learning. Boredom affects people's ability to focus and pay attention because they've lost interest. Learning to endure being bored while they're young prepares children to develop self-control skills over their thoughts, emotions, and actions.[1] Boredom has also been shown to ignite creativity[2] and enhance problem-solving skills.[3]
It's OK to be bored sometimes. What's important is what children do to overcome it.
Retreating to screen time on a tablet, phone, or TV is the easiest. But experts remind us that too much passive screen time, especially for children 5 and under, is not ideal. A little bit is OK, but healthy limits need to be set.
Instead, try some of these ideas to engage your child's mind, body, and interests in some fun activities.
Fun Family Activities to Beat Back Boredom
Most of these activities are free or use things you have around the house already. Some others might involve a trip to the dollar store.
Outdoor Activities
1. Try Geocaching and explore your area. Geocaching is like a real-life treasure hunt where you go searching for hidden caches. It's free to sign up and get an app at Geocaching.com
2. Take a hike. It's easy to get started. Go to DiscoverTheForest.org and search for family-friendly hikes near you.
3. Walk or ride your bicycle to somewhere you'd ordinarily drive. You'll see more of your neighborhood by foot than from a car window.
4. Find bugs in your backyard. Turn over rocks and look on bushes or inside logs. Collect bugs in a jar and try this science experiment to see what kind of food bugs prefer.
5. Collect fallen tree leaves. Identify what kind of trees they came from at the Arbor Day Foundation website. See who can find the most kinds!
6. Easter egg hunts don't have to wait for spring. Have a surprise egg hunt outside, or in the house if the weather's not cooperating.
7. Sidewalk chalk is among the best values from the dollar store. Pick up a few boxes for: driveway artwork, four- or two-square courts, race tracks, alphabet practice, kind notes for passers-by, and more.
8. Drive to a brand-new neighborhood and take a walk there for something different.
9. Assuming you're not under water restrictions, playing in garden sprinklers is a cheap, fun, energetic, and memorable way to cool off.
10. Half of the fun of nature happens after dark. Spider Sniffing is a fun way to find our creepy-crawly spider friends. Hold a flashlight at eye level and scan around. Spot super-reflective blue pinpoints? That's probably a spider! See how many you can find once the sun goes down.
11. Here's another fun after-dark activity. All you need to play flashlight tag is… a flashlight.
12. Go star watching from your backyard or window. You don't even need a telescope. Although you'll have better luck far from civilization, you'll still be able to spot some bright stars and even satellites in most cities. You can get a free constellation app (try searching "Google Sky Map") to identify planets and stars.
13. Even the slightest change can make a routine experience feel new. Try eating lunch in the yard, at the park, or even just in a different room.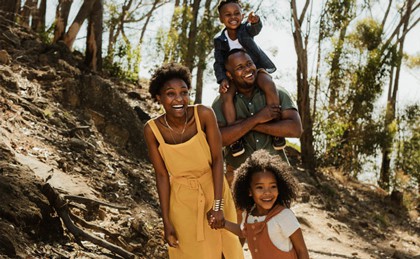 14, Dig out your child's kites (or make your own) for some breezy outside fun.
15. Backyard bird watching is a fun, low-cost activity that provides hours of entertainment. Get some pointers here.
16. You don't need to trek miles for a campout under the stars. Backyard camping has been a favorite activity of kids for generations. Set up a tent in the backyard and have a sleepout.
17. Track and field events are fun, good exercise, and cost nothing to play. With sidewalk chalk, measure 50 meters and 100 meters on the sidewalk for foot or bicycle races. Or, try long jumping to see who can jump the farthest.
18. Make a backyard obstacle course. Use hula hoops, jump ropes, swing sets, or anything else you have around the yard for some active fun.
Indoor Activities
19. Go to Waterford Mentor for family resources like free printable coloring pages, science experiments, and more. Click on Resource Type > Family Resources.
20. Dive into some good books. Try to complete this Summer reading challenge.
21. Does your child have a movie or show they've seen hundreds of times and know by heart? Next time, try putting it on in a different language and try to follow along.
22. Put on an impromptu kid dance party for some fun, musical exercise.
23. Break out a big puzzle. Puzzles are great for kids, helping them build concentration, spatial skills, goal-setting, and other valuable social and emotional skills.
24. For a fun twist on a game several children can play, try "Sardines." It's like hide and seek, but when the hider is discovered, the child who finds them joins them in the hiding place. Last one to find the hiding spot is "it" next time.
25. Write some old-fashioned letters to friends or relatives. our child can learn how to address and mail an envelope—an important life skill even in a digital world.
26. Baking helps your child learn about measurements and following directions. Have them help you make bread or cookies. This is an excellent way to spend time together, with the bonus of a tasty treat to share when you're done.
27. Origami involves fine motor skills and following directions. When they're done, children will be able to proudly show off their creations.
28.Do you have a terra cotta plant pot or a wooden box you're not using? Let your child explore painting on surfaces other than paper.
29. Go beyond the standard bubble wand: make rainbow bubble snakes.
30. With just a shoebox and some marbles you can make a marble race game for some exciting competition.
31. Have a moment where neither of you are doing anything? Talk with your child. Simply asking them about something interesting that happened today can help open up a fascinating conversation with your little ones.
32. Give your child some paper and pencils and have them write (or draw) a story. Encourage them to write the story they've always wanted to read.
33. Are your kids theatrical? They can write a play and act it out.
34. Make up lyrics to a familiar tune, or have your child write their own song.
35. Doing simple chores helps children learn self-management and contribute to the family. Get some ideas here.
36. Make sock puppets and put on a puppet show. Sock puppets can be as simple or as complicated as you like.
37. Encourage your children to explore photography. You'll find our pointers for family photoshoots here. Try a photoshoot with their favorite stuffed animals or toys!
38. Dig out some classic games like checkers, mancala, or favorite board games and keep them within easy reach. If you don't have these around, they are not usually very expensive, and they're often readily available at thrift stores.
39. What child doesn't love magic tricks? You child can do their own! Here's a starter lesson for children for tricks that are simple yet impressive, and they use only household materials.
40. How well do you know your city or county? A fun rainy-day project is to go online (with a grownup) or head to the library and become an expert on the history of your hometown.
41. Let your children make their own healthy frozen treat (and get rid of brown bananas). Here's a recipe for banana ice cream, with only one ingredient: bananas.
42. Toss around one balloon and don't let it touch the ground.
43. Grab a ball and masking tape. Use tape to make a target on the floor for indoor bowling.
44. Make your own play-dough with ingredients you probably have in the cupboard.
45. Yoga can help children get exercise and practice mindfulness. Try some child-friendly yoga lessons with channels like Cosmic Kids Yoga.
46. Make super-duper paper airplanes and see whose can go the farthest or stay aloft the longest.
47. Make a stop-motion video with clay, your homemade play-dough or stuffed animals.
48. Encourage your child to rearrange and redecorate their room, or if your children share a room, let them set up a corner or nook in the house that's just "theirs."
49. Get into spycraft and share secret messages! Learn a code or cipher.
50. Dominoes is a popular game across the world, but most children like setting up a row of dominoes and knocking them over. Having some dominoes handy means your kids can always try new creations.
Sources:
Heshmat, Shahram. "5 Benefits of Boredom." Psychology Today. April, 2020. https://www.psychologytoday.com/us/blog/science-choice/202004/5-benefits-boredom
Richardson, Marien. "Don't Be Afraid to Let Your Kids Get Bored." Healthline. July 2020. https://www.healthline.com/health/parenting/kids-and-boredom
Mann, Sandi and Rebekah Cadman. "Does Being Bored Make Us More Creative?" University of Central Lancashire. January 2013. http://clok.uclan.ac.uk/22263/1/22263%20Does%2520being%2520bored%2520make%2520us%2520more%2520creativeV2.pdf