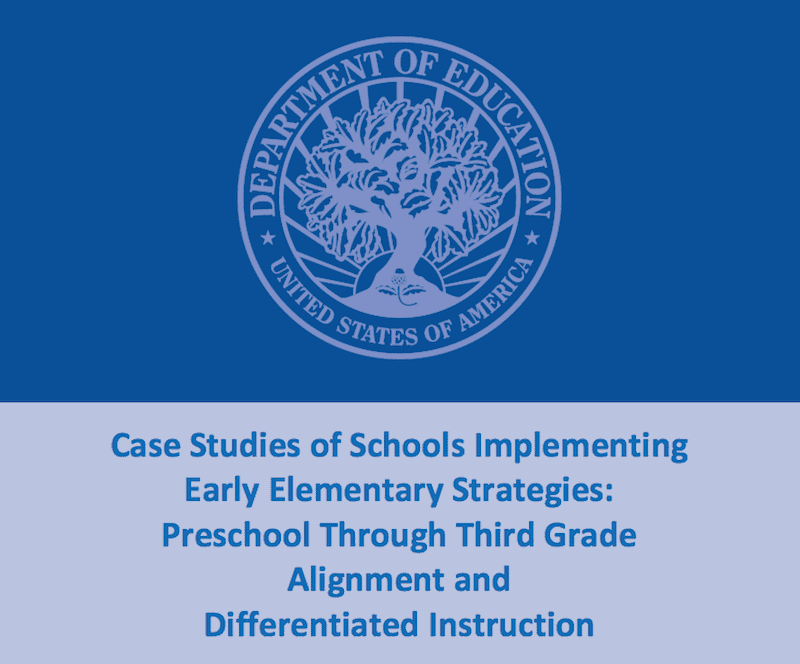 Research shows participation in high-quality preschool can improve academic, behavioral, social-emotional, and cognitive outcomes for students from varying backgrounds. But how do we make sure those benefits persist?
The U.S. Department of Education recently released a study exploring how educators might build on and sustain the positive effects of preschool. The new case study of five programs examined two types of promising strategies to support children's learning in early elementary school:
(1) aligning instruction from preschool through grade 3 (referred to as P–3 alignment), and
(2) differentiated instruction.
According to the paper, "The P–3 alignment strategy emphasizes coordination among standards, curricula, instructional practices and environments, student assessment, and teacher professional development between the preschool years and the early elementary school years. The differentiated instruction strategy focuses on teachers varying their pedagogical practices to meet the diverse needs and skills of individual students."
The case studies focused on five programs that used one or both of the strategies identified. Findings showed all five aligned instruction across grades and all reported using strategies to accommodate students' different skill levels. We definitely recommend checking out the full report for key findings, common approaches, ideas for implementation and challenges and lessons learned. As a nonprofit that has focused specifically on creating and aligning instruction for these early grade levels and giving each student differentiated instruction, we're glad to see these two strategies being researched and recommended!