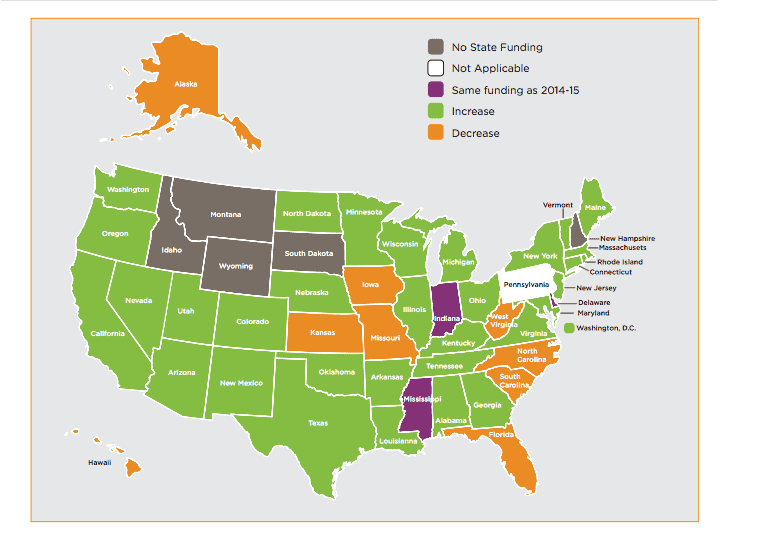 The Education Commission of the States (ECS) just released an interesting new report called, "State Pre-K Funding for 2015-16 Fiscal Year: National trends in state preschool funding." The report includes several state examples and an overview of the prek programs they have in place, including our UPSTART program in Utah!
According to ECS, policymakers from both sides of the aisle continued a trend of boosting state investments in prek programs during the 2015-16 fiscal year, with 32 states and the District of Columbia combining for a 12 percent increase over the previous year.
"This continuing bump in prek program funding is a promising sign for the academic success of our youngest students," said Emily Parker, the report's co-author. "Increasing the number of students in high-quality preschool programs is a way to set young learners on a path to a secure economic future and stable workforce."
The report calls out Waterford's UPSTART program in Utah in its state highlights section: "…the UPSTART program has seen positive results over its six-year history, improving educational outcomes for participants."
Other key highlights from the report include:
• Total state funding for preschool programs increased by $767 million in the 2014-15 fiscal year to a total of nearly $7 billion.
• Support for preschool transcends partisan labels, with 22 states with Republican governors and 10 states with Democratic governors (plus the District of Columbia) increasing funding for pre-k programs in 2015-16.
• Five states still do not invest state funds into preschool programs – Idaho, Montana, New Hampshire, South Dakota and Wyoming.
View the full report on the ECS website.