What does "Common Core Aligned" mean to us as a non-profit research center? Great question. By now, we have all seen that alignment claims are not equal. Because of this, we are often asked what it means to us and how we have built our products to help teachers and administrators uphold these standards.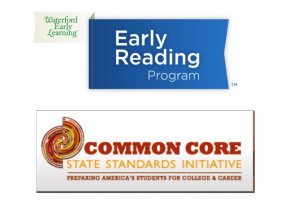 I'll start with the second half of the question: At Waterford, our instructional designers have worked hard to align existing learning programs to Common Core by reconstructing the entire sequence of learning curriculum (more than 8,000 activities!).
Now, the Waterford curriculum is 100 percent aligned to Common Core, with additional material that actually helps students master skills beyond what is expected of them through Common Core.
Waterford also launched a new product last summer specifically to help teachers build customized Common Core curriculum for their classroom. Classroom Advantage allows teachers to select a skill and search for related activities, using filters that let them search by grade level, activity type and even for activities going beyond Common Core expectations. The teacher can then create custom playlists on exactly what her class or small group needs to master (Read more here.).
Common Core-Aligned Criteria
Of course, we think all education companies should meet the following criteria, but unfortunately in a for-profit model, many of these changes are difficult to execute, and corner cutting results in a disparity between "aligned" products. Here are the standards we hold ourself to:
First, properly aligned products and programs demonstrate that students are mastering the specific standard when they are required, such as letter recognition and phonics milestones in kindergarten or reading fluency and keyboarding skills by the end of 3rd grade.

Second, properly aligned programs and products have equally positive and significant results across different standards–whether they come from an individual school, district, state or federal regulation.

Third, properly aligned programs ensure challenges and needs are identified early and addressed along the way. Children come into a classroom at varying levels, abilities, paces and learning styles. They also have varying support outside of the classroom. This is a critical area where we feel aligned programs should be a highly effective aid for teachers, which brings me to…

Lastly, to accomplish the above, it is imperative that the products and programs provide an individualized curriculum that (1) meets the child at his or her level and abilities, (2) continually tracks progress, and (3) offers teachers and parents reports that show actionable data on student progress toward mastery.
Longtime Waterford users know that feedback and assessment have always been an important part of our program–showing real-time student results to help teachers assess where a student excels and where they need more help.
Properly aligned programs and products go beyond meeting a specific standard; they provide teachers with the tools necessary to achieve all of them within extremely dynamic situations and limited time and resources.
That's our standard of excellence. Tell me, what do you expect from "Common Core Aligned" products?