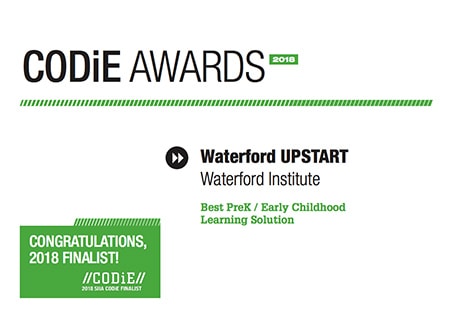 Waterford UPSTART has been selected by The Software & Information Industry Association (SIIA) as a CODiE Awards finalist in the category of Best PreK/Early Childhood Learning Solutions.
Since 1986, the CODiE Awards have been presented to recognize the very best technology and software products for businesses and education, evaluated and honored by peers and experts among the SIIA, the leading voice in the industry. The Best PreK/Early Childhood Learning Solutions category includes digital products for ages three to five that focus on early reading, numeracy, assessment, and reporting.
After initial product demonstrations over several weeks earlier this year, two expert judges evaluated each nominee in the category, narrowing down the candidates for the second round of judging beginning May 7. Each product then will be reviewed by SIIA members to determine the single category winner, announced June 13, 2018 at the SIIA Annual Conference and CODiE Awards in San Francisco.
Finalist Waterford UPSTART began in 2009 when Waterford.org, a nonprofit education partner, was awarded a legislatively-funded contract in Utah to provide kindergarten readiness programs to children at home. Since its start, Waterford UPSTART has grown to serve nearly one third of the four-year-olds in the state of Utah as well as thousands across the country.
Visit our website for more information on Waterford UPSTART and for information on how your child can participate in the program. Follow us on Facebook for updates and to see the results of the 2018 SIIA CODiE Awards.