Sure, we may be biased, but we think our customers are fantastic. That's why we were so excited to see Chris Sandy, principal of Stanton-Weirsdale Elementary School in Marion County, Florida, featured in the latest eSchool News Special Report "Closing Gaps Early."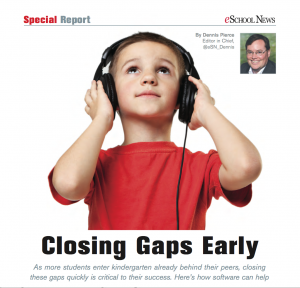 Chris was the executive director of elementary education for Marion County when we first started working with her. She led the implementation of Waterford Early Learning throughout the district's elementary schools, and now as a principal, sees that educational software at work every day.
In Chris' county, many children are starting kindergarten already behind — in some cases, even entering school without knowing any letters or sounds. Educators know that if these sorts of gaps aren't closed early on in a child's education, they will get worse. "We had to do something," Chris said in the eSchool News report. "We had to provide for these kids, as quickly as we could, experiences that could help close those gaps."
For Chris, a key component of that effort has been the Waterford Early Learning program, our research-based, computer-adaptive program that teaches reading, math and science to students in Pre-K through second grade. Her district and school have done a great job implementing and using the software and have seen awesome results: Now, all Chris' students are functioning at or near grade level when they leave kindergarten.
Kudos to Chris and her staff for their tireless work!