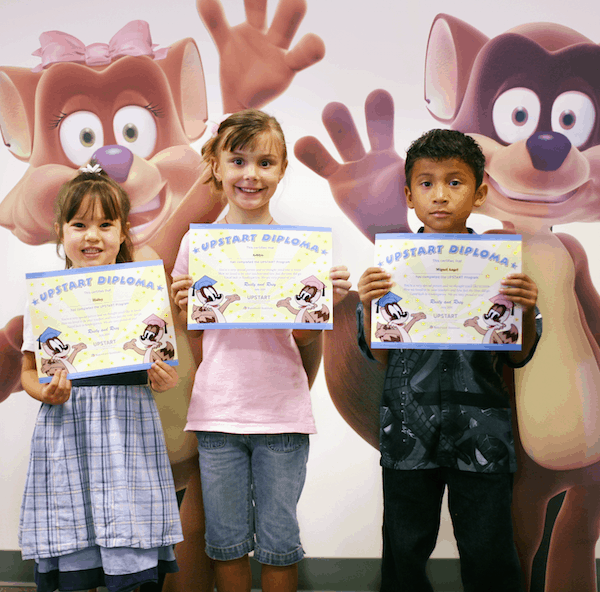 Our UPSTART program, a kindergarten readiness initiative, is aiding children in Utah in the development of early literacy skills prior to entering kindergarten, "and is doing so at a higher rate than among children who are not in the program," says an article in eSchool News.
A recent study evaluated UPSTART and found that it produced:
Large effects in helping children learn how to read basic vocabulary words found in pre-primer reading programs.
An average of nearly 12 points higher on tests measuring children's ability to hear and see differences in words and in the letters of the alphabet, as measured by the Brigance assessment.
An average of six points higher in learning how to pronounce letter sounds, learning how to tell the difference between letter sounds and in developing their vocabulary, as measured by the Bader assessment.
This latest evaluation of Utah's UPSTART program, which was based on the 2013-2014 school year, closely resembles results shown from previous years that UPSTART prepares children to enter kindergarten at or above grade level.
"UPSTART has been a great program and has been a very beneficial option for many families in our state," said Utah State Senator J. Stuart Adams. "Those children go on to perform at significantly higher levels on their pre-kindergarten assessments and avoid the remedial work necessary to get the children on track when they do enter kindergarten the next year. From the State's point of view and the participating parents' viewpoint, UPSTART is a classic win-win."
UPSTART was also recently recognized in a report from The Education Commission of the States (ECS) as a state highlight for successful state-funded preK programs.
For more information on UPSTART and the recent study, read this full article or watch this episode of Good4Utah, which covers the program and report.