More than 7,000 Utah children have participated in UPSTART, our free, in-home preschool program, since it began receiving state funding five years ago. In that time, we're proud to say it's been extremely successful: participating children often enter kindergarten already above grade level and an amazing 99.8% of parents say they felt participating in UPSTART was beneficial.
One of our biggest challenges? Finding how to meet the needs of even more kids.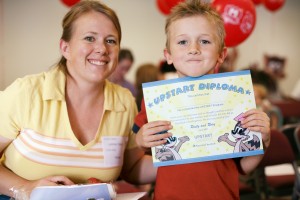 Now, thanks to the Utah Legislature, thousands more young Utah children will have access to UPSTART. Legislators recently approved a five-year extension for UPSTART and expanded the program's funding to include about 5,000 children annually — more than three times UPSTART's previous annual headcount of about 1,500 children. The additional funding and extension starts late summer to kick off the 2014-15 preschool year.
We were also awarded an $11.5 million federal grant in January that will expand UPSTART specifically to 18 rural Utah school districts.
We're excited about the opportunity to continue to grow UPSTART, and are always looking for new ways to reach more children. Reach out to us if you're interested in how UPSTART might work in your state or district!