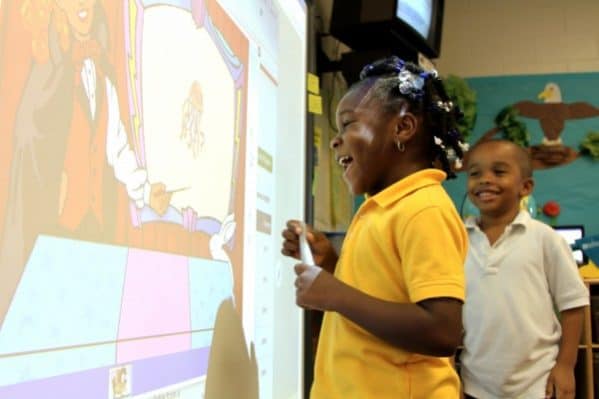 As we look back on 2016, we're excited to see some important milestones behind us and grateful for all of the educators, families and children who partnered with us along the way. Here's to a productive and wonderful 2017 ahead!
But before we put 2016 to rest, here are just a few of the Waterford highlights we're most excited about from this year:
Waterford Acquires Curriculet, Will Offer Independent Reading Program Next Year
Waterford acquired Curriculet, a self-guided independent reading program, and is currently enhancing its features in time for the 2017-2018 school year!
Waterford Early Learning Reading Curriculum Endorsed by Council of Administrators of Special Education
After a rigorous review process, Waterford Early Learning's reading curriculum received an endorsement from the Council of Administrators of Special Education (CASE), a designation that highlights Waterford's dedication to children with exceptional needs.
Waterford Institute Founder Steps Down as CEO & Waterford Appoints New CEO and COO
After 40 years of leadership, Waterford Institute's founder Dr. Dustin (Dusty) Heuston stepped down in October as Chief Executive Officer and board chair. Dr. Benjamin Heuston, who had been serving as Waterford's president since 2003, assumed the role of president and CEO. We also welcomed Andy Myers this year as our new Chief Operating Officer.
Waterford Celebrates Its 40th Anniversary
Waterford turned 40 this year!
Now on iPad! Waterford Early Learning Math & Science and SmartStart PreK
Waterford Early Learning math and science activities and SmartStart PreK software are now available on iPad!
New Research Shows Waterford has Positive Longitudinal Effects for Early Learners
An independent study published by the Utah State Office of Education showed children who used Waterford the year before kindergarten saw immediate positive gains and were still outperforming state averages on standardized tests through fourth grade across language arts, math and science.
Thank you for all your support in 2016. In 2017, we look forward to continuing to work together toward our shared goal: A great start for every child!