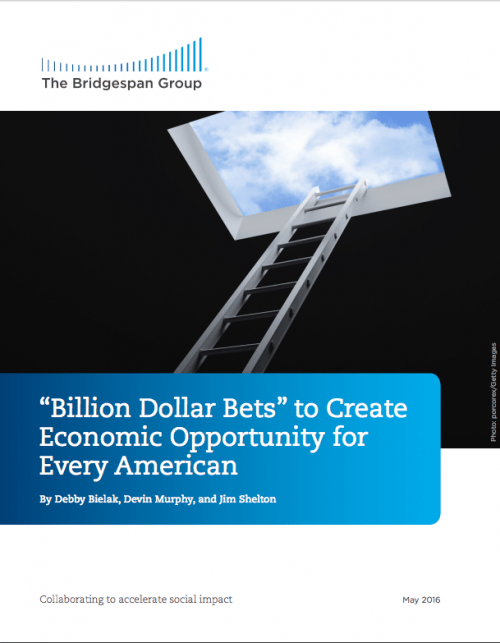 If the United States had $1 billion to invest toward social change and creating opportunities for everyone to succeed, where would it be best allocated? The Bridgespan Group, a consulting firm for nonprofits and philanthropists, recently set on a quest to determine just that: how private donors can optimally invest to expand upward social mobility for millions of low-income Americans.
Bridgespan studied the best available research from over 200 reports, policy briefs and books, and interviewed dozens of experts and the general public, then came up with six "big bets" ideas and roadmaps for making investments with the greatest impact.
As a nonprofit in early education, we were delighted to see that one of these roadmaps pointed to tech-enabled early childhood development. The report suggests creating and scaling tech-enabled tools that parents, caregivers, daycare providers and preK instructors can use to support the development of children. It even mentions our Waterford UPSTART program as a positive example of engaging families and preparing children for kindergarten! From the report:
"…early research has shown that lower-touch interventions have the potential to support caregivers and achieve positive results for children. Hence, the focus of this bet: create and scale a suite of tech-enabled tools that parents, informal caregivers, daycare center providers, and instructors can use to support the healthy development of children. First-step efforts in this area include tech-driven solutions like Text4baby (where pregnant women and new moms get texts on how to have a healthy pregnancy and a heathy baby); UPSTART (a computer-based, pre-school learning program developed by the Waterford Institute); and Ready4K (where parents receive texts on important kindergarten readiness skills)."
Bridespan was able to determine, using a simple formula outlined in the report, that improving early childhood academic outcomes could turn $5.5 billion to $11 billion in potential economic benefit for individuals and families.
To read the full report, visit the Bridgespan website.