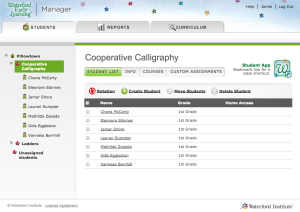 You asked, our curriculum developers answered! Based on feedback from teachers, we've added a new feature called class rotation to our cloud-based Waterford Early Learning.
Here's how it works: Class rotation automatically selects students for the Student App walk-up screen. The program cycles through every student until each one has had a turn to play a session. Teachers turn this feature on and off in the manager at the Student List page in Students.
Teachers can use class rotation when they aren't free to personally manage whose turn it is to play Waterford Early Learning. With class rotation, the curriculum can do that for them, freeing them up for other tasks!
Check out the Waterford help site for more info on class rotation and step-by-step instructions for how to use it.