Remember the excitement you always felt around the first day of school? Well, students at a school in Kathmandu, Nepal recently had an especially exciting start to their school year with a new computer lab and technology literacy program thanks to a multi-group nonprofit partnership.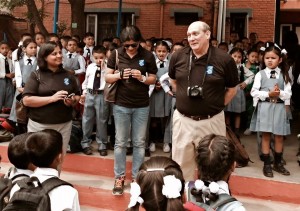 Hands in Outreach, a nonprofit educational sponsorship program for impoverished children in Nepal, worked with Lalitpur Madhyamik Vidyalaya (LMV) schools to build a new computer lab with the help of the Intel Education Service Corps. The lab is equipped with Waterford's adaptive, early reading curriculum.
"We want to use technology as a catalyst to improve English language learning," HIO's Director Ricky Bernstein said. "English is the curriculum language and language of commerce, but it's not the language many students hear and use at home in Nepal. It's really a leg up for these kids to be able to speak English better."
HIO sponsors under-resourced Nepali girls and young women, who typically have less access to educational resources and opportunities than their male peer. Most of the families sponsored by HIO are headed by single, illiterate mothers who earn on average about $250 per year working as laborers and domestic helpers. Their daughters are often the first in their family to go to school.
We're excited to be part of this project, and to work with these great partners! For more information on the LMV school project, read the full press release, and to learn how you can work with HIO to sponsor Nepali students in need, visit HIO's website.