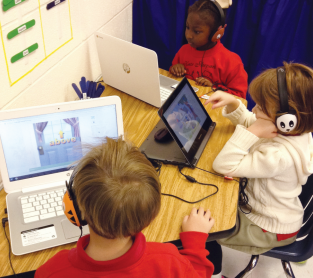 Alabama's largest school system, Mobile County Public Schools (MCPS), is using Waterford Early Learning in its PreK classrooms to help ensure students are on track for kindergarten. Since implementing Waterford in 2010, 73 of the district's preschools have used the research-based software and have seen dramatic results – and their success story was recently featured in eSchool News!
Paula Reese, manager of school, home, and community programs for the district shared that, "Eighty-five to 90 percent of our pre-kindergarten students come in with very low pre-reading skills." By the middle of the school year, more than half of these children have progressed from the most basic level and are ready for more advanced instruction.
Students complete a Waterford baseline test to gauge "exactly where they need to be, so they can learn exactly what they need to learn," Reese said. Preschool students are able to use the software at one of the district's learning centers, receiving 30 to 45 minutes of instruction per day. The Waterford software also sends progress reports to teachers so they know what they need to focus on for each child.
Waterford Early Learning has been so successful for the MCPS district that three of their elementary schools are now piloting the program for grades K-2 this year. "It is developmentally appropriate, it's geared toward those skills students need to be successful in kindergarten, it lets students move at their own pace, and it gives teachers the information they need to work with each child," Reese said.
You can read the full article in the June 2015 issue of eSchool News or view the PDF here.