When we split from Pearson early this year, a big part of that decision was our desire to provide support and services directly to our customers. So, we're proud to introduce you to our fantastic professional services team — an integral part of that effort!
Our professional services team help schools get the most out of Waterford's curricula with services like:
Waterford Training Hub
Learn anywhere, anytime, at your own pace with in-depth courses, quick-tip videos, and guided practice.
Virtual sessions
Get live, hands-on training guided by a remote consultant.
On-site sessions
Welcome Waterford experts into your classroom for personalized coaching.
Meet the team below! They hope to get to know you this year as well, and are looking forward to working together to create fun, effective and engaging learning opportunities for all of your students.
Vickie Ross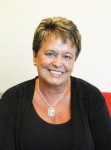 Vickie Ross is Waterford's director of professional services. She is a 20-year veteran in the field of educational technology, and specializes in utilizing a consultative approach to develop, create and implement solutions that meet the needs of schools. Vickie currently resides in Atlanta, Georgia with her husband Andy. She aspires to pass on her love of technology to her grandchildren. However, she is still challenged with programming the DVR!
Favorite Waterford Song: "What is a Sentence?"
Waterford Character Look Alike: Rosy
Best Waterford Tip I Learned from a Teacher: Provide students with a large red disposable cup to place on top of the monitor if they have a question. If they are using laptops, a red flag constructed out of poster board, laminated and attached with velcro works well.
Toby Rothstein Gruber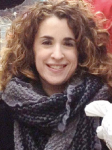 Toby Rothstein Gruber is a professional development consultant at Waterford. Toby has spent more than 10 years managing and delivering professional services, and is a certified elementary educator. At Waterford, she custom designs product-focused professional development plans to meet district needs, and assists districts in implementing various technology initiatives while delivering virtual and onsite training aligned with research-based best practices. Her roles also include modeling effective teaching strategies, coaching and data-driven sessions.
Toby taught in the School District of Philadelphia, Pennsylvania. Her classroom consisted of students from various multicultural backgrounds along with those who had hearing impairments, delayed language skills and auditory processing deficits. She differentiated instruction to meet individual needs through small group and centers-based instruction. Technology was used to provide individualized instruction and reinforce the core curriculum. Lessons were developed that focused on conflict resolution and critical thinking skills.
Favorite Waterford Song: "Zero," because it makes me feel like I'm dancing on an island in the Caribbean.
Waterford Character Look Alike: Bertha. I don't really look like Bertha, but we share similar personality traits.
Best Waterford Tip I Learned from a Teacher: When writing the letters, if you don't have pen or paper handy, have your students sky write the letters.
Lisa Swertfager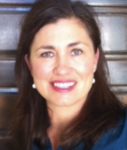 Lisa Swertfager is a professional development consultant at Waterford. She is an experienced educator with an extensive background in elementary education and professional development. Her expertise spans the areas of adult learning and training, instructional design and development project management as well as elementary education. Lisa has spent the last nine years in educational technology supporting schools across the country. Through professional development, project management, content development, and curriculum management, Lisa has been able to help districts implement technology programs with fidelity and build sustainable, successful implementations. At Waterford, she works with districts to customize and deliver an implementation plan focused on best practices and strategies for using instructional technology for enhancing student learning.
Favorite Waterford Song: "Sentence Marks." You gotta love that cow and that deep, deep voice. The song reminds me of songs I grew up with on School House Rocks.
Waterford Character Look Alike: Rosy!
Best Waterford Tip I Learned from a Teacher: I had a teacher who pulled the AOD reports once a month for a student who had an IEP. The data in the reports showed that she had met the mandate to provide intervention. When the same skills kept showing up month after month on the AOD report, she could show that the student did not make any growth even after receiving additional instruction and remediation. She was able to take those reports to the EOY IEP and get the student more SPED services.
Donna Jo Webb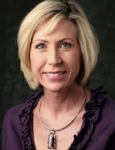 Donna Jo Webb is primarily a consultant for the successful implementation of Waterford Early Learning in two South Alabama school districts, Baldwin County and Mobile County. Her prior experience with Waterford began in 2010 as a consultant for Pearson, where she was named Pearson's East Region "Consultant of the Year" in 2011.
Donna Jo attributes much of her success as a consultant to her many years as a K-8 classroom teacher, when she taught many different grades, won national and state sponsored grants, and served her school districts in additional duties such as cheerleader coach, Scholar's Bowl coach, club sponsor and as a supervising teacher for college student internships. She was named Teacher of the Year in 2005. Donna Jo believes in Waterford because she has seen firsthand the impact it makes on our youngest learners. In her spare time, she loves boating, the beach, fitness classes and Auburn football. With her husband, Bob, she has two children, Alex and Kirby.
Favorite Waterford Song: "Hey, Diddle, Diddle"
Waterford Character Look Alike: I would like to think it's Rosy–pink bow and everything.
Best Waterford Tip I Learned from a Teacher: An amazing SPED PreK teacher noticed her students with small motor skills challenges were having trouble holding and clicking the mouse. She took a cheap dime store plastic ring (the kind with the flat top), turned it upside down and hot glued it to the left click side of the mouse. The children put their hand on the mouse and slide their pointer finger inside the ring. This holds the finger steady and reminds them which side they are supposed to click–teachers are geniuses!
Kathy Maximov

Kathy Maximov is the e-Learning guru on our services team. She has worked with Waterford in some capacity for nearly 14 years. Kathy has been a classroom teacher. She has also managed large-scale software releases, organized and managed pilot projects, written teacher guides, led educational design teams and trained hundreds of educators around the world. Kathy is the author of two children's storybooks and mom to three amazing kids.
Favorite Waterford Song: "Everybody Loves Saturday Night in Swahili"
Waterford Character Look Alike: Country Mouse
Best Waterford Tip I Learned from a Teacher: Keep your computer lab running efficiently by giving a little reward to the student who logs in first.
Jenni Torres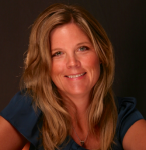 Jenni Torres serves our team as both a professional consultant and proposal writer. With more than 18 years of experience in the field of education, she has a passion for infusing joy and curiosity into learning. Jenni has taught Spanish and social studies, developed and delivered professional development, participated in a Fulbright Exchange program to Uruguay and was honored as Teacher of the Year for Mobile County Public Schools and Alabama District 1. She is fluent in both Spanish and English and loves supporting second language learners. She is most proud to be a military spouse and the mother of three wonderful children.
Favorite Waterford Song: "Days of the Week"
Waterford Character Look Alike: Goldilocks
Best Waterford Tip I Learned from a Teacher: She kept scrap pieces of paper and pencils in small baskets on tables in her lab. Students used these to practice writing their letters and took them with them as they left the lab as evidence of their great work. Sometimes she would even give them stickers or stamps, if they were extra attentive that day.
Andy Baxter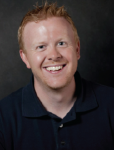 Andy Baxter is an implementation specialist supporting Albuquerque Public Schools. Andy has worked in educational technology for 20 years. He was a part of the team that launched the SuccessMaker program for CCC in the UK in 1994. In 2004, Andy moved to New Mexico to work for Pearson selling Waterford and SuccessMaker programs to districts across the state. Andy is proud to be working for the Waterford Institute, because he says the nonprofit is so dedicated to changing the lives of students and supporting the incredibly challenging role of teachers and administrators. Andy has been married for a little more than 5 years, became a US citizen in 2013 and does not miss the rain or inclement weather of England.
Favorite Waterford Song: "Poor Wandering 1″
Waterford Character Look Alike: This was really tricky! How about Even Steven?
Best Waterford Tip I Learned from a Teacher: Always be looking for time and opportunities to give students additional sessions on Waterford, like before-school breakfast clubs or after-school programs. Also, consider using Waterford for your gifted students to challenge their abilities.
Contact Waterford's professional development experts today!
1.877.499.7997
services@waterford.org