There are many factors that go into each child's academic performance, but one of the most crucial is parental involvement. When a parent or caregiver is involved in a child's education, the child is less likely to have behavioral problems and more likely to succeed in academic performance.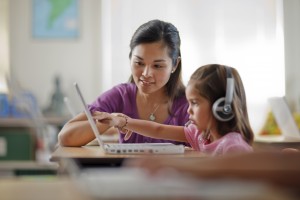 Students with parents who talk to their children about school, implement constructive out-of-school activities, and help children plan for college support are more likely to:
Attend school regularly
Consistently complete their homework
Earn higher grades and better test scores
Adapt well in school and develop better social skills
Graduate and attend postsecondary education
Early parental intervention
Parents who get involved in their child's education before they attend kindergarten can greatly influence the child's future development. The most effective learning starts in the home, as parents who engage children in regular learning activities give their child a head start on education.
While Waterford's Early Learning curriculum is used across the U.S., we wanted to go a step further to measure the parental involvement component the year before kindergarten and created the UPSTART program. What we have found is astounding–student growth gains twice and three times as high in students using UPSTART vs. students who are not.
See the student growth charts here.
Now in it's fifth year in the state of Utah, this program is paid for by Utah State Legislature and has helped more than 7,000 preschoolers build a foundation for reading, math and science proficiency. Free to Utah families, participation in the program requires regular use of the personalized adaptive learning software in the home. To further keep parents actively involved in their child's early education, it provides a steady stream of data on academic performance to both the parent and Waterford's unique support team of learning coaches.
When usage drops, learning coaches reach out to the parent or caregiver and offer them encouragement and support. When learning challenges arise in the data, the learning coaches similarly offer other free programs to help address areas where the child is struggling.
What do you think? Tell us some of your success stories in getting parents involved with your students.