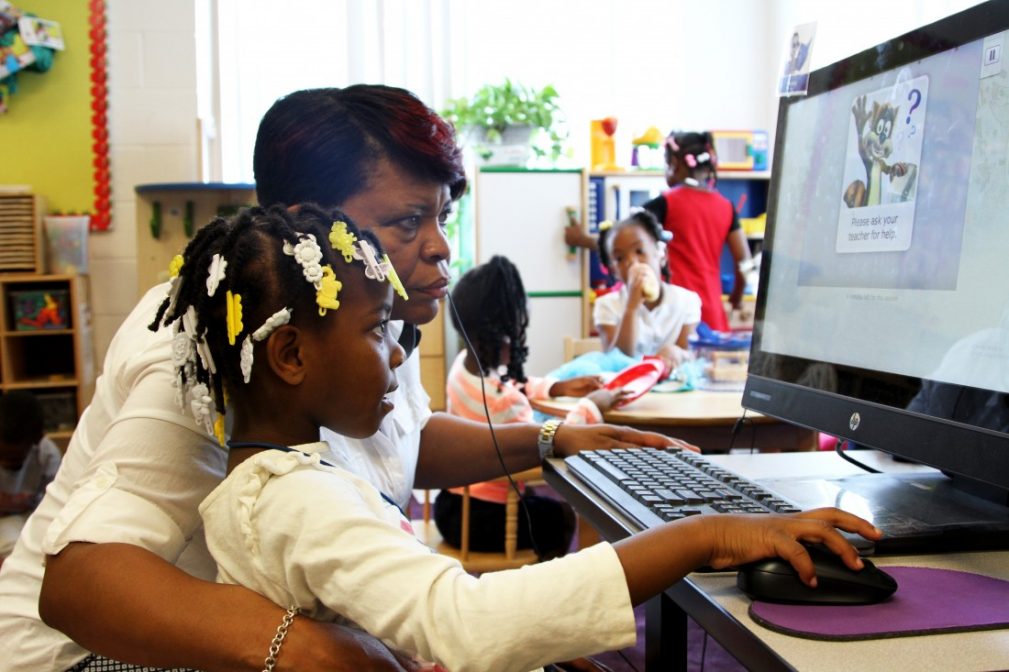 During the 2014-2015 school year, Hillsborough County Public Schools in Florida turned to Waterford for an early learning curriculum developmentally appropriate for preschoolers. The district also needed a proven solution to incorporate teacher professional development in a meaningful way for early educators.
CHALLENGE
As the eighth largest school district in the United States, Hillsborough County has seen its share of achievement gaps in incoming kindergarteners. To help address this complex issue, the district has implemented a robust Head Start program that provides whole-child learning for preschoolers and engagement for their families.
Hillsborough County Head Start is a delegate to the Hillsborough Board of County Commissioners and serves more than 2,000 preschoolers in 92 classrooms across 54 schools. One hundred percent of the children are at risk. All families served by the Head Start program live below the poverty level and largely represent migrant Hispanic and African American families. Through district and community partnerships, the program provides part-day, full-day, and full-year options for parents and caregivers.
Fully accredited by The National Association for the Education of Young Children (NAEYC) and A National
Program of Excellence, Hillsborough County Head Start is a quality program that still recognizes areas for improvement in both curriculum and teacher professional development to help identify and close achievement gaps early.
SOLUTION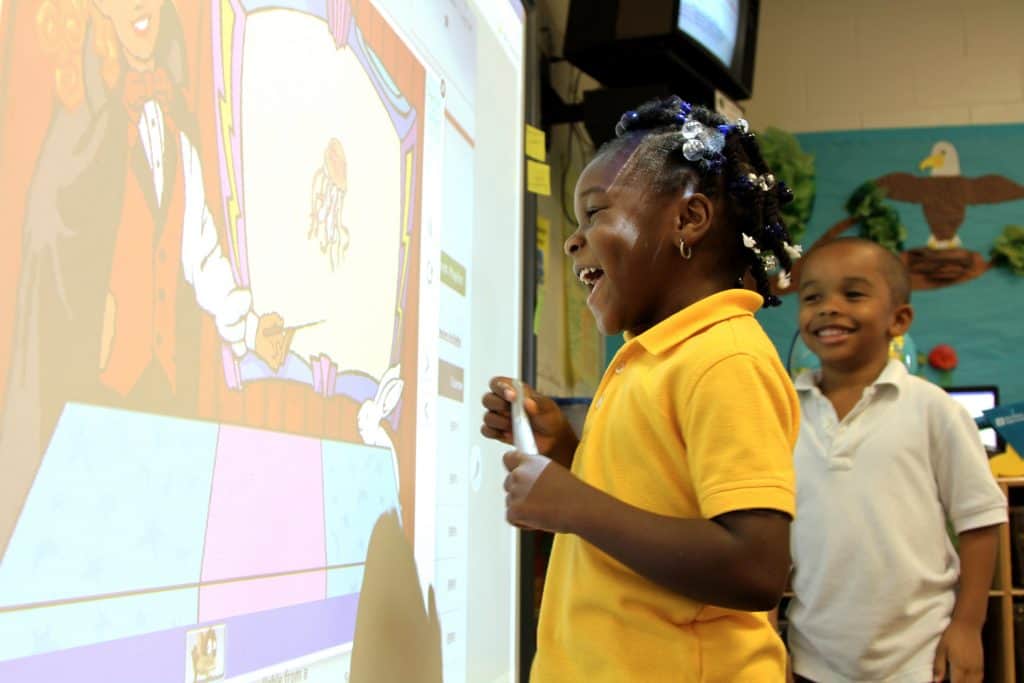 Hillsborough County has used Waterford Early Learning (K–2) curriculum for many years. Knowing the impact that Waterford has had on Hillsborough's kindergarten through 2nd grade students over the years, the district was eager to implement Waterford's curriculum for preschool—for some classrooms, this meant implementing mid-year instead of waiting until the following fall.
To measure the success of the implementation, both Waterford and Hillsborough County tracked student progress and overall usage of Waterford's curriculum through assessments including the Florida Volunteer Prekindergarten (VPK) assessment. At the end of the school year, a majority of children had used the Waterford curriculum at least 1,000 minutes. The remainder of the children had used Waterford significantly fewer minutes over the 5-month period and therefore became the control group.
According to Evelyn McFadden, Hillsborough County's Head Start Supervisor, "Waterford has definitely made a difference within the last year with all of our students—especially in the areas of literacy, language, and math. Our dual language learners are showing the greatest gains."
The main reason for Hillsborough County's success was implementing Waterford's model to fidelity. For differentiated learning, each child received 15 minutes of computer-based individualized lessons that adapt to their needs and level. For whole-class and small-group learning, teachers supplemented their core curriculum with Waterford Classroom Advantage's engaging interactive whiteboard activities.
Hillsborough County had a Waterford Implementation Specialist dedicated to their district to provide whole group professional development, classroom modeling, family training sessions, coaching, progress monitoring, and consultation on next steps. In collaboration with Waterford team members and Hillsborough County leaders, customized playlists and other resources were developed that aligned to their assessments and curriculum. Teachers also took a series of virtual educator courses. The virtual courses offered through Waterford's Teacher Training Hub included carefully scaffolded lessons—just like Waterford curriculum is for children—so that teachers can also learn at their own pace. The professional development plan included significantly different approaches that Hillsborough County vocalized and appreciated throughout the implementation process.
To enhance Hillsborough's family outreach, Waterford provided family training sessions, Homelink newsletters, books, and DVDs to send home with each child. The additional outreach was much appreciated by the district.
"With the addition of the home instruction, we will continue to bridge the area of home-school learning and renew the concept of the parent as the child's first teacher," McFadden said. "I believe that this will be a great model for the community, which is key. Districts are always looking for that home-school connection and how to have students arrive in kindergarten 'ready to learn."
RESULTS
Working this closely together, Waterford truly became an extension of the district. Lourdes Plunkett, Coordinator of Assessment and Accountability said, "I would like to praise the support we have received from Waterford and the collaboration, systematic communication with us,the staff who were assigned to our program was fabulous, knowledgeable, and very willing to make this partnership work."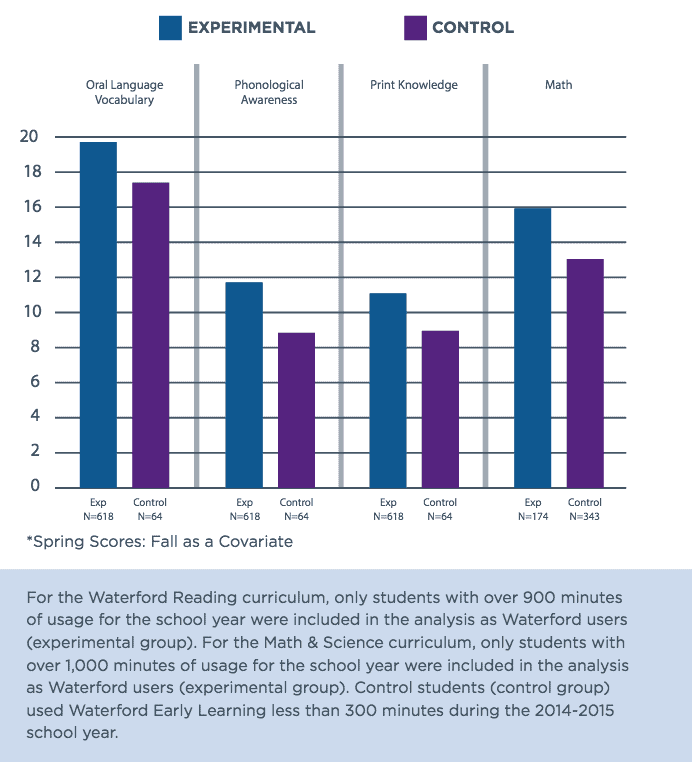 And the proof is in the outcomes. As mentioned earlier, each child's learning outcomes were tracked by both Hillsborough County and Waterford. Those who met Waterford usage goals showed a significant improvement as exhibited by large effect size. These outcomes point to three main conclusions:
More Waterford usage means more student gains.
As you can see in the chart to the right, children using Waterford for at least 1,000 minutes showed greater gains than their peers in the Oral Language Vocabulary, Phonological Awareness, Print Knowledge, and Math VPK Assessment measures.
Waterford works with every child.
Hillsborough County data shows that student growth through the Waterford program is consistent across ethnicity, gender, Dual Language Learner status, and Special Education needs.
Head Start teacher Eric Rassler at Tampa's Egypt Lake Elementary, which serves a predominantly Hispanic population, said the biggest thing he has noticed about Waterford is students becoming more fluent in English earlier.
"This year, I have several students from Cuba. The daily exposure to Waterford is making them fluent in English," Rassler said. "There is also great improvement in math. … Waterford is providing a new opportunity to repeat what I teach in math even when I am not sitting next to them or working in a small group."
Rodriquiez Perry, who teaches the inner-city Robles Elementary school, said Waterford has given children confidence and knowledge using a computer—something they previously lacked.
"Initially, this child did not like being on the computer. He felt inadequate and did not have the skills. This was an extremely withdrawn and shy child. As time has gone by, he has made tremendous progress and now loves the computer. He knows how to use it and has greatly improved specifically in letter identification and letter sounds," Perry said.
Progress can still be made within a partial year.
With a bundled suite of Waterford programs, Hillsborough noticed positive change among its students. By including Waterford software, customized Classroom Advantage, and a customized professional development plan for
teachers with a dedicated Waterford resource in the district, the results showed improvement to help meet and exceed Hillsborough's educational needs.
When Waterford is implemented to fidelity, supported with professional development for teachers, and usage goals (15 minutes per day) are met, districts can still see results even starting mid-year.
Looking ahead to examine effects of full-year implementation
The promising results from the partial 2014-2015 school year show amazing strides made by possible in part by the Waterford implementation with the Head Start students. As with any responsible research study, many factors affect the end-results. In the years to come, conducting continuing examination will allow for even greater measurements and outcomes among the students. It is expected the 2015-2016 analysis for the Head Start program will illustrate similar or better results. Special thanks to the Head Start team for its hard work.