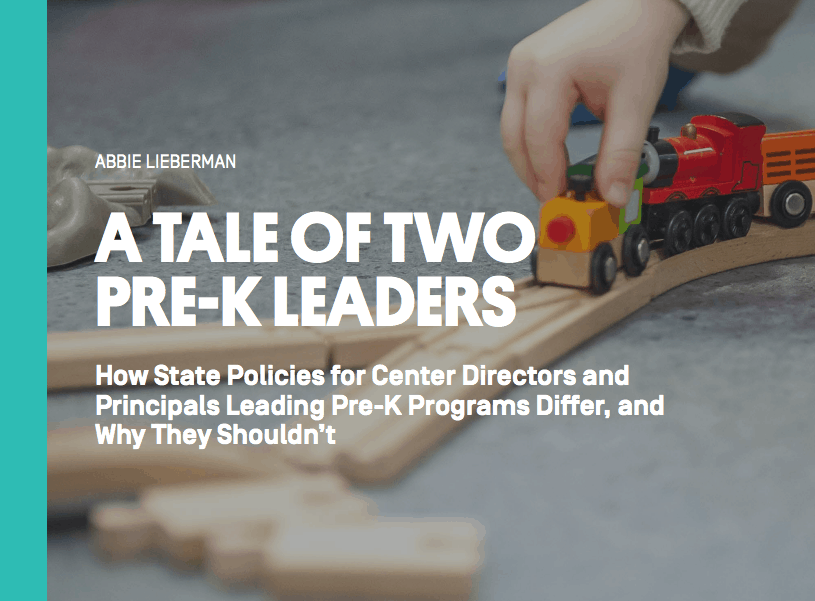 When it comes to state policies and standards for child care directors and elementary school principals, a new study finds that the standards are drastically different. While there are certainly differences between the two roles, child care directors and elementary principles also share many similar responsibilities; yet, the requirements for these roles can vary greatly by state and even differ within the same state.
The report conducted by New America's Early & Elementary Education Policy program compared expectations for principals and center directors in all 50 states and Washington, D.C., and makes recommendations to improve the preparation, development, and working conditions of child care directors.
Researchers found 40 states require principals to have at least a master's degree, while child care directors don't need an associate's degree to be eligible to work as a director in 41 states. Twenty-seven states don't require directors to have prior experience in child care, if they have enough formal education.
Training and certification also fall short for both directors and principals, according to the report. Author, Abbie Lieberman, explained, "Existing requirements for training and certifying both principals and center directors in most states fall short in several ways, especially when it comes to imparting the latest research on best practices for child development and early learning. Their research showed that principals too often came into their jobs without a strong understanding of how young children learn, and center directors tended to have limited training in instructional leadership.
How these standards affect preK education
Researchers argue that the low standards are a concern as preK enrollment has grown in recent years—29 percent enrolled in state preK programs, 13 percent enrolled in special education, 9 percent enrolled in Head Start, and 59 percent enrolled in privately- or locally-funded, or no program at all.
School directors and teachers have a huge impact on a child's education. "The quality of an early childhood education program is largely dependent on an often overlooked group of professionals: school or program leaders," the report says. "After teachers, research shows that school leaders are the greatest in-school factor impacting student achievement."
How do states improve the quality of early childhood directors and principals?
While the researchers say that it is imperative for center directors to have more preparation and experience, they acknowledge that part of the reason directors have fewer qualifications is that the median salary is low when compared to school principals. In fact, it's almost half the annual salary. Low salaries can lead to higher turnover (four times higher in child care settings) and less quality learning in child care programs.
The New America report offers several suggestions for states to help improve leadership quality among child care directors and elementary principals.
Recommendations include:

• Improve professional learning opportunities for both principals and child care directors.

• Include early childhood education in principal preparation courses.

• Track turnover and salary to understand how to more fully support elementary school principals.

• Develop a better infrastructure for child care centers and directors to improve retention.

• Increase qualification requirements for child care directors that reflects child development research.

• Require elementary school teaching or clinical experience prior to a profession as an elementary school principal.
More awareness in improving state requirements for center directors and principals can help implement rigorous qualifications that can raise the bar to set a higher standard and quality learning experience for all early education programs.