The sudden shift to online or hybrid learning during the COVID-19 pandemic has created plenty of challenges for students, schools, and parents. Chief among those is determining how to support students with special educational needs.
In the United States, about 14 percent of students in public schools receive specialized education services.[1] During a normal school year, a student's Individualized Education Program (IEP) establishes goals and outlines the support needed to meet them.
But how can schools and families follow an IEP when learning moves online?
The United States Department of Education has reiterated that schools must continue to provide "free and appropriate education" for students with special needs. However, the government guidance also gives schools greater flexibility in meeting their IEP objectives during the pandemic.[2] While specific methodologies aren't mandated, the Department of Education encourages families, educators, and administrators to collaborate creatively to meet their students' needs.
Families whose students have an IEP may need extra support in managing distance learning and special education. Some families may even have heard rumors that schools would be denying the services and support they need. Educators should take steps to reassure families that they will do what's possible to provide the needed services for their child.[4]
The challenges of online learning are real, but there are some basic steps teachers and families can take to encourage educational success. Here are a few ways schools can support families of special needs students.
Encourage Families to Develop a Learning Schedule and Space
Educators should encourage their families to set up a family learning schedule. According to the CDC, three parts of creating a structure at home are consistency, predictability, and follow-through. Setting up and keeping to a schedule is important for all learners. Schedules help make routines easier to follow and can help children adjust to learning at home.
The physical learning space is important, as well. Children benefit from a dedicated learning space, as much as their home can allow. Here are some low or no-cost tips parents can use to prepare a comfortable, engaging, and safe space for learning.
Students with special needs often benefit from visual schedules. Additionally, visual timers can help them know when an activity's almost over or when another is about to start.[6]
Plan With Flexibility in Mind to Reduce Stress
Families may also be faced with tough schedules of their own, along with limited bandwidth and extra stress. This stress can affect their child's learning, and it means students could be learning asynchronously, or in off hours. Preparing lessons with some pre-recorded content can help ease that strain.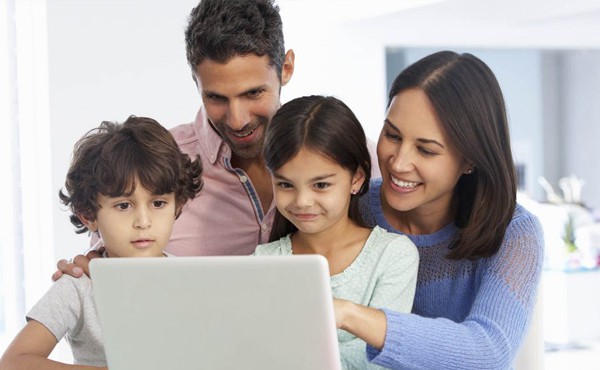 Look for ways to allow flexibility in online schedules. Some flexibility can help students feel rewarded after a long stretch of work. Examples could include encouraging the student to enjoy a break after an assignment or to change locations by studying outside on a nice day.
Families may also benefit from scheduling parent-teacher meetings for evening or weekend hours, when the families are free to talk more in depth about their child's needs.
Use Online Teacher Tools to Communicate With Families
Fortunately, teachers have plenty of options when it comes to online learning tools and parent resources for special education. Whatever the tech is, one constant remains: communication is key.
Educators can communicate well by sending a weekly schedule that highlights important updates or assignments for that week. This will help students with special needs organize their weekly schedule. And regular check-ins with families can help keep everyone's plans on track.
Video conferences, emails, or simple phone calls are good ways to keep in touch with families of special needs students. Tools like Google Meet and Voice are free, and let teachers collaborate with families regularly.
Online tools are also useful for helping families find support with each other. Some school districts have created Google classroom groups just for families of children with special needs to connect and share experiences.[3]
Maintaining social skills is vital for students with special needs.[13] But this can be difficult to do during at-home learning. There are many useful online resources to help students engage with each other.[14] For example, FlipGrid lets users ask a question and have others answer via video.[14]
Some other apps or sites teachers can use to communicate with families include:
The importance of communication includes communication with administrators. The National Center for Learning Disabilities recommends that teachers establish regular communication with school principals to keep them updated about key issues families are facing.[4] Principals should be in the loop on things like access to the curriculum for special education, need for assistive technologies, and other accommodations.
Strategies for When Special Education Moves Online
There are some services that educators and families must figure out how to offer in a home setting. Things like gross motor skills or behavioral therapy can be tricky to implement at home. However, educators can use special education lesson plans to help parents with at-home education.[3]
At school, educators collaborate with team members like physical, occupational, or speech therapists. That should be no different for at-home learning.[7] That same coordination can help accommodate all of a student's needs through distance learning.
Many students thrive with routine, so it's important to keep a structure and routine at home as much as possible. However, experts note that neither educators nor parents should expect to exactly duplicate the whole school experience, and they shouldn't expect to replace what's offered in a school building.[3]
Some students may need sensory modifications in their IEPs. Families can create learning opportunities with what's on hand at home—things like Play Doh, bubble wrap, or similar items can help release energy. Weighted blankets can provide security, and even hugs. Deep breathing, and letting the child run around outside, can help release energy and provide calm.[3]
Some life skills tasks can be done at home. Things like cooking, doing laundry, or cleaning a bedroom can be an assignment. Educators should be sure to provide a checklist or task analysis for parents when they make these assignments.[8]
How Educators Can Help Families With Children in Speech Therapy
More than half of U.S. children between the ages of 3 and 17 need speech and language therapy.[11] A child who is on an IEP for speech issues can face unique challenges when going through speech therapy at home. Speech pathologists generally check for physiological problems and suggest exercises based on those findings. That can become more difficult when they evaluate a child remotely.[9]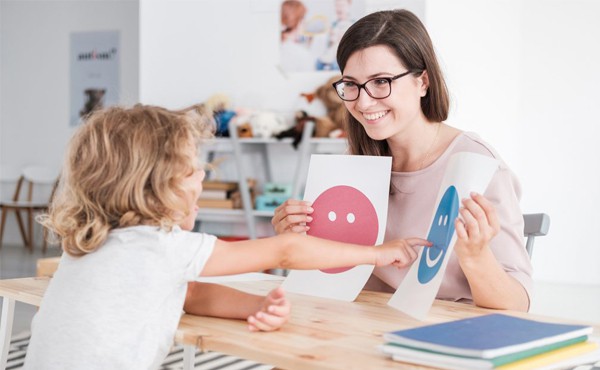 SLPs and educators are encouraged to be adaptable and open-minded while working with students, and to think long-term while seeking to minimize disruption. SLPs can look for online tools to provide teaching materials, record sessions, and document progress, as well as offer self-practice tools.[12]
A child might have trouble being understood on a video conference or phone call, or they may miss cues that would normally happen in an in-person session. Educators can help by adding supports or strategies the child needs. Some of these might include captioning or building in additional "wait time" to let the child process information.[10]
Children with language disorders often need interaction with their classmates and peers to improve their social skills, which is difficult during the pandemic. Educators can set up breakout rooms on video conferencing platforms to let the children interact. Phone calls and virtual play dates are other options.[10]
Sources:
1. PBS News Hour. "The Challenge of Distance Learning for Parents of Children With Special Needs." https://www.pbs.org/newshour/show/the-challenge-of-distance-learning-for-parents-of-children-with-special-needs
2. United States Department of Education. "Supplemental Fact Sheet Addressing the Risk of COVID-19 in Preschool, Elementary and Secondary Schools While Serving Children with Disabilities." https://www2.ed.gov/about/offices/list/ocr/frontpage/faq/rr/policyguidance/Supple%20Fact%20Sheet%203.21.20%20FINAL.pdf
3. Fleming, Nora. "New Strategies in Special Education as Kids Learn From Home." Edutopia. https://www.edutopia.org/article/new-strategies-special-education-kids-learn-home
4. National Center for Learning Disabilities. "An Educator's Guide to Virtual Learning: 4 Actions to Support Students With Disabilities and Their Families." https://www.ncld.org/wp-content/uploads/2020/03/An-Educators-Guide-to-Virtual-Learning-4-Actions-to-Support-Students-With-Disabilities-and-Their-Families.pdf
5. Common Sense Education. "Best Tools for Virtual and Distance Learning." https://www.commonsense.org/education/top-picks/best-tools-for-virtual-and-distance-learning
6. Joseph, Matthew X. and Christine Ravesi-Weinstein. "Helping Students With Special Needs Cope With Remote Learning." Tech & Learning. https://www.techlearning.com/how-to/helping-students-with-special-needs-to-cope-with-remote-learning
7. Nelson, Heather. "Special Education Resources for Teachers to Use During Distance Learning." Azusa Pacific University. https://www.apu.edu/articles/special-education-resources-to-use-during-distance-learning/
8. Swartzer, Keely. "5 Tips for Teaching Special Education Online." Learners Edge. https://www.learnersedge.com/blog/5-tips-for-teaching-virtual-special-education
9. Reid Health. "Speech Therapy Tips for Parents to Use at Home." https://www.reidhealth.org/blog/speech-therapy-tips-for-parents-to-use-at-home
10. American Speech-Language-Hearing Association. "ASHA: How to Help Children With Speech and Language Disorders in Virtual and Modified In-Person Classroom Settings." https://www.asha.org/News/2020/How-to-Help-Children-With-Speech-and-Language-Disorders-in-Virtual-and-Modified-In-Person-Classroom-Settings/
11. Black, Lindsey I., Anjel Vahratian and Howard J. Hoffman. "Communication Disorders and Use of Intervention Services Among Children Aged 3-17 Years: United States, 2012." Centers for Disease Control and Prevention. https://www.cdc.gov/nchs/products/databriefs/db205.htm
12. Whitmire, Kathleen. "How Speech-Language Therapists Can Prepare for This School Year." EdTech. https://edtechmagazine.com/k12/article/2020/08/how-speech-language-therapists-can-prepare-school-year
13. "Teaching Social Skills to Children with Special Needs." Carolina Pediatric Therapy. https://www.carolinapeds.com/blog/2014/08/teaching-social-skills-to-children
14. Stachowiak, Bonni. "How Can Online Instructors Get Students to Talk to Each Other? EdSurge. https://www.edsurge.com/news/2019-01-09-how-can-online-instructors-get-students-to-talk-to-each-other