Technology is ubiquitous in the modern classroom, and the use of interactive media and learning software in early education is changing how educators teach, how parents monitor their children's progress and how students learn and interact. But how does it augment learning in young children, and how can teachers make it a safe, beneficial method for learning supplementation?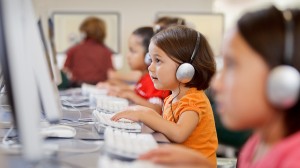 Young students have diverse learning needs and newfound physical mobility that can make traditional, verbal teaching methods difficult. This is where technology adds a fresh approach–most children at age three start using freshly-adopted "symbolic representation," like speaking, writing, drawing, and numbers. Technology provides teaching modality diversification, helping to hold students' attention while prompting them to practice speaking, listening, writing and reading in an independent, fun, age-appropriate manner.
Research supports that early learning software:
When teachers include age-appropriate, budget-efficient learning software in the classroom, it greatly supplements a well-rounded curriculum. Technology does not replace essentials like outdoor play, socialization, art, and moral value building, however. PreK through kindergarten children best adapt to technology individually, or in small groups. By focusing on the material, not the technological medium, studies have shown that young learners benefit from play-based, child-centered learning software in the classroom and at home.
How have you successfully used technology in your classroom or with your early learner?