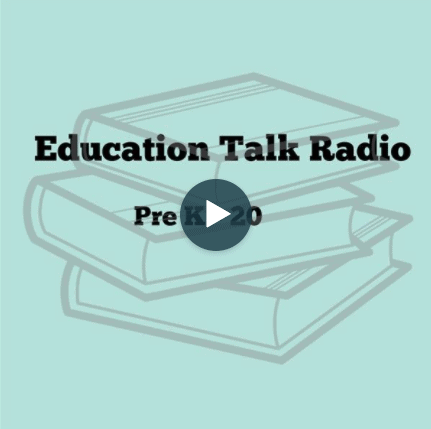 Education Talk Radio host, Larry Jacobs, recently sat down with Dr. Gayle White-Wallace, Director of Standards Administrator for Pre-K, ELA, Literacy, and Social Studies at Mount Vernon Elementary. The topic: early intervention for struggling readers and the importance of early literacy.
The two discuss young childhood literacy and the challenges that can arise when nurturing a love of reading in children. But there's hope. Dr. White-Wallace discusses ways the district helps kids increase their amount of reading, such as the Superintendent's Reading Challenge, as well as tips for parents.
Highlights include:
Mount Vernon School District introduction
The importance of early literacy
How young readers struggle
Home and family engagement
Simple tricks to help struggling readers
Listen to the full podcast on blogtalkradio.com/edutalk, and continue reading below for the full transcript.
Education Talk Radio podcast, "Intervention! Reaching Struggling Readers," Full Transcript
Larry Jacobs (Host, Education Talk Radio): A little coughing before the show starts. Hi everybody, I'm Larry Jacobs. Today is May 23rd, 2018. And welcome to PreK12 Education-talkradio We got a nice show for you this morning like we always do. It'll wake you up. My microphone just fell off this thing there. Sorry about that. We'll get it together.
LJ: OK let me turn off the music here. Thank you to my good friends over at Waterford Institute. They hooked us up with Dr. Gayle White-Wallace, who was my guest and she is the director of prekindergarten as well as the standards administrator at the place where she went to school Mount Vernon School District in New York, which I think is the district right along the Hudson River. OK. She's also the standards administrator of ELA literacy, reading, and social studies for the district. We're going to talk about intervention and reaching struggling readers, which is key stuff these days, and we want to make sure, by the way. Again, note she's director of prekindergarten and we're talking about intervention and reaching struggling readers, so we got to make sure this stuff starts early. All right so it's going to be good. Gayle I'll bring you on in just a second. Let me get a little homework done here. All right, we're going to archive the show at education-talkradio.org. That's our website. We put a new schedule up every Saturday although you probably know that already. You can always check that out education-talkradio.org. Every show we've ever done is archived over there, just scroll down. We want to invite everybody to subscribe to our new magazine. It's a digital publication and website. The website's already up; magazine will come out the first week of June. All about accessibility, compliance, and equity in education. AC & E we like to call it. Accessibility Compliance and Equity in education. We've got a wonderful issue coming out, I think will be out on June 4th. All right it's a free subscription. All you have to is go over to the website, sign up, and we'll send it right to your inbox. We'll never share your information. I can promise you that. But these are hot topics, and they need to be talked about. I'm… like I always say everybody talks a good game. OK. But there's an information gap and there is a resource gap out there revolving around accessibility, compliance, and equity. So, we're trying to change that. So please tell your friends, sign up free subscription ace-ed.org. Alright and also please you can also follow us over on… for education talk radio over @edutalkradio on Twitter and the same on Facebook and the Twitter for the new magazine is access then the number 2 @access2equityED access to… the number 2 equity E.D. OK. And you can follow us on Twitter over there alright. That's enough about me let's bring on Gayle.
Dr. Gayle White-Wallace (Director of Standards Administrator for Pre-K, ELA, Literacy, and Social Studies, Mount Vernon Elementary): Good morning, everyone.
LJ: Hi Gayle, welcome to the show.
GW: Thank you for having me Larry, I think I love you already.
LJ: I love you too, why do you love me? I love you. I love you too. But why do you love me?
GW: I just loved your homework as you called it. Talking about equity and the gap and how necessary it is and being actionable to make sure that it's not just about equality but also having equity and making sure that everybody has the resources that they need to be the successful productive citizens that [Horace Mann] talked about when we talked about building public education.
LJ: That's what it's all about. Gayle it really is. Please go over to ace-ed.org and subscribe, and pop that out to your…
GW: I'm going to subscribe.
LJ: But you know pop out an e-mail to your colleagues at Mount Vernon or a Twitter or something, and let them know they're all welcome to it. Not just you in Mount Vernon. By the way, Mount Vernon, I was right, it's the one along the Hudson Valley, right? Am I right?
GW: We are, yeah, we're like 10 miles away from New York City, and we actually border the Bronx. So the Hudson River is in our backyard.
LJ: There you go. Right by the Tappan Zee Bridge I would assume right.
GW: Oh down a little bit farther south, a little bit further south from New York City.
LJ: Okay good enough. So, you can see New York City from the Tappan Zee. I'm not that far off…right? You know… New Tappan Zee I might add, haven't been over there yet.
GW: The Fabulous New Tappan Zee, yes.
LJ: Yeah, I can't wait to see it, and I will get down there one of these days. OK. You are a Mount Vernon girl if I may. That's where you graduated school from and now you're back as director of PreK. And also, standards administrator. We'll talk about that, and I have to tell you that you and my wife have something in common. Both Temple graduates.
GW: Oh, my goodness, she's lucky we're on the radio because you know I will sing that fight song at the drop of a dime.
LJ: Howl you fighting owls.
GW: Give your wife my Temple Owls regards.
LJ: I will indeed, I will indeed. She was an English major there but then she wound up going to the University of New Hampshire and getting a degree in reading. And she works, by the way, over at WGBH Education in Boston. The big PBS… so yeah, it's cool. That's cool. So that's where she is and you're outside of New York and it's great. And you have a bachelor's in early childhood education, a minor in music of all things, which I think is cool. And now you're director of PreK and again standards administrator. Before we get into this struggling readers thing, with the standards… I never saw that title before, Standards Administrator of ELA literacy reading and social studies my old bailiwick, social studies. What does that entail? Being the Standards Administrator?
GW: So that's just a unique way of saying I'm a central office administrator that works alongside teachers to ensure that we are not only addressing the common core standards or whatever is hot at that time, that we make sure that we have resources, curriculum mapping, professional development, things of that nature.
LJ: Curriculum mapping is really important. Now I'll tell you check out, there's a great company I know it's called Coursetune. I think .org .com whatever Coursetune, okay and they do curriculum mapping, and I've done a couple shows with them, and they had quote "curriculum mappers" on, and they all say this thing works great, so you might want to check it out. Courstune, .com or .org, whatever it is.
GW: Oh, thank you.
LJ: Okay just worth mentioning as we go through here and again a big thank you to my friends at Waterford Institute. That great place. OK for PreK-2, and obviously Gayle's working with them. They've hooked me up with Gayle, and they are just wonderful people. I got to tell you that's Waterford.org, Waterford.org. If you want to check that out; they are just great. Would you agree Gayle? Let's give them a plug. Would you agree Gayle?
GW: I have a special place in my heart for the Waterford Institute, they have supported the Mount Vernon City School District in a number of ways. And not just by providing an adaptive intervention program, but also supporting our community and helping us celebrate teachers and helping us celebrate children, and also helping us understand what is great instruction for struggling readers. And that it's not just about what happens in the classroom, but it's also about what happens at home.
LJ: You've got that right. Great stuff out there, and we'll talk about that in a few seconds. What is Mount Vernon School District like? It's interesting although it's kind of in a pastoral place if I may, just north of New York City. It is contiguous to the Bronx. OK which is hardly what I would call a pastoral place, if I may. I like the Bronx, but it's not exactly trees and flowers. What is demographics like over at the school district in Mount Vernon? So, we know what we're talking about.
GW: So, I love to tell people that Mount Vernon is a little bit of everything. We are what you would call a suburb, but we are still a city. We are urban. We do have parks and we also have pavement. We have 16 schools throughout our district. We have eight thousand children. We have beautiful homes we have from your regular bus conductor that works here and lives here, to Felicia Rashad that lives here. The mom from The Cosby Show. So, Mount Vernon, it's just a place for everybody; it's a place for everyone. You can you know be close to the city and still have a quiet suburb life, if you choose to.
LJ: It's a beautiful place. People always give me this statistic, and this kind of sums it up: is there a free and reduced lunch population?
GW: Yes. Over 80 percent of our students.
LJ: OK. Which is standard these days. OK. So would you…. But even with the 80 percent, would you describe the district as middle class? Or how would you describe it? And it also in terms of ethnicity? African-American you know that sort of thing. Asian, Latino whatever? What's it look like?
GW: So, we are predominantly African-American populated city. We do have a significant citizen base that are of Hispanic heritage as well as we have a strong Brazilian and Portuguese and Italian population also. So, it's really a diverse place on Mount Vernon.
LJ: Besides the schools I have a feeling the restaurants are probably pretty good from that description.
GW: Absolutely. So, when you come visit me we'll take you to some of our favorite places.
LJ: I can't wait. Especially that Brazilian steakhouse that I know exists there. OK. Just great. It's great stuff. Perfect district I love this. OK. When you look at what you have to do, I think we're going to focus more on the PreK for this conference, besides the other wonderful things you do. OK. But when you look at PreK, okay, what's happening because you wanted to quote was reaching struggling readers? But again, this has to be taken care of when kids are young. There are certain kind of expectations even in PreK and going through so they're reading at the right level in the third grade. Talk about struggling readers in your area of expertise there. OK. The PreK through I'll say two.
GW: So, our illustrious Superintendent Dr. Kenneth R. Hamilton has this plan and it's called, "The 20/20 Vision." And a major part of that plan is making sure that we have full-day prekindergarten, two full classes in every one of our 11 soon to be 12 elementary schools. And when we talked about how do we move the district in the right direction? How do we sustain positive growth and change? It's really not in high school even though that's important. And we are creating high schools of excellence. We also talked about the need to grow the children and support them from the early childhood ages. So that's where my work with PreK began, my love affair with PreK began. And I began to work feverishly to create a prekindergarten environment that not only nurtured children but nurtured parents. So, when we talk about struggling readers, struggling readers struggle with text, they struggle with print, they struggle with acquisition and not just because they're not grasping it in school. That's because they're not embraced, and they're not surrounded by literacy. So, our prekindergarten program is about infusing that into the home life, bringing parents and giving students books at home. Beginning to try products like Waterford. And we also use another product called iReady and books inside of the home to provide the support to the parents and to make sure that students are seeing books, and they are engaging with texts, and they are living a literate life. That's one of the big pieces about being a struggling reader. You're not living a literate life. So we have print-rich classrooms of course with chart-papers and lovely letters. And we actually just adopted a new curriculum, it's called DIG, Develop Inspire and Grow by the Abram's Corporation. And it has done absolute wonders because it takes everything and brings it back to print. They make it tactile. They have songs. When we talk about Gardner's Multiple Intelligences, there's everything in that curriculum. And our teachers work arduously, they work hard, they're diligent to plan, not just lessons, but activities and be stewards themselves of literacy.
LJ: Wow that was well said. That was really well said, I have to tell you Gayle. It's amazing, and thank you for all those tips on all those products that are just wonderful because they are important. Everything works together to make kids understand to read. Gayle, let me ask you a question, you described your district, and one of the senses I got is you just expounded on was that there's not, I want to say this properly, that the parents of younger kids, and I don't how to say this, don't have books in the house, aren't reading to the kids. Whatever the case may be. Is that the case is that why you believe that when kids come into PreK they're not quite as ready as they should be?
GW: Well you know there are a number of factors. And Larry I don't know if you know…
LJ: Sorry if you feel like you're being generalized with my statement. I'm just trying to get to the cause.
GW: Oh no that's fine. That's no problem. So, you're also talking to the mother of a new PreK student in September. So I am living the life of a soon-to-be preschool parent right now. And our new contemporary life is very different even from when I went to school. Society is different, technology is different. The demands on our life are different. So that has just created a paradigm shift for our parents and for our families. We have a lot of students that have tons of books. Time is of the essence. My parents, just like me, they work every day and they're coming home and they're tired and they're trying to keep their eyes open to read every night to their child and I'll admit. You know there's a couple of nights that I'm like "Abigail mommy's tired" and she can read, and she'll pretend to read me to sleep. And I tell parents that's OK. Technology is big, phones, video games. It's much easier to place that in the hands of children. But when we talk about providing parents with ways to support a literate life with their schedule and with their demands. That's what our job is in our school district. So, if you want to put your child on a device or tablet, here is Waterford for you, here's iReady for you. Here's another book app for you that you can put your students your children on. Here are homework assignments that you don't necessarily have to hover over your child with, but they can be successful with. And they can include you, and that they're fun and they support learning. Parents these days are working one and two jobs. And we are a working city, we're a working city and our parents are trying to do their best for their students, and they send us the best they have every single day, and we're going to send them back better every day. And we're going to make our parents feel secure that they're doing the right thing. We're going to give them resources that fit their lifestyle. I have some parents that want me to send home three books a day. Those teachers sent home three books a day. I had some parents that just need help with getting through one book a week. And what do I do with my child, Dr. Wallace? How much time do I spend? And I tell them 15 minutes is OK, 20 minutes is OK. Living a literate, having a literate life, one it's about just spending some of that quiet, quality time with your child around literacy and understanding that literacy is not just reading, it's also conversation.
LJ: It truly is, by the way, I have to say something, and I hope everybody knows this in Mount Vernon. You're like you are the shining example of the quality that Mount Vernon Schools can put out. I hope everybody understands that. I mean that I mean that. And you know you reflect what that entire community can do, Dr. Wallace. I mean I really, really mean that, you know, remember everybody it's Doctor Wallace.
GW: Can I tell you, this school district and I tell people, you know, my teachers, I was going to be a medical doctor, and that just wasn't the calling of my life. And my teachers in this district, they saved my life. My mother died when I was young in school, and they made sure that I did well in school, that I got scholarships, they checked on me in college. Whatever the stages were, they were there for me. Even my first grade teacher is my friend on Facebook, and she's checking in, and she's like, "Make sure Abigail's wearing bows in her hair like you did." And I want to make sure that I can be that on a larger scale for my teachers so they can be that for our students. Because even though the students are four, four-year-old's, can have a complicated life these days.
LJ: Oh yeah.
GW: You can have a real complicated life. And we want to make sure we support them. And that's what our prekindergarten department is about. It's not just about the ABCs and the 1-2-3s. We have a strong social-emotional component, and we also this year have started technology. And my PreK kids are doing coding, thanks to my technology guru Mr. Magrath. I don't know if he's listening. They're doing coding, they're using Waterford, we're doing TIGLE and my children and I've got 85 percent of my children that are ready or beyond for kindergarten already and we are just in April, and they love it.
LJ: All I did in kindergarten, Gayle, was make clay little things, that's all I remember.
GW: They build things, they build bridges. You know when you're four, your imagination is your reality.
LJ: I love that, you should write a book Gayle. We have to talk about that, you're really good. You're right. OK. Living a literacy life and your imagination is your reality. Wow, you should make motivational posters. I got to talk to you, the Gayle White-Wallace motivational poster company, I'm telling you, you got it down here. This is incredible. I want to ask you something, you keep saying technology. OK. This is interesting, talk to A: if the kids are going home with technology from PreK, I know Waterford has UPSTART, I'm sure the other companies you mentioned have stuff, but there's always a challenge. I hope there isn't in Mt. Vernon with broadband at home.
GW: Oh, that's a challenge.
LJ: Yeah that's an equity issue.
GW: It is an equity issue, it is a challenge.
LJ: What's happening with that?
GW: So, I love the idea of equal access for everyone. That is a goal in our plan for our 20/20 Vision. So, we're actually going to begin partnering with some companies through my technology department to be able to send home devices to students or provide access and bandwidth. We've already provided all of our parents and our students with unique e-mail addresses. We also are going to provide students in our upper grades in our secondary grades with phone devices to do work, and as well as individual tablet devices. So, we're still working on our way to provide that. But we do give the students and the parents support by working with our local public library, having hours and time that are for just the students to come and work on whatever homework they need to work on and use the products. We also do provide times within this building where the computer lab is open for access. So, we're definitely on the move. We're hoping that every one of our 3-12th graders will have a device to go home within the next four years. So you know we're working in the right direction.
LJ: I'll give you a good idea. I think it was Fulton County Georgia's Superintendent a couple of years ago who told me this. They worked with the community. All right. Because not everybody had broadband, but they know, I'll just use the example they use like a real estate office has broadband 90 percent of the time, and 90 percent of the time they aren't using their conference room. So, they arranged with all kinds of businesses around town that put a sticker on the wall. This company is offering you free broadband to do your homework from 3:00-5:00 or something like that. And they had these stickers all over the town. And the kids were able to go and find a place besides un-nutritious McDonald's and Dunkin Donuts, my favorite, where were they couldn't go and actually get their work done.
GW: Oh that's amazing, I'm writing that down.
LJ: Yes. The community loves that. OK. And you know your public library I'm sure is a great partner in this, but you can tap into the businesses, and they love it, they love it.
GW: We thank our community they have supported us. Last week they passed our budget and our expansion of prekindergarten was a large part of the budget for next fiscal year. Our honorable mayor Richard Thomas has been a supporter of us. Not only do I do PreK, but I do a lot of special projects like we have a reading challenge. And we talk about literacy. I had the superintendent set a number, this year it was 15 books for PreK kids to read, 40 books for kindergarten to second grade, and 30 books for third through eighth grade for the students to read. And we call it, the Superintendent's Reading Challenge, and we tracked that with the support of my teachers and they respond, and they read. So yesterday, it's so funny, I did a tally and we're up to two hundred and sixteen thousand books so far since September.
LJ: And you bring up a major question. OK. You ready. Has Doctor Hamilton, who creates the list, has Dr. Hamilton read the books. The Superintendent's Reading Challenge
GW: Dr. Hamilton is an avid reader. He actually reads books over the summer and he has his favorites, so we have a favorite Dr. Hamilton book every month. His favorite author is Patricia Polako and James Paris. Those are his two ultimate favorites. And he is an avid reader, and it's so funny because the mayor and our superintendent have a little challenge on who's going to read the most books this year. So I'll be checking with them in June to see which one of our illustrious leaders have read the most books for this academic school year.
LJ: I'm rooting for Dr. Hamilton.
GW: I love them both. I love them both. The mayor and I actually went to high school together.
LJ: You may love them both, but still, you're not going to move me, I'm voting for Dr. Hamilton to be the winner.
GW: Dr. Hamilton is my heart. He leads with love and he leads our children to make sure that they are going to be successful. And Richard, our honorable Mayor Thomas, and I went to high school together, and we dream the same dream. So, I'm here serving our children, and he's here serving our city to make the city better. So, I love them both, I won't say equally, but I do love them both.
LJ: Hahaha, well you work for one. So let me swing it back to you back since they introduced me to you. What are you using of the Waterford stuff? Which ones are you using? I know they have the UPSTART program, but I don't know what you're using.
GW: So, we use Waterford SmartStart for our prekindergarten classroom in full day. Thank you for our district, we're able to have computer terminals stations in each of our prekindergarten classrooms. We use it there, and all of our students get on daily. Our kindergarten classrooms are using the regular Waterford. Every student gets on every day, and then our first-grade classrooms, we have RTI response intervention, and I'm sure the people listening know about that. We use Waterford as a targeted intervention for those students that are in the yellow at "Some Risk" stage. So they get on for their full half hour every single day. We do allow other students to go on, but we strategically track what they're doing on Waterford and pull the reports and also tie that back to our benchmark assessment which is DIBELS, to help support students.
LJ: What is that yellow mark? What's not happening that makes intervention necessary? What do you see? When you see something, and you say, "Well this child needs intervention," what's usually the cause or challenge with that?
GW: So, when we talk about interventions, you know you have your three levels. Your yellows are really the hardest to move. You know Larry and you wouldn't think that, you would think the red's, they're two more or three more grade levels behind, they'd be the hardest to move. But they're not. It's that middle group because whatever challenges they're having, one, are so specific in nature. Right, so the type of data that you pull on them and this aggregate of them have to be consistent and closely monitored. So for a student in kindergarten, most of the time my yellow students are those students that are having difficulty with blending. They're still segmenting everything. They do know their letter sounds. But however, blending things fluently to fluently read and then give them access to comprehension tends to be the biggest barrier for those students.
LJ: Are a lot of those kids, since you said this I have to ask. Are some or a lot, however, ELL kids? You mentioned you have a very diverse community.
GW: Some are, some are not. But you know ENL [English as a New Language] students who are provided with additional support through our ENL department, they are also living a literate world, but it's totally different because they're literate in multiple languages. And I understand the struggle. I did take some time off, and I taught in Ghana, and I knew what it was to be an ENL student. And you know.
LJ: That's the oddest thing you would mention Ghana, my wife that ran a webinar last night for WGBH, and her guest was a teacher from Massachusetts, a gentleman who grew up in Ghana. He's an African-American teacher and as you probably heard the name, he said Vander-Pay was his last name. Would you say that's fairly common in Ghana? Did you ever run across that name, we were talking about yesterday? That's weird right. Right, you went to Ghana.
GW: Yes yes.
LJ: They wrote a book they wrote, Gayle they wrote a book about that Ghana with the wind. I read that. Sorry, stupid joke. Thank you for laughing right. It's stupid. But that could be your autobiography, Ghana With the Wind.
GW: I'm writing that down, scribbling it down.
LJ: There you go. Thank you. It's yours the steal. I have to ask you something. You're in Mount Vernon, you're right along the Hudson Valley there. Just north of the Bronx like you said. But there's a lot of districts right around you. You can go up along through the Connecticut border and over into Westchester and all that sort of stuff. And I'm curious, you must meet with the colleagues from other districts. Are they facing the same type of literacy problems? When you just talk to them generically?
GW: It is always a pleasure to work with my colleagues in Westchester County, and I have also been afforded a number of opportunities to work across the country with educators across the country. And the stories are so similar, but I'm going to take you back a little bit to when you were doing your homework at the beginning of this show. The stories are similar, based on socioeconomic status.
LJ: Yeah, we talking equity? Talking equality and equity? And accessibility I might add.
GW: Yes, accessibility. But even, and it's so bad to say, even expectations are different not just accessibility. Expectations are different. And so my districts that are similar to me, you know I taught a little bit in Philadelphia when I was at Temple and the struggles that I have in Philly, and I also taught in New York City, are very similar to what I'm facing here in Mount Vernon. I've been throughout my career I've been an urban educator. When I step into a true suburban district, the issues are much different.
LJ: Yeah, they really are, and you'll be interested in this. Just yesterday, you can look on the website education-talkradio.org, I did a show with a Rupak Ghandi and Maurcice Beasley, they're two superintendents, they just went to the AASA Urban Assembly. And Maurcice, who's down in Clayton County Georgia, was saying that when he went into the district, he kept looking around. This is interesting. It plays on what you just said. And he looked around and he saw all the advanced placement classes were – just by data, but you could see it, he saw the data, but you could see it – were mostly white kids and Asian kids. And the black kids, which make up a heck of a lot of the district, weren't in advanced placement. It was just obvious from looking at it. And Maurcice has gone around and talk to all the teachers in the district, and they've instituted a plan. Because this is socioeconomic and it's the cost of, if I may, low expectations. Now they've got all the African-American kids and other groups that weren't excluded, but didn't even apply into advanced placement, now they're doing well. So, you got to get rid of, it has to do with socioeconomic thinking. And all that you have to make these kids understand they can do this work, and the school districts have to get behind them, and say you can do this work. You're not stupid. Forget what was pre-judged, if I may.
GW: Right, but our parents also, we need to empower parents to push for their children. I am the mother of a brown girl, and I'm going to do nothing but push her to excellence.
LJ: And she will be excellent, look at her mom.
GW: Thank you.
LJ: Look at what you do with the kids around her. She will be, but everybody has to do that, everybody says they want to do better for their kids. They got to push their kids. You're exactly right.
GW: We can't be complacent. And when I work alongside, and people will be like, "oh you're an administrator," I work with teachers. I'm their partner. I get down and dirty with them. I clean noses. I clean throw up, it's okay, I do bathroom, I do potty. It's OK. All right.
LJ: Enjoy your breakfast everybody. The Poopy and Vomit Club has just begun.
GW: Listen that's the life of early childhood. It's not all rainbows and cupcakes.
LJ: There you go. Right. Oh Gayle, we've got to go in just a couple of minutes, you are wonderful. I'm going to invite you back on the show, we'll talk some more. You bring us some of the teachers and maybe Dr. Hamilton. But it'll be after June, so he can tell us if he won the contest with the mayor.
GW: Absolutely. Absolutely.
LJ: You are great. I had a great time. Thank you, Gayle, you're wonderful. You're going to heaven, Gayle.
GW: Thank you so much. Thank you. And you are wonderful. I'm so excited. I'm going to share your blog with everyone and definitely share your digital magazine. I can't wait to hear from you. I'm definitely going to check in, definitely.
LJ: You will hear it. I'll say it again for everybody. Ace-ed.org, Ace-ed.org. The ACE is Accessibility Compliance and Equity. We've been talking about too long the time for action is now right Gayle.
GW: That's right. But don't talk about it, be about it.
LJ: Have a great day. And when you go to the Brazilian steakhouse think of me.
GW: I will. Have a great day.
LJ: You too. Thank you, Gayle, you're wonderful.
GW: You're welcome. Thank you.
LJ: Thanks. Bye bye.
LJ: What a great lady and a temple grad too. All right that's Dr. Gayle White-Wallace over at the Mount Vernon School District just north of New York City. OK wonderful lady. Director of PreK and a graduate of the Mount Vernon Schools. I think it's great, Waterford, you did it again. Thank you, Waterford.org. OK, check it out, great stuff out there as Gayle said, and she mentioned some other ones, too, check those out too. We want these kids to learn. We're going to archive the show education-talkradio.org. Tweeted out over @edutalkradio. My name is Larry Jacobs PreK-12 Education Talk Radio. Thank you for listening.