As remote learning continues (or begins again) in classrooms around the country, many teachers are left with a decision. Are real-time lessons best? Or would the flexibility of recorded lessons be right for your students? The answer is complex and depends on student needs, but it will essentially lead you to a choice between two strategies: asynchronous or synchronous learning.
Read on to discover what asynchronous learning is and how to determine if it is the right strategy for your students. Then, check out our 5 quick tips for getting the most out of asynchronous learning formats.
What Is Asynchronous Learning?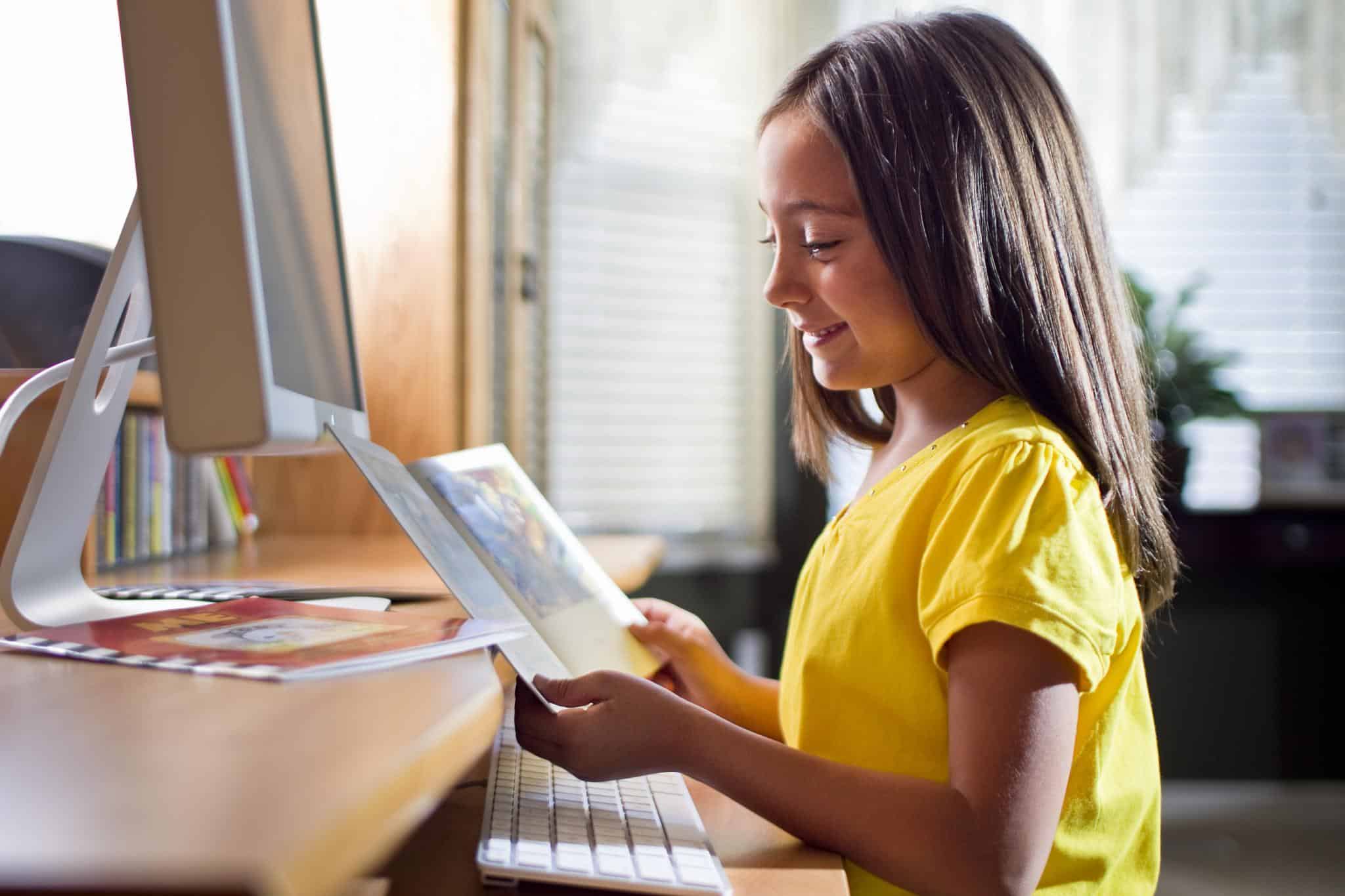 Asynchronous learning is a learning strategy that does not require real-time interaction.[1] Instead of real-time lessons, students interact with the course content through learning modules, discussion boards, or pre-recorded videos. Students can engage with the materials at their own pace, which can be ideal for classes that are fully conducted virtually.[2]
The main advantage to asynchronous learning is that it's flexible.[3] When students are unable to be in the classroom in person, their schedules may all be different due to their unique home lives. Asynchronous learning can mitigate the difficulty of scheduling in-person lessons by promoting independent learning, instead.
It's important not to confuse asynchronous learning with synchronous learning.[4] Synchronous learning refers to lessons that are conducted with teachers and students together at the same time. A classroom can include a hybrid of asynchronous and synchronous learning strategies, with some lessons held in real time and others on a student's own time.
Asynchronous vs. Synchronous Learning: Which Is Best?
Asynchronous learning is helpful for many students because of its flexibility, but it can be especially good for students with disabilities. One study found that students with learning disabilities thrived in asynchronous settings because the course adapted more closely to their needs. Additionally, asynchronous learning provides a greater archive of online information that students can use to study.[6]
Synchronous learning, however, provides more opportunities for students to stay engaged and connected to their classmates.[17] This makes collaboration much easier and is more likely to keep student attention than asynchronous formats. And because you are able to communicate in real time, misunderstandings are less likely to arise.[18]
Ultimately, asynchronous learning isn't a perfect classroom set-up for all students—but it also isn't inherently flawed. It all comes down to personal student needs.[16] When you're not meeting with your students all at the same time, keep an eye on students who may be struggling due to the lack of synchronous communication and find ways—like one-on-one meetings—to keep them on track.
These challenges are important to consider when deciding whether to incorporate asynchronous learning into your curriculum. Keep in mind, however, that you don't have to make your virtual classroom fully asynchronous. You could allow asynchronous learning as an option, for example, for students who find it more compatible with their schedules.
Challenges of Asynchronous Learning
Although asynchronous learning can be a benefit for many students, it's not the right fit for everyone. And for the whole classroom, there are some advantages of meeting together that asynchronous learning can't easily replicate.
For example, it can be harder for teachers to encourage a sense of community with asynchronous learning.[9] Discussion boards can help students communicate with each other if they can't do so in real-time. But written communication isn't always as effective for bonding as face-to-face communication, which can make your students feel less connected.
Additionally, it can be easier for some students to fall behind.[12] Some students prefer to work independently, while others need a little boost from their teacher and classmates to get working. Those in the latter group may find asynchronous learning less motivating and have a hard time working as hard.
5 Tips to Help You Get the Most from Asynchronous Learning
1. Include outlets for student interaction.
The nature of asynchronous learning limits how students interact with each other. But because many students work better with peer interactions, try to find ways for students to communicate—even if not in real-time.[11]
Many students may already be communicating with their friends and family in an asynchronous way. Take texting or social media interaction, for example. You can use this to your advantage by including the types of asynchronous communication that your students may be familiar with in your class.
Likewise, online chat discussions can help students share their ideas in a way that mimics real-time class discussions.[7] You could also assign group projects that require students to chat or video call on their own time if whole-class calls aren't an option.
2. Help set a routine for your students.
Asynchronous learning routines may look different from their real-time counterparts, but they're still important to have.[14] Routines will help your students adjust to an asynchronous setup if they've never experienced it before.
For example, you could set assignments to be due at the same time each week. Or you could require your students to log into the learning portal every day to review their assignments.
3. Show students how to pace themselves in an asynchronous setting.
Some students may have trouble with time management and complete assignments too quickly or slowly. Include recommended due dates with your assignments to encourage a steady pace.[10] If you notice a student falling behind, schedule a video call with them or their parents to set up a schedule that will help them catch up.
4. Offer your students personalized feedback.
When you're not meeting with students every day, it can be harder to provide feedback in the same way as real-time interactions. But giving timely, actionable, and constructive feedback can help improve student motivation and performance.
Take the time to comment on assignments with advice or recognition of what your students did well. Additionally, assign your students a few reflection assignments—like a short essay or journal entry—to help them process your feedback.[13]
5. Provide alternatives to video instruction when possible.
Recorded lessons are the most straightforward method of asynchronous instruction. But if your video lessons are as long as in-person or synchronous lessons, younger students may have a hard time focusing.
In addition to video lessons, include other learning methods—like virtual learning games or a printable worksheet—to help students stay engaged.[8] If you have a student with a disability that makes listening to video instruction difficult, provide alternatives that fit their personal needs.
Also, be creative with your video lessons to keep student attention. For example, include built-in screen breaks for students to step away from the computer for a few minutes and refresh their minds and bodies. That way, your students are less likely to become burned out with too much video instruction.
Sources:
TBS Staff. Synchronous Learning vs. Asynchronous Learning in Online Education. The Best Schools. September 11, 2020. https://thebestschools.org/magazine/synchronous-vs-asynchronous-education/.
Finol, M.O. Asynchronous vs. Synchronous Learning: A Quick Overview. Bryn Mawr College. March 26, 2020. https://www.brynmawr.edu/blendedlearning/asynchronous-vs-synchronous-learning-quick-overview.
St. Amour, M. The Moment Is Primed for Asynchronous Learning. September 16, 2020. Inside Higher Ed. https://www.insidehighered.com/news/2020/09/16/dont-dismiss-asynchronous-learning-experts-say-improve-it.
Scheiderer, J. What's the Difference Between Asynchronous and Synchronous Learning? The Ohio State University. November 16, 2020. https://online.osu.edu/resources/learn/whats-difference-between-asynchronous-and-synchronous-learning.
Graves, L., Asunda, P.A., Plant, S.J., and Goad, C. Asynchronous Online Access as an Accommodation on Students with Learning Disabilities and/or Attention-Deficit Hyperactivity Disorders in Postsecondary STEM Courses. Journal of Postsecondary Education and Disability, 24(4), 2011, pp. 317-330.
University of Massachusetts Amherst Center for Teaching & Learning. How Do I Balance Synchronous and Asynchronous Learning? https://www.umass.edu/ctl/how-do-i-balance-synchronous-and-asynchronous-learning.
Minero, E. 8 Strategies to Improve Participation in Your Virtual Classroom. Edutopia. August 21, 2020. https://www.edutopia.org/article/8-strategies-improve-participation-your-virtual-classroom
Forbes, L.K. Fostering Fun: Engaging Students with Asynchronous Online Learning. Faculty Focus. June 17, 2020. https://www.facultyfocus.com/articles/online-education/fostering-fun-engaging-students-with-asynchronous-online-learning/.
Rovai, A.P. Building and sustaining community in asynchronous learning networks. The Internet and Higher Education, 2000, 3(4), pp. 285-297.
Pieratt, J. Five Tips for Designing Remote or Asynchronous Learning. Social Science Space. April 2020. https://www.socialsciencespace.com/2020/04/five-tips-for-designing-remote-or-asynchronous-learning/.
University of Louisiana at Lafayette Distance Learning. Asynchronous Teaching Tips. https://distancelearning.louisiana.edu/teach-remotely/asynchronous-teaching-tips.
Fordham University Graduate School of Arts and Sciences. Asynchronous Learning Tips and Tools. https://www.fordham.edu/info/29629/asynchronous_learning_tips_and_tools.
The Harriet W. Sheridan Center for Teaching and Learning. Asynchronous Strategies for Inclusive Teaching. Brown University. https://www.brown.edu/sheridan/asynchronous-strategies-inclusive-teaching.
Reinert Center for Transformative Teaching and Learning. Tips for Organizing and Managing an Asynchronous Course. Saint Louis University. https://www.slu.edu/cttl/docs/resources/tips_asynchronous_course.pdf.
Martin, K. How Can We Make the Most of Synchronous and Asynchronous Time in Distance Learning? July 26, 2020. https://katielmartin.com/2020/07/26/how-can-we-make-the-most-of-synchronous-and-asynchronous-time-in-distance-learning/.
Mason, J. Synchronous vs. Asynchronous Learning: There is No Perfect Answer​. We Are Teachers. September 24, 2020. https://www.weareteachers.com/synchronous-vs-asynchronous-learning/.
Touro College. What are the Benefits of Synchronous and Asynchronous Learning? blogs.onlineeducation.touro.edu/what-are-the-benefits-of-synchronous-and-asynchronous-learning/
University of Colorado Denver. Advantages and Disadvantages of Synchronous and Asynchronous Teaching. https://clas.ucdenver.edu/working-remotely/faculty/pedagogy-time-disruption/advantages-and-disadvantages-synchronous-and-asynchronous-teaching