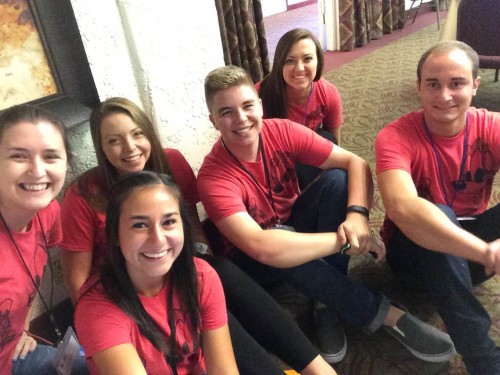 Michelle VacaGuzman is a self-described introvert, but you'd never know it by the way the college student stood with beaming confidence before crowds large and small promoting a kindergarten readiness program across Utah last summer.
VacaGuzman is one of 42 tireless summer interns for Utah's UPSTART program who traveled the state to train parents on how their child can prepare for school by completing the adaptive cloud-based curriculum for just 15 minutes a day. For several months, and in many locations, VacaGuzman explained the successful program to parents, discussed motivation techniques, worked with children on assessing their early literacy skills, gathered feedback, and hosted graduations for hundreds of 4- and 5-year-olds.
Now, we're hiring for Waterford Institute 2016 UPSTART internships! To apply submit resume and cover letter to Taylor Rosecrans at taylorrosecrans@waterford.org. The application deadline is February 26, 2016.
VacaGuzman, a marriage and family studies major at Brigham Young University-Idaho online, calls herself "an introvert, 110 percent," yet developed life-changing public-speaking skills during her internship.
"When you are a host or a trainer, you are the face of the program, and you are a lot of the parents' first and last point of contact for this program," she said. "So you have to create a welcoming [environment] and be super excited–you want to give them that positive experience."
And interacting with kids, she said, was a treat. "At that age, they're so smart and so sweet. It was really fun to see that training. We got to interact with them after graduation. It was neat to see what they had actually learned."
Interns are an integral component to spreading UPSTART's mission to provide research-proven early learning curriculum and kindergarten readiness programs so that all children–including those from low-income families, families that don't speak English, and families in ultra-rural locales–can have access to adaptive, cloud-based curriculum and better prepare for a successful academic career.
The interns are paid to work 30-40 hours a week to deliver orientations and training to parents in their communities and conduct computerized pre-assessments of children. At the end of the UPSTART year they return to administer post-assessments of students before presenting each child to a roomful of parents for a graduation ceremony certifying their readiness for kindergarten. Parents, grandparents, siblings, and relatives cheer, whoop and holler for each graduate.
Eric Thornley, a two-time UPSTART intern and Spanish teaching major at BYU, is impressed by how parents overwhelmingly support the program–which is state funded and free for families. At graduation, many parents express positive feedback, saying the program will ensure their child succeeds in kindergarten.
"The UPSTART program itself does most of the convincing," Thornley said.
Among other duties, Thornley worked at the check-in desk for parents and children at UPSTART orientation and assessment events. Each parent and child combo would receive an identical sticker for identification. "It was always fun to interact with them and see them excited to get started," Thornley recalled. "I would say, 'Hey here's a little sticker for you. Do you like stickers? And they say, 'Yea'!"
When returning for end-of-the-year assessments, children would often point out to their parents the shirts worn by Thornley and other interns, which featured animated characters–raccoons–Rusty and Rosy from the curriculum they studied throughout the year.
"Look, mom, it's Rusty and Rosy!" he recalled kids exclaiming while pointing to his shirt.
About 15 percent of preschool aged children throughout Utah graduated from UPSTART at the end of the 2013-2014 school year. Results from an external evaluator on the 2014-2015 school year will be available in the spring.
UPSTART was created in 2009 by the state of Utah and the Waterford Institute, a nonprofit research institute in Sandy. Waterford was founded with the mission of using technology and interactive learning to close early learning gaps because of a crucial research finding: children not caught up to their peers by third grade are four times less likely to graduate from high school.
The interns are constantly motivated by feedback about the program's proven success.
"Parents rave about the program," said two-time intern Brooke Diamond, a human development major at Utah State University. And they rave for good reason: Independent assessments of UPSTART have shown that children who complete it are more likely to enter school at or above the level of their peers compared to a control group.
"There are always parents when they leave, that say thank you to every single intern because they just think the program is so awesome," said Megan Hewlett, a recent graduate of Utah State University who also interned two summers in a row.
In the course of making presentations and performing assessments, interns also learn how to interact with the distinct personalities of their own peers, since they spend weeks together traveling in the same vehicle throughout Utah's tiny towns and metropolitan areas.
Taylor Rosecrans, Waterford's intern coordinator, says she admires the college students' work ethic and positive outlook, which is helpful in promoting UPSTART.
"Their young energy and enthusiasm make the long days of travel and events possible," Rosecrans said. "I'm always impressed when I visit an intern team on their last event of their last day of the week and they are still greeting each family with a smile and joking around with the kids."
VacaGuzman, who immensely improved her social skills, highly recommends the internship program to other college students.
"It's hard, and there are long hours," she said, "but it is the best experience I've ever had in my life."