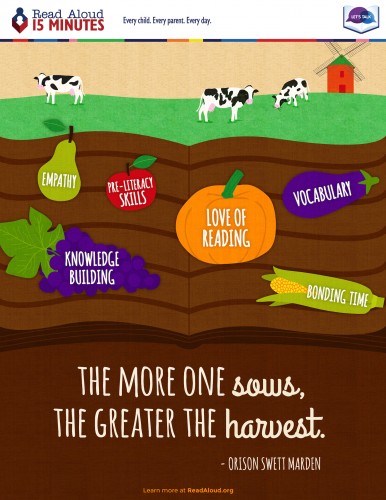 Imagine what U.S. education would look like if every child were read aloud to for 15 minutes every single day. That is exactly what we want to accomplish by participating in the national Read Aloud campaign! The Read Aloud effort has a single and powerful message–Read Aloud 15 MINUTES. Every child. Every parent. Every day.
Here at Waterford, we participate in the Read Aloud campaign because we believe in the importance and power of early literacy efforts. Why? Recent research tells us that by age 3 a gap is showing up in early brain development between children whose parents read to them and those who do not.
Help us make sure every parent understands the power of daily reading aloud starting at birth. We want to encourage educators to join in this great effort by checking out and sharing Read Aloud's excellent resources, including stickers, handouts, bookmarks, posters and signs (available in English and Spanish!).
Together, we can remind parents to be their child's first and most important teacher. Help us reach more parents in October than ever before by building awareness to the power they possess to ensure their child is ready to begin his or her journey from home to school to career. You can also use Read Aloud's resources to recruit other groups in your community by asking them to join the local campaign effort.