Most of us learned the basics of life when we were children—reading, writing, math, and other everyday survival skills. But the world today's children live in increasingly requires digital literacy skills.
Coding is basically computer programming. Being able to code is important across many careers, and it can help build strong digital citizens. Understanding the inner workings of digital applications can help children better understand the importance of safety, privacy, and critical thinking about digital content.
Why Coding? The Benefits of STEM Education for Children
Children are naturally creative. That makes learning fun for them, and that also means activities that fuel their creative side are naturally engaging. At this age, learning to code is all fun and games (they don't know it's supposed to be difficult).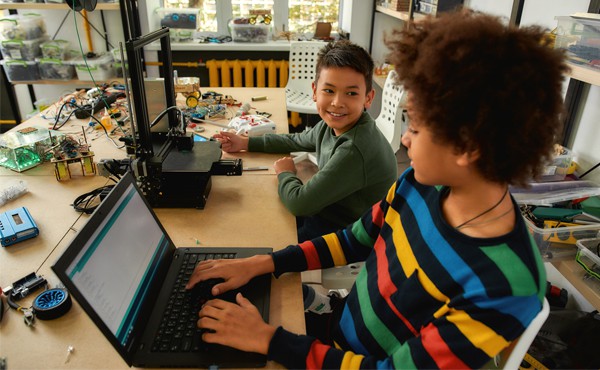 The benefits of learning to code for children are numerous and growing. In 2018, an estimated 2.4 million STEM jobs were unfilled. 71% of all new jobs in STEM are computing, but only 8% of STEM graduates are in computer science, IDTech reports.
Coders are in high demand and have a competitive advantage. But it's also fun, helps improve creativity and problem solving, as well as teaching persistence, collaboration, and communication.
Not every child will go on to create apps or websites for a living or for a hobby. But the skills and intellectual benefits strengthened by learning to code can help children across multiple fields, and life in general. Among the skills most strengthened are problem solving. "I can break problems down into small, separate parts and figure out how each is affecting the other," said Hilary Bird, senior developer at Get CenturyLink.
As a bonus, learning to code together is a great chance for some family bonding time.
Where to Get Started With Coding for Children: Games, and Activities
It can be hard to find in-person coding classes in many areas. And a lot of parents are probably unfamiliar with the coding skills, making it difficult to know where to get started.
Fortunately, there are plenty of online games and sites available to teach younger children to learn coding, as well as some fun board games available for purchase.