When it comes to technology in the classroom, the apps you choose make a significant difference. Are they time-wasters or learning-enhancers? These resources will help your students grow their skills with digital technology, making a positive impact in your classroom.
This list brings together 30 great educational apps to make your phone a useful tool, from classroom management and professional development for teachers to home learning resources for families.
30 of the Best Apps for Teachers
We know that every second counts in the classroom. With these apps you will get the most out of your teaching time each day.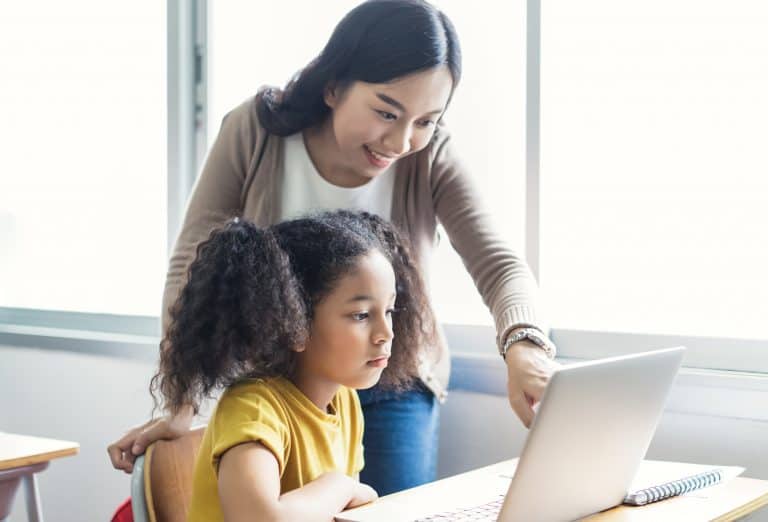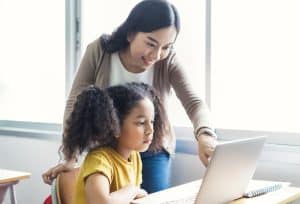 1. Kahoot!: Kahoot! is a popular app for learning that lives up to the hype. Create engaging pop quizzes about any topic and see your students race to get the correct answer fastest!
2. Calm: Mindfulness is a great way to unwind after a long day of teaching, and this app provides guided meditations and relaxation techniques. Plus, Calm offers free annual subscriptions to teachers, so it's a stress-free investment.
3. Breathe, Think, Do! With Sesame Street: Mindfulness for little ones, too! This app teaches calming and centering skills with the help of friends from Sesame Street!
4. Waterford Mentor: With Waterford Mentor, families can access thousands of digital and printable home learning resources for PreK-2 learners in English and Spanish. Share it with your families to help them unlock a treasure trove of stories, songs, and activities!
5. Merriam Webster: This dictionary app comes in handy with teaching students new vocabulary. One great feature is the built-in thesaurus, which older elementary students can use to find synonyms and antonyms.
6. Too Noisy: We know that the noise levels in class can go from a whisper to a roar in minutes! This app allows teachers to display a noise level monitor to remind students to use their inside voices.
7. Draw and Tell: Use Draw and Tell to make animated stories with your students. Perfect for elementary teachers to use in arts-integrated lessons!
8. NASA: The official NASA app opens up a whole new world to your students. Discover the latest astronomy pictures and videos to create out-of-this-world science lessons.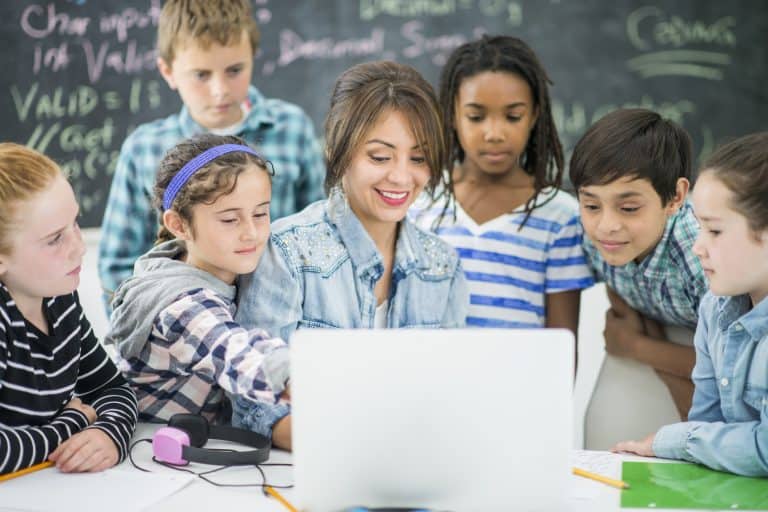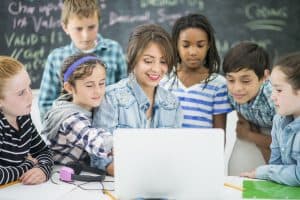 8. Tami's Tower: Let's Think About Engineering: This app offers a fun STEM game focused on teaching the foundation of engineering.
9. National Geographic: Find inspiration for your science lessons with high-quality photos and videos to inspire your students to explore the world around them.
10. Google Classroom: Google Classroom is an essential app for organizing your assignments and communicating with your students.
11. Tynker: Teaching STEM to young learners can be a challenge. Tynker uses fun games and quizzes to help elementary students learn coding skills.
12. Duolingo: Increasing language skills can be simpler for your students with this free app. Students have a wide variety of gamified language learning activities to choose from on Duolingo.
13. Prezi: Prezi gives you the tools to build sleek and easy-to-use powerpoints from your phone that you can share.
14. FocusMe: If you need to mentally declutter, it can be very helpful to block distracting sites on your phone. FocusMe allows you to filter out the "noise" so you can take a break or stay connected to the task at hand.
15. Waterford Reading Academy: Waterford Reading Academy gives students reading, math, and science activities that help them gain critical skills, tailored to their learning level. With an easy-to-use interface, teachers can access data to develop better classroom instruction and make the right student interventions.
To learn more about Waterford Reading Academy, check out these videos on the program.
16. PBS Kids Video: You can find plenty of high-quality educational videos to supplement your lessons or suggest to families for home learning through the official PBS Kids app.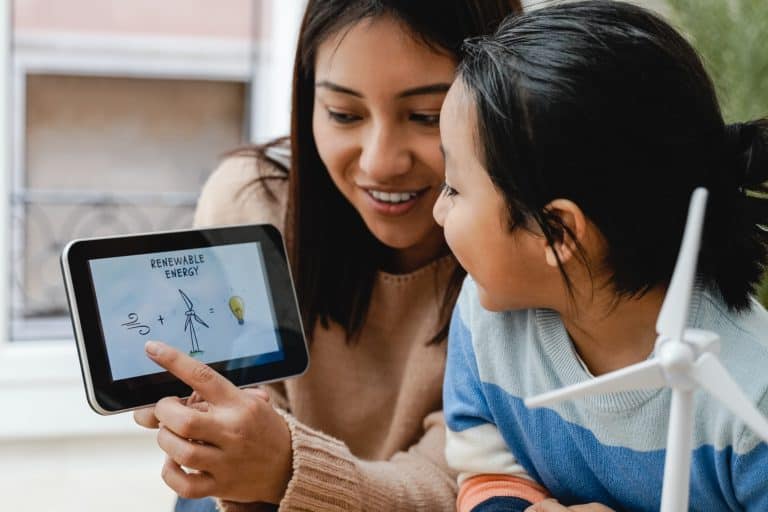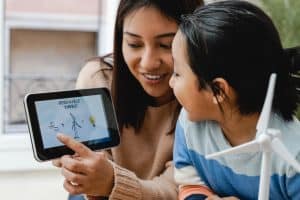 17. Mindly: Mapping out your thoughts and ideas can be a helpful way to plan upcoming tasks or assignments. Create your own mind maps in Mindly as you brainstorm on your own or with your class.
18. My First Museum: For visually engaging social studies lessons, you can share stories about famous paintings with this art appreciation app tailored for young learners.
19. ToDoist: This app hones your organization skills, keeping your schedule simple and stress-free.
20: Lexico: Students with dyslexia or other visual processing disorders can use this app as a helpful reading aid in your classroom.
21. ZipGrade: ZipGrade is an easy-to-use grading app that allows you to manage student assignments and record their scores, all from your phone.
22. Slack: A quick and easy way for colleagues to communicate when working at a distance. Slack allows you to set up groups of users and keep in touch while on the go.
23. Go Noodle: The movement activities found on the Go Noodle app are fun for brain breaks to get the wiggles out!
24. TED: With this educational app on your phone, you have hundreds of inspirational talks at your fingertips to share with students.
25. Classcraft: This classroom management app can engage your students in class while teaching social skills along the way.
26. Wikipedia: With the free Wikipedia app, you can access millions of articles in over three hundred languages wherever you are.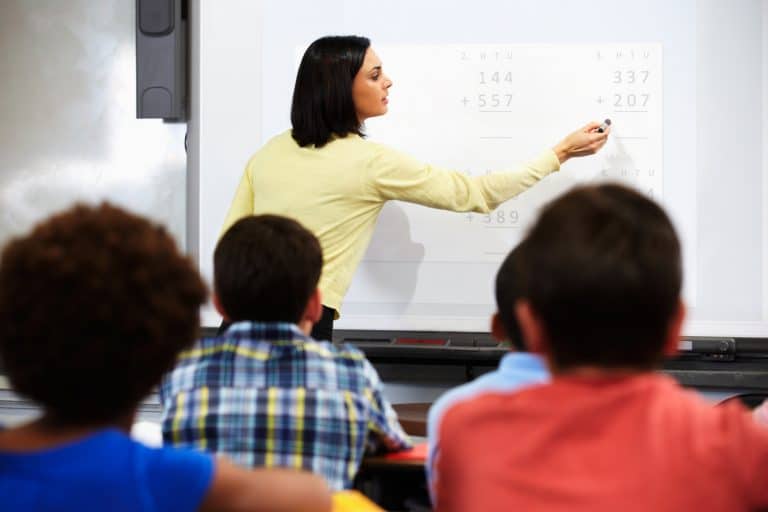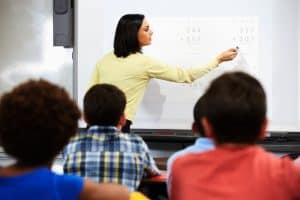 27. Quizlet: Use Quizlet to make digital flashcards for your students, perfect for studying new vocabulary words and social studies facts.
28. Google Arts and Culture: If you're looking for virtual field trips, this app takes you on tour to museums, historical landmarks, and national parks from the comfort of your classroom.
29. Goodreads: While building your classroom library or summer reading list, the Goodreads app offers book summaries and reviews so you can choose the right books for your students.
30. Home on the Range: This app from the Smithsonian teaches students about different animals and their habitats around the world.
When you're done with screen time, it's always the right time to enjoy books. Find out how to get free books for your classroom through these 8 book donation programs.