Waterford.org will release an automatic software update on July 31, 2019. See the list below for update details. If you have any questions or feedback, our Support Team is always happy to help.
Products
Changes to Student Import Template in Waterford Manager
Affects: Waterford Early Learning(WEL), WEL: SmartStart
We extended the student import template in Waterford Manager to include a space for a student's username and password. This is in preparation for upcoming product updates, which will be announced in future release notes.
This space is optional. If you would prefer not to fill it in at this time, you do not need to give your students a username or password.
To download the new template, visit the Import Students section of Waterford Manager.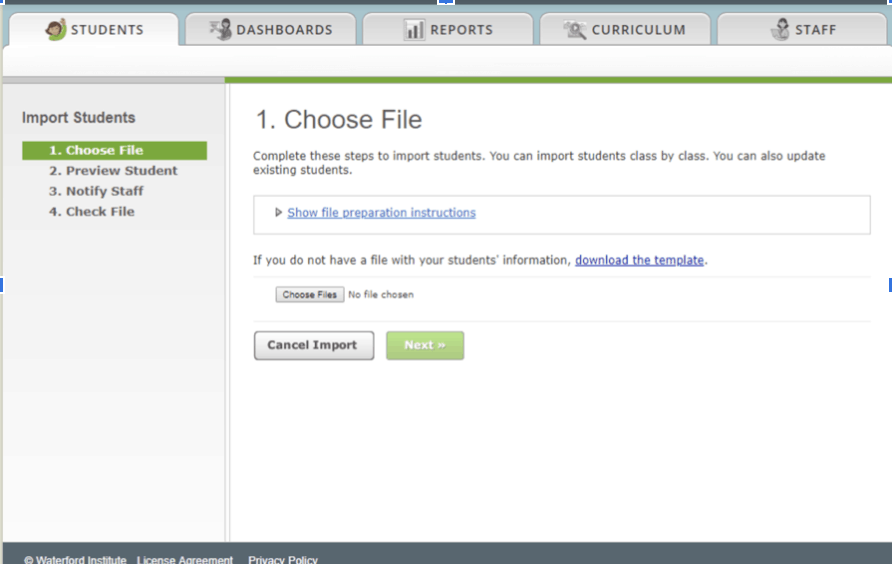 Reminder to Sync New Student Information System (SIS) Integration
Affects: Waterford Early Learning (WEL), WEL: SmartStart
As we approach the back to school season, make sure your student information system (SIS) data is connected to your Waterford administrator account before classes start. Please contact Waterford Support to set up your sign-on or automated rostering from your SIS.You can connect your SIS data through the Settings page in Waterford Manager. The best way to initiate the conversation is by emailing them at WELSupport@waterford.org.
SIS integration allows you to sync all the learning technology you use in your school so teachers only have to log in to one account. Waterford is compatible with OneRoster standards, including Clever. Our technical support team can help you find out if your SIS is compatible.