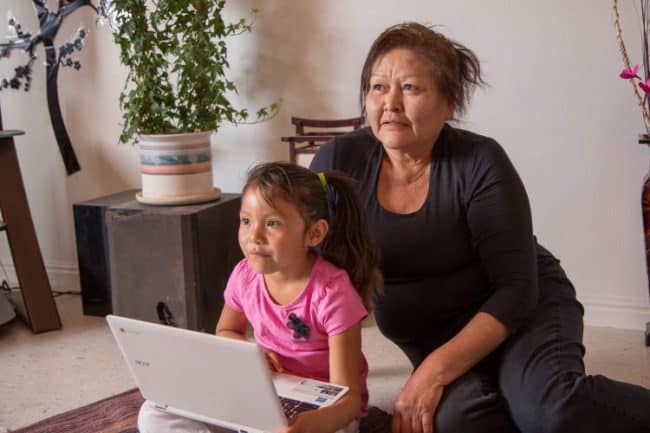 We're excited to announce Waterford was selected as a member of the Fall 2017 Ignite cohort at NewSchools Venture Fund!
Waterford is one of 15 ed tech companies awarded funding through the NewSchools Ignite Early Learning Challenge. Each cohort member is committed to create or expand an innovative ed tech product to help millions of students across the country in grades PreK-2. In addition to the funding, NewSchools will provide management assistance and create a community of practice for the cohort members.
What Will Waterford Do with the Funding?
Waterford submitted its at-home kindergarten readiness program for the challenge. Waterford UPSTART is a blended early learning innovation that develops school readiness through home-based personalized learning, evidence-based curricula, ongoing assessment and data, and continuous training and support for parents as the child's first teacher.
Six years of independent evaluation show Waterford UPSTART significantly increases literacy skills for preschool-age children—especially among under-resourced populations. Moreover, longitudinal data shows these gains last beyond kindergarten. Waterford UPSTART students continually outperform state averages compared to their non-UPSTART peers on state standardized tests (DIBELS and SAGE) in grades first through fourth. As concluded by the Utah State Board of Education:
"These outcomes would have specific benefits to under-resourced children, whose families struggle with poverty and other issues, and often lack the resources to help their children develop the literacy skills needed to succeed in school. The strong program effects support wide-scale implementation across at-risk preschool populations"
An independent random control trial study for the U.S. Department of Education Investing in Innovation (i3) grant program shows similarly strong results.
This last year, Waterford UPSTART was piloted in Indiana (94 families), Mississippi (156 families), Ohio (171 families), and Pennsylvania (Philadelphia, 193 families), for a total of 614 children and at least as many parents in addition to the thousands of children and families already participating in Utah. We carefully tracked demographics for each pilot, each targeting underserved low-income communities that have limited access to state-financed preschool programs and early learning supports.
With this funding, we plan to run a Waterford UPSTART  pilot that would greatly enhance the limited PreK options available for under-resourced Arizona families, particularly for Hispanic populations there. A new report from the Brookings Institution establishes that Hispanic children, more than any other ethnic group, are the least likely to attend preschool and the least likely to be in non-parental care (Phillips et al., 2017). These realities fuel the persistent achievement gap plaguing Hispanic children nationally.
Thanks to the NewSchools Ignite award we will be able to provide Hispanic families in Arizona a new kindergarten readiness option, while conducting a high-quality research project and pilot aimed at understanding how to best serve this population.
What is NewSchools Ignite?
NewSchools makes grants—through NewSchools Ignite—to support entrepreneurs who are filling market gaps where teacher and students say innovation in education technology tools and services is lagging. The nonprofit venture philanthropy organization uses its voice to highlight these important gaps and their investment dollars to mobilize entrepreneurs who can tackle them.
Through the Ignite program, NewSchools makes grants to promising teams of entrepreneurs, like Waterford, and makes sure they are well supported through management assistance and a cohort experience. So far, ed tech challenges through NewSchools Ignite have focused on developing learning products and tools to support science learning, middle and high school math, English Language Learners, students with disabilities, and early learning.
Waterford is one of 15 ed tech products this year that received grants through the NewSchools Ignite Early Learning Challenge. In total, NewSchools Ignite provided $1.5 million in grants to entrepreneurs through this challenge. The full cohort includes:
NewSchools Ignite Early Learning Challenge Winners
AppleTree Institute for Education Innovation, Inc.
Brightwheel
CodeSpark
Cognitive ToyBox, Inc.
Family Engagement Lab, LLC
Kaymbu
Learning Genie
Mawi Learning
MIND Research Institute
Mindful, Inc. dba Sparkler
Peekapak, Inc.
Reasoning Mind
Teachley, LLC
Waterford Institute, Inc.
WriteReader, ApS
The Need for Funding in Early Ed
While the ed tech market has grown rapidly in some areas, there are still significant gaps in other critical areas of student need—including early learning.
Ashley Beckner and Isabelle Hau of Omidyar Network summarize the issue well in a blog republished on NewSchools' website:
"Edtech is on track to be a $252 billion global industry by 2020, bringing more innovative education tools to the hands of students, teachers, and families around the world. However, early childhood education (ECE) is a chronically under-resourced area — with fewer for-profit funders, accelerators, incubators, and entrepreneurship competitions than are seen in K-12 and higher education."
In fact, Beckner and Hau cite research that shows that early childhood education and PreK receive just $88 million in funding per learning year compared to the much larger investments of $492 million and $600 million in K-12 and higher ed, respectively.
"NewSchools Ignite is rooted in research, and we always start by talking to people in the field who are doing this work," said Tonika Cheek Clayton, managing partner, NewSchools Venture Fund. "We heard from both educators and ed tech developers about the lack of high-quality tools to support academic and social development for young students.  They also emphasized the importance of limiting the hours spent on devices and promoting interaction with parents and teachers. Given the importance of these early years, NewSchools Ignite is thrilled to invest in Waterford to develop engaging tools to reimagine early learning."