The NAEYC Annual Conference & Expo is one of our favorite events of the year:
an invaluable opportunity to spend time with and learn from other early learning professionals. So, it's with extra excitement that today — the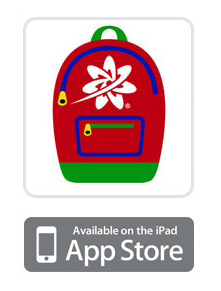 opening day of the conference — we launched MyBackpack, our first-ever mobile app!
MyBackpack will allow the more than 500,000 students in classrooms across the U.S. currently using Waterford Early Learning software as well as the general public to access select Waterford curriculum from the convenience of an iPad. And it's free for download in the App Store!
Named for the classic Waterford Backpack, an actual backpack that has been used in classrooms for many years for take-home practice, MyBackpack contains research-based instruction for preschool through second-grade children. It includes:
4 Mental Math Games
5 Nursery Rhyme Read-Alongs
35 Songs
16 Traditional Tales books
What are you waiting for? Download MyBackpack here, or read more about its features here! And remember your feedback is important to us: Let us know what you think by leaving us a rating and review in the App Store.