The Utah State Legislature created an early intervention program to help under-resourced students catch up to their peers before critical early learning gaps widen. The program funds schools' choice of one adaptive learning curriculum and assessment tool for early intervention students. Of the five available curriculum providers, Waterford's curriculum resulted in the largest gains in kindergarten and first grade students' end-of-year scores.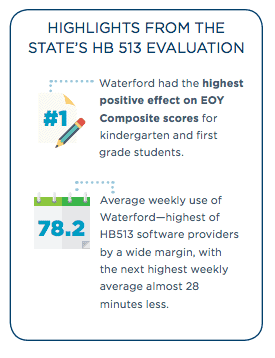 The Challenge
In 2012, the Utah State Legislature recognized the importance of closing learning gaps early and passed House Bill 513, creating an early intervention program to help under-resourced students. Furthermore, they saw the potential of technology-based adaptive learning programs as a tool to help teachers individualize classroom instruction.
HB 513 provided several million dollars for schools and districts to purchase adaptive literacy software for their intervention programs. The State Board of Education chose five technology providers as approved options: Waterford, Imagine Learning, i-Ready, Isation, and SuccessMaker.
During fiscal year 2015, the HB 513 program spent $4.5 million and served nearly 37,000 students.
The Results
To evaluate the effectiveness of their early intervention program, the state commissions annual reports from an independent evaluator. Waterford "had the highest positive effect on student learning" in kindergarten and first grade, according to the report and state documents.
Students and teachers were also more likely to use their Waterford curriculum, showing better adoption and successful adherence than with other programs. Waterford "had the highest average weekly use (78.2 minutes) by a wide margin," according to the report. The next highest weekly average was almost 28 minutes less.
At Park Elementary School, a Title I school in Spanish Fork, Utah, where 73 percent of students are under-resourced financially, kindergarten teacher Cheryl Leifson calls Waterford "amazing" because of its ability to individualize her classroom instruction.
"I would absolutely recommend other schools use Waterford…" she says. "If you have more than 20 five-year-olds (in your classroom), when are you ever going to be able to provide them with a 15-minute slot of time where they get to work one-on-one on their level? Without Waterford, it just doesn't happen."
Park Elementary School Principal Ryan Kay said Waterford's built-in reports have helped administrators, teachers and parents pinpoint areas of difficulty and improve upon them quickly.
"I feel using Waterford for our primary grade intervention is where we get the biggest bang for our buck," Kay says. "Putting those students on Waterford 15 minutes a day and letting them progress at their own rate—we've seen much bigger jumps than we would have without it."