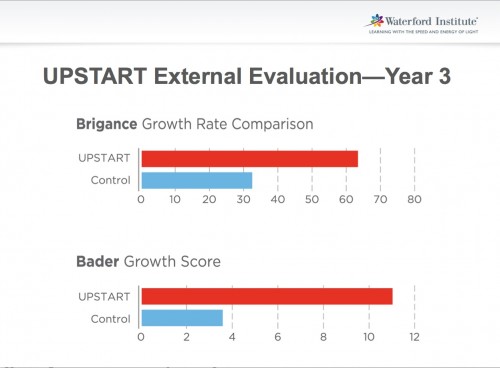 One of the greatest rewards for our research and hard work is seeing students' learning gains. This chart above highlights data from a 2013 report conducted by a third-party evaluator.
It shows that students who use the Waterford's early learning curriculum through Utah's in-home Pre-K program (UPSTART) perform about twice as well in reading as the control group when given the Brigance test; approximately three times as well when given the Bader test.
What we have found is that Utah's unique implementation of Waterford curriculum through the innovative Waterford UPSTART model is a great example of how our content can be adapted to impact student learning gains in new ways.
Learn More:
Read the full study commissioned by the state of Utah in 2011 to evaluate Waterford's UPSTART program.
Visit the Utah UPSTART website.
Register your preschool-aged child for the summer 2014 UPSTART class here.